Bird Flu spreads in Maharashtra; These 9 states affected so far
By Sanjay Maurya
Bird flu cases were reported after the death of around 100 birds at a poultry farm in Maharashtra's Thane district. This comes after reports that reported bird flu cases were reported in Bihar."Recently around 100 birds died at a poultry farm in Veholi village of Shahpur tehsil. Their samples were sent to a Pune-based laboratory for testing, and the results indicated that they died of H5N1 avian influenza. According to the report "Dr. Thane Zilla Parishad Chief Executive Officer (CEO) Bhausaheb Dangde said.
The following procedures would be implemented, according to the Parbhani District Collector:
Within a one-kilometer radius around Muramba village, all birds in poultry farms will be culled.
The sale and purchase of birds within a 10-kilometer radius have been halted.
Virus test is being done for all the people of the village and a medical team is present.
Nine States Affected So Far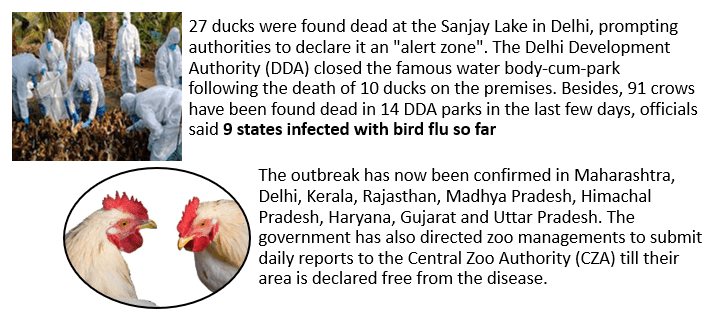 Aside from Maharashtra, other states that confirmed the outbreak of avian influenza, or bird flu in the states include Delhi, Gujarat, Rajasthan, Haryana, Himachal Pradesh, Uttar Pradesh, Madhya Pradesh, and Kerala. In Maharashtra, the bird flu has wreaked havoc on the sales and consumption of eggs, chicken, and other poultry products, with prices plummeting by about 35-50 percent.
Haryana has recorded the most bird mortality, with almost 4 lakh birds dying in the previous few weeks. On 12th February, around 1.6 lakh birds were culling at five poultry farms in the Panchkula district.
Avian influenza has officially hit Delhi after eight of the 109 samples sent for testing came back positive. The import of live birds has been prohibited in Delhi, and Ghazipur's largest wholesale chicken market has been temporarily closed.
After 12,000 ducks died of bird flu in Kerala, tens of thousands more birds were culling last week. Only in the impacted areas has the sale of chicken been restricted.
More than 2,000 birds were killed at the Pong Dam sanctuary in Himachal Pradesh, according to reports. In Kangra district, the slaughter, sale, purchase, and export of any poultry birds, fish, or similar items have been prohibited.
States have also been requested to make sure that PPE kits and equipment are available for culling birds.
While the disease is "zoonotic," no human infection has been detected in India, according to the authorities.
Must Read:-