Cricketer Rishabh Pant badly injured in a road accident; CCTV footage goes viral
Indian cricket team wicketkeeper and batsman Rishabh Pant has sustained injuries after the BMW car he was travelling in collided with a divider and caught fire on Friday (December 30) morning. According to reports, the accident happened near Roorkee in Uttarakhand and he is being taken to a private hospital in Dehradun for treatment.
ऋषभ पंत की कार का एक्सीडेंट वाला CCTV आया सामने#RishabhPant | Rishabh Pant pic.twitter.com/n3QGYrBBEe

— News24 (@news24tvchannel) December 30, 2022
ऋषभ पंत की मर्सडीज कार दुर्घटना के बाद#RishabhPant #Accidents pic.twitter.com/kkqTtomMHg

— Mukesh singh sengar मुकेश सिंह सेंगर (@mukeshmukeshs) December 30, 2022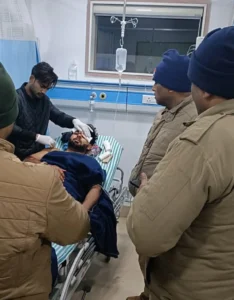 Uttarakhand Chief Minister Pushkar Singh Dhami has instructed the officials to ensure all possible arrangements for the treatment of injured cricketer Rishabh Pant and provide an air ambulance if required.
Rishabh Pant
Indian Cricketer
Born: 4 October 1997 (age 25 years), Roorkee
Height: 1.7 m
Current teams: India national cricket team (Wicket-keeper), MORE
Parents: Rajendra Pant, Saroj Pant
Nationality: Indian
Batting style: Left-handed
Dates joined: 1 February 2017 (India national cricket team), 2016 (Delhi Capitals), 2015 (Delhi cricket team)
Uttarakhand DGP Ashok Kumar said Rishabh was driving his BMW car, which caught fire after hitting the divider at the Narsan border. According to the Uttarakhand Director General of Police, Pant claimed that he lost control of the car after falling asleep while driving. Rishabh Pant was alone in the car at the time of the accident and broke a window to escape.
According to the doctors, injuries have occurred in Pant's head and leg. On receiving the information, the village superintendent of police Swapna Kishore Singh reached the spot. Rishabh Pant has been taken to Max Dehradun, Dr. Sushil Nagar, president of Saksham Hospital, said that his condition is stable at present.The rest of the injuries can be known correctly only after the examination.
सुबह करीब 6 बजे सूचना मिली की ऋषभ पंत के हादसे की सूचना मिली। रुड़की के सक्षम अस्पताल में उनका इलाज हुआ। उनको बेहतर इलाज के लिए देहरादून में मैक्स अस्पताल में भेजा गया है: स्वपन किशोर, SP ग्रामीण, हरिद्वार pic.twitter.com/g30gxH6Fs6

— ANI_HindiNews (@AHindinews) December 30, 2022
According to a report in Dainik Jagran, Pant's car hit the railing and caught fire. Locals and police rushed to the accident spot and the fire brigade had to be called to extinguish the vehicle.
"The burnt car has been taken away for further investigation. It is not known whether the airbags had opened or not because nothing is left inside to verify that. The investigation is on," the official said.
Pant, who missed the century by just 7 runs, was part of the Test team that won the series against Bangladesh. Details about his health are awaited but it seems Pant will take time to recover from this brutal accident.
Pant not included for the Sri Lanka series
Rishabh Pant was not included in both the ODI and T20I squads for India's series against Sri Lanka. Whether Pant was injured, rested, or ruled out was not clarified in the BCCI press release. As the BCCI wanted to give the Delhi wicketkeeper a break before the two-match Test series, he was not selected to play in the one-day internationals against Bangladesh.
Must Read:-