DDMA meeting today to decide on reopening of gyms and schools in Delhi
By Sanjay Maurya
In light of the declining cases of COVID-19 in the national capital, the Delhi Disaster Management Authority (DDMA) is expected to meet today (4th February) to discuss more relaxations in COVID-19 restrictions, including the reopening of schools, gyms, and provide relaxations in night curfew hours. After reaching a record high of 28,867 daily cases on January 13, the number of daily cases in Delhi has started declining. On February 14, the national capital had a positive rate of 30.6 percent, the highest during the pandemic's current wave.
The DDMA eliminated weekend curfews, odd-even store restrictions, and allowed restaurants and bars to operate at 50 percent capacity on February 27. Schools and other educational institutions, as well as spas, gyms, and entertainment parks, stay closed.
The DDMA meeting, which will be attended by both LG Anil Baijal and Delhi Chief Minister Arvind Kejriwal, is likely to make a decision on the reopening of schools that have been closed since the commencement of the Omicron wave in the national capital on December 28, last year. The head of the Delhi Disaster Management Authority(DDMA) is Anil Baijal.
State-Wise COVID Caseson 4th February 2022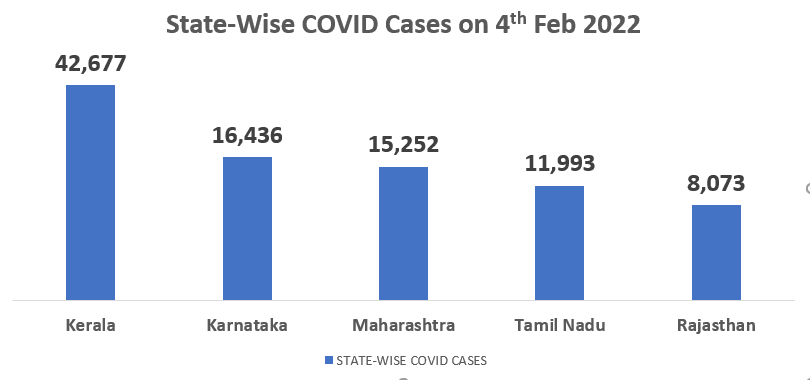 These five states accounted for more than 60% of all new cases, with Kerala alone accounting for 28.57 percent of all new cases.
Manish Sisodia, the Deputy Chief Minister of Delhi, said the government has shuttered schools when it was unsafe for children, but that "over-vigilance" was damaging them. Meanwhile, gym and spa owners in Delhi have urged the reopening of fitness centers, stating that the business has been "ignored" for a long period and that those involved have suffered significant losses.
According to news agency ANI, the Delhi Gym Association, which has been staging protests and pressing the Delhi government to reopen the fitness centers, has warned to take legal action if its requests are not satisfied this time. According to industry insiders, there are roughly 5,500 gyms in Delhi, and they support the lives of over one lakh individuals.
Must Read:-