DDMA orders all private offices, restaurants, bar to shut down in Delhi, details here
By Sanjay Maurya
Today, the DDMA announced that all private offices in Delhi to shut down, and bars and restaurants in the national capital will be closed for dine-in service but allowed to run their takeaway services. LG also said that each zone would be limited to only one weekly market per day." In light of the increased number of positive cases, it was decided to close all private offices, restaurants, and bars and only allow 'take away' service," for restaurants, he explained. It was also determined that each zone would only be able to operate one weekly market per day."
Only those private offices that come under the essential services/exempted category will be permitted to remain open under the updated rules published by the Delhi Disaster Management Authority (DDMA).
Restaurants were authorized to provide a dine-in service at 50% of their seating capacity from 8 a.m. to 10 p.m. under existing laws. From 12 p.m. until 10 p.m., bars across the city were allowed to open with a 50% seating capacity.
It stated that violators of the above-mentioned regulations will face appropriate punishment under Sections 51 to 60 of the Disaster Management Act, 2005, and Section 188 of the Indian Penal Code. This is in addition to the Ministry of Health and Family Welfare's enforcement of penalties.
Today Covid-19 cases in India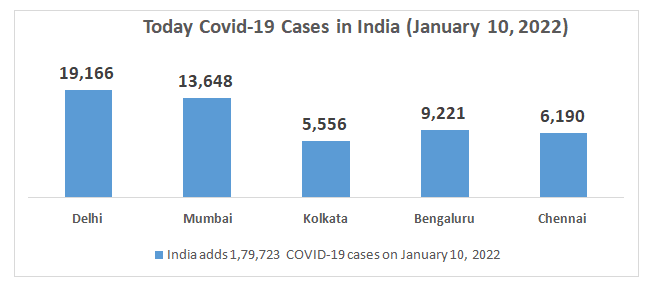 More curbs but no lockdown in Delhi: DDMA
DDMA imposed new restrictions during yesterday's meeting, but there would be no lockdown. It was agreed that restaurant dine-in service would be discontinued, but take-out services would be permitted, all private offices will be closed. The DDMA has also decided to allow only one weekly market per day per zone and is considering restricting the seating capacity on Metro trains and buses. It was also resolved to severely enforce current restrictions, and it was debated if similar restrictions may be imposed in the National Capital Territory Region.
The decisions were made at a meeting of the DDMA, which was led by Lieutenant Governor Anil Baijal. The meeting was attended by Chief Minister Arvind Kejriwal, his deputy Manish Sisodia, Health Minister Satyendar Jain, Revenue Minister Kailash Gehlot, Chief Secretary Vijay Dev, and other officials from the health department.
A BEAUTIFUL PIECE…
If you are passionate, nothing could stop you!! Believing in the above, Dheeraj affirms that one should never stop the process of learning. That helps in having expertise in various fields. He asks the budding entrepreneurs to be passionate and never stop learning.
Must Read:-