Amid Omicron fears, Delhi announces night curfew starting Monday: All You Need to Know
By Sanjay Maurya
Due to an upsurge in the number of coronavirus cases, the Delhi administration decided on Sunday to implement a night curfew in the city starting Monday (27th December 2021). Every night, from 11 p.m. to 5 a.m., a curfew will be imposed. Meanwhile, according to statistics released today (27th December 2021) by the Delhi government's health department, 290 new Covid-19 cases were reported, with one fatality, and the positive rate jumped to 0.55 percent.
With this, the total number of people died has risen to 14,43,352, while the death toll has risen to 25,105. There are now 1,103 active cases, with 583 patients in home isolation. In the last few days, the number of cases has risen, owing to the danger of the virus's Omicron variant.
Omicron Cases in India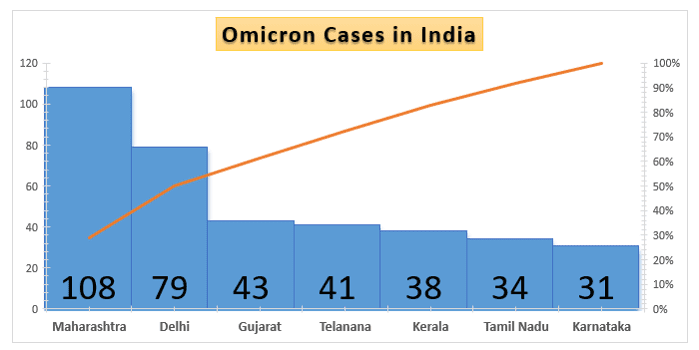 With the move, Delhi became the latest state or union territory to implement night curfews as part of the reinforced Covid-19 rules. Starting tonight, a curfew will be implemented in Delhi from 10 p.m. to 5 a.m. The Delhi Disaster Management Authority had previously prohibited any Christmas or New Year celebrations and capped marriages and funerals at 200 individuals. Pubs, taverns, and restaurants have been permitted to open with a 50% capacity.
Night curfews in other states
Maharashtra
The state government stated on Friday that gatherings of five or more people will be prohibited between the hours of 9 p.m. and 6 a.m. in Maharashtra.
Uttar Pradesh
Chief Minister Yogi Adityanath issued instructions on Friday to impose stringent measures, including a statewide night curfew beginning December 25. From 11 p.m. until 5 a.m., the curfew will be in force.
Madhya Pradesh
As part of its stricter Covid-19 guidelines, the MP government enforced a night curfew from 11 p.m. to 5 a.m. on Thursday.
Gujarat
The Gujarat government has imposed a night curfew. In eight cities across the state, a curfew has been enforced. In Gujarat, there are 43 cases of Omicron and 637 cases of Covid-19. Ahmedabad and Vadodara are home to the majority of these cases.
Haryana
Beginning January 1, the state has implemented a night curfew from 11 p.m. to 5 a.m. Inside public areas such as malls, movie theatres, and restaurants, only persons with vaccination certificates will be allowed.
Must Read:-