Government to own 35.8% stake in Vodafone Idea after conversion of AGR dues into equity
By Sanjay Maurya
After its board authorized the conversion of dues into equity, Vodafone claimed the Indian government will hold about 36 percent of the country's third-largest wireless phone operator. the unprofitable wireless carrier said in a stock market filing that this will result in dilution for all current owners, including the founders. According to the statement, Vodafone Group Plc will own roughly 28.5 percent of the firm, while Aditya Birla Group will own about 17.8 percent.
Revenue Report: Vodafone Idea FY 2017 to 2021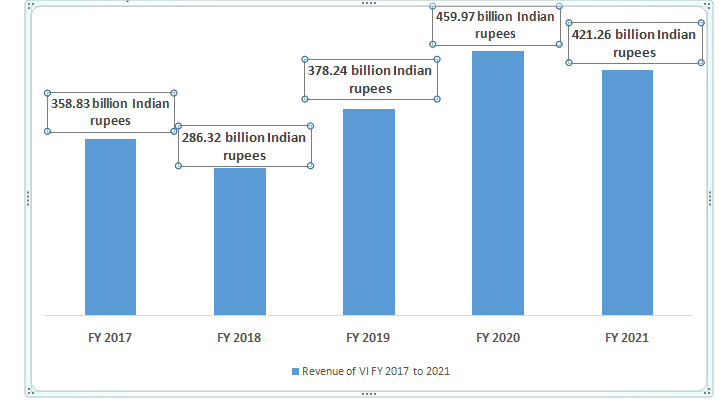 "According to the statement, the Net Present Value (NPV) of this stake will be about 16,000 crores, subject to confirmation by the DoT. The equity shares will be granted to the government at par value of INR 10 per share, subject to final approval by the Department of Transportation because the average price of the company's shares at the relevant date of 14.08.2021 was below par value "Added the statement.
These choices follow the government's September announcement of a telecom Reformspackage that includes a spectrum payment suspension, the ability to convert interest on airwaves into equity, and decreased bank guarantees, among other things. According to a Bloomberg report, this rescue plan was critical for Vodafone Idea, a joint venture between the Vodafone Group and Kumar Mangalam Birla'sconglomerate, which has been losing subscribers to larger competitors, particularly when Reliance Jio launched a fierce pricing war in 2016 and swiftly clinched market share to become the top player.
Quick Glance

The government will now own 35.8% of the firm, worth INR 16,000 crore, making it the company's largest stakeholder. According to the Department of Transportation, accrued interest can be converted into equity by invoking Section 62 (4) of the Companies Act, and the amount will be recognized as a loan until the conversion is completed.
Bharti Airtel announced earlier this month that it will not take advantage of the reforms package's option to convert interest on the deferred spectrum and AGR dues into equity.
A BEAUTIFUL PIECE…
If you are passionate, nothing could stop you!! Believing in the above, Dheeraj affirms that one should never stop the process of learning. That helps in having expertise in various fields. He asks the budding entrepreneurs to be passionate and never stop learning.
Must Read:-