Meet viral sensation Pradeep Mehra: Internet's new favorite after midnight run video
By Sanjay Maurya
#PradeepMehra has been trending on social media since last night due to 19-year-old McDonald's employee Pradeep Mehra running on the roads of Noida at midnight. Pradeep, who was amidst his 10km runway back home, caught the attention of filmmaker Vinod Kapri. The youth expressed the run to be a part of their preparation to join the Indian Army.
This is PURE GOLD❤️❤️

नोएडा की सड़क पर कल रात 12 बजे मुझे ये लड़का कंधे पर बैग टांगें बहुत तेज़ दौड़ता नज़र आया

मैंने सोचा
किसी परेशानी में होगा , लिफ़्ट देनी चाहिए

बार बार लिफ़्ट का ऑफ़र किया पर इसने मना कर दिया

वजह सुनेंगे तो आपको इस बच्चे से प्यार हो जाएगा ❤️😊 pic.twitter.com/kjBcLS5CQu

— Vinod Kapri (@vinodkapri) March 20, 2022
Mr. Kapri is seen in the video shooting from his car as it passes the young man, who he claims is on his way home after a shift at McDonald's. Despite being offered a lift, Mr. Mehra insists that he prefers to run home as he does not have time to run.
Several netizens then reacted positively to the Uttarakhand-based adolescent, who said after the video went viral, "The world bends down to hard work…"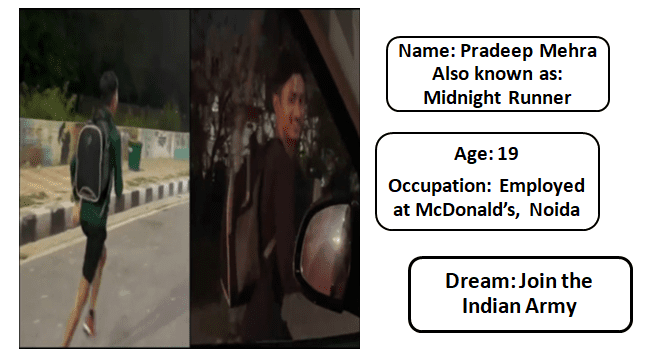 His phone continuously ringing, the media is gathered outside his door, and he has meetings scheduled with government officials who want to meet him. A viral video has made 19-year-old Indian Army aspirant Pradeep Mehra a household name overnight. Mehra's midnight run video, which was shot by filmmaker Vinod Kapri, sparked an outpouring of support on social media minutes after it was posted.
Lt. Gen. Satish Dua (Retd.) praised the boy's efforts and offered assistance. In a tweet, he said, "His Josh is admirable, and I've spoken with Colonel of the KUMAON Regiment, Lt. Gen Rana Kalita, the Eastern Army Commander, to assist him in passing the recruiting tests on his merit. He is doing the needful to train the boy for recruitment into his Regiment. Jai Hind"Salute to India "
Even singer Badshah, standing with Bachpan Ka Pyaar Sahdev Dirdo, responded to the viral video, writing, "The future of our country is in great hands. Blessings to this child."
"Mehnat Jo Honi Hai Na Meri, Woh Sunsaan Mein Honi Chahiye, Kamiyabi Ki Honi Chahiye Shor" (success should make noise, hard work should be done quietly)," the boy told Kapri in his car in a new video.
Mehra, who lives in Delhi with his brother Pankaj (21) has been studying for two years after failing the test the first time. "I have no choice but to practise at night to improve my stamina." "My brother ordered books for me to study for the recruiting tests last month," the viral boy said.
Must Read:-