Microsoft buys 'Call of Duty' and 'Candy Crush' maker in its largest deal ever
By Sanjay Maurya
To bolster its competition in mobile gaming and virtual reality technologies, Microsoft is paying nearly $70 billion to Activision Blizzard (video game company), maker of Candy Crush and Call of Duty. Microsoft, the maker of the Xbox gaming system, will become one of the world's top video game companies as a result of the all-cash $68.7 billion transactions. It will also help it compete with tech rivals like Meta, formerly Facebook, in developing immersive virtual worlds for work and play.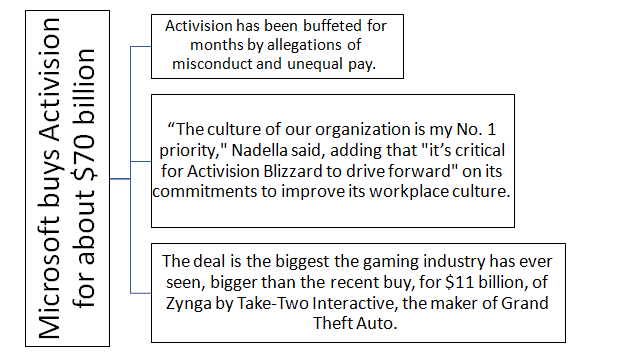 If the purchase passes regulatory approval in the United States and Europe in the coming months, it might be one of the largest tech deals ever. Dell paid $60 billion for EMC, a data storage firm, in 2016.
Microsoft's offer of $95 per share is a 45 percent premium to Activision's Friday closing price. Before being stopped for news, Activision's stock was up over 38% at $65.39. Gaming is the most dynamic and interesting area in entertainment today across all platforms, Microsoft CEO Satya Nadella said in a statement. Gaming will play a critical role in the development of metaverse platforms.
During the epidemic, demand for video games has increased as consumers who are at home play more games to keep themselves engaged. Activision's library of games such as "Call of Duty" and "Overwatch" provides Microsoft's Xbox gaming platform an advantage against Sony's Playstation, which has had a more consistent supply of exclusive games for years. Activision Blizzard's CEO, Bobby Kotick, will remain in his position.
Activision Company was an easy target as it has been embroiled in a controversy over an alleged "fratboy office culture" in recent months and sued in July last year by the California Department of Fair Employment and Housing over claims of sexual harassment, discrimination, and it was done. misconduct. Since the lawsuit was filed, Activision's stock has fallen 27%.
Currently, the purchase is being hailed as a victory for Activision CEO Bobby Kotick, who obtained a 45 percent premium over the company's stock price.
Microsoft has recently made many acquisitions to add to its roster of game studios. It agreed to buy ZeniMax Media Inc., which owns Bethesda Softworks, the publisher of The Elder Scrolls and Doom, for $7.5 billion in 2020. It was Microsoft's biggest video game purchase ever at the time. The Activision transaction, according to Microsoft, will push it to third place in the industry, after China's Tencent Holdings Ltd. and Japan's Sony.
Microsoft All Acquisitions (2021-2022)
| | |
| --- | --- |
| Year | Company |
| 2022 | Activision Blizzard |
| 2021 | Xandr |
| 2021 | Two Hat |
| 2021 | Clear Software |
| 2021 | Ally.io |
| 2021 | TakeLessons |
| 2021 | Clipchamp |
| 2021 | Peer5 |
| 2021 | Suplari |
| 2021 | CloudKnox |
| 2021 | RiskIQ |
| 2021 | ReFirm Labs |
| 2021 | Kinvolk |
| 2021 | Nuance Communications, Inc |
| 2021 | The Marsden Group |
Must Read:-