Decision on more restrictions in Delhi possible today amid rising cases of covid-19: reports
By Sanjay Maurya
Due to an increase in Covid-19 cases in the national capital, the Delhi Disaster Management Authority (DDMA) will conduct a meeting today (10th January) to examine additional restrictions in the national capital. Under the Graded Response Action Plan(GRAP), officials are also stated to propose a "complete curfew". Arvind Kejriwal, the Delhi Chief Minister, mentioned on Sunday that there is no cause to fear, citing numbers from the country's second wave.
Today Covid-19 cases in India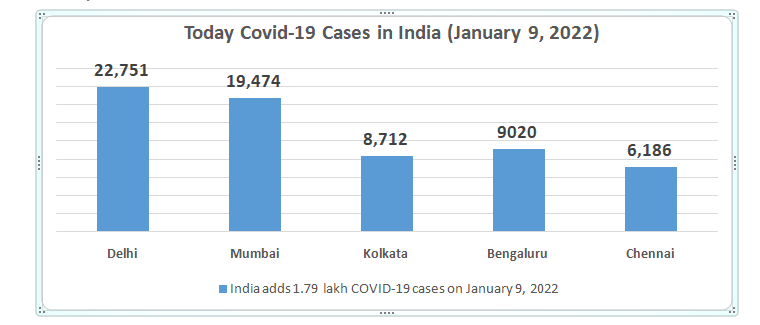 In light of the escalating COVID-19 cases, a meeting of the Delhi Disaster Management Authority (DDMA) has been called for Monday at noon. As the number of cases continues to rise, more restrictions may be imposed, According to reports.
The meeting's agenda includes a review of the COVID-19 situation and preparations in the wake of an increase in Omicron cases in Delhi, a discussion of the GRAP (Level 4 Red) implementation, and a review of the vaccinations programme.
The meeting's agenda said, Discussion on the execution of Graded Response Action Plan (Level 4 Red Alert) since Covid positive has reached 15.34 percent.
Under the four-stage Graded Response Action Plan (GRAP) established by DDMA, the Red Alert is the highest level of restrictions, including a complete curfew, Metro trains shut down, the closing of all non-essential stores, and government buildings, except those dealing with initial services.
It was also addressed at a previous DDMA meeting, but the authorities chose instead to impose a weekend curfew. When Covid positivity exceeds 5% for two days in a row, GRAP issues a Red Alert. The DDMA has now permitted 100% seating capacity in buses and Metro trains due to heavy crowding at bus stops and Metro stations. Standing passengers, on the other hand, are not allowed.
On Sunday, Delhi has 22,751 new Covid-19 cases and 17 fatalities. On Sunday, the overall positive rate was 23.53 percent. In addition, the city recorded 10,179 Covid recoveries. As of Sunday evening, there were 60,733 active cases in Delhi. Arvind Kejriwal, the Delhi Chief Minister, said during a news conference on Sunday that if people follow Covid-19 regulations completely, there would be no lockdown in the capital. We want to apply as few restrictions as possible to avoid affecting people's livelihoods, he added.
Must Read:-