New Zealand to ban cigarette sales for future generations
By Sanjay Maurya
New Zealand said on Thursday (9th December 2021) that it plans to prohibit young people from purchasing cigarettes for the rest of their lives, making it one of the best steps to reduce smoking-related fatalities in the world. New Zealand is one of 17 nations that have made plain cigarette packaging mandatory.
Plain packaging attempts to promote public health by lowering smoking rates. Plain packaging reduces the attraction of tobacco goods, thereby discouraging people from using them. It also prohibits sales to anybody under the age of 18, but it claims that these steps are insufficient to achieve the target of a national adult smoking rate of less than 5% by 2025.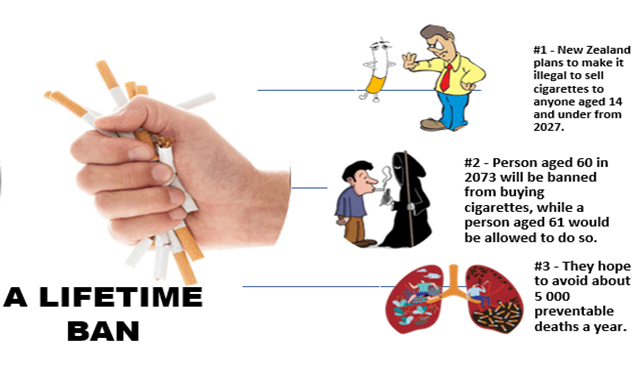 Anyone under the age of 15 would be prohibited from purchasing cigarettes for the rest of their lives beginning in 2023. People 42 and older, for example, would still be able to purchase tobacco goods in 2050, but anyone younger would not.
We want to make it illegal to sell or distribute smoked tobacco products to future generations, Dr. Ayesha Verrall, the country's associate health minister, said in Parliament on Thursday. When the law takes effect, people under the age of 14 will never be allowed to legally purchase cigarettes.
The concept will be discussed by a Maori task force comprised of tobacco control and public health specialists, which the New Zealand government hopes to get into law by the end of 2022.
This goal was initially set by New Zealand in 2011. Since then, the price of cigarettes has continuously risen to become one of the highest in the world. In New Zealand, a pack costs around NZD 30, or a little over $20, second only to neighboring Australia, where wages are significantly higher.
The government wants to enact the new legislation by the end of next year, which will limit the number of retailers that may sell cigarettes starting in 2024. By 2025, the amount of nicotine — the most addictive chemical — in cigarettes will be reduced, making it easier to stop. Starting in 2027, it will usher in the "smoke-free" age.
The authorities in New Zealand have not said how they intend to enforce the ban or which stores would be prohibited from selling tobacco goods. When the law is presented to parliament next year, further information is expected.
Must Read:-