Omicron Variant 6 times more transmissible than Delta, Here's All You Need to Know
By Sanjay Maurya
Experts believe that the recently discovered variation of concern B.1.1.529 (Omicron) will not respond to monoclonal antibody therapy or cocktail therapy. According to a preliminary examination of Omicron infections in South Africa and elsewhere, specialists believe it has a six-fold stronger spread potential (R-value) than the Delta variety that caused the second wave in India. It could also be able to avoid the immune system.
Monoclonal antibody treatment is effective against the Delta form, which causes severe infections and death. However, the Delta plus did not react to this medication. Omicron is the second variation of concern that may not respond to monoclonal antibody therapy after Delta plus.
Statistics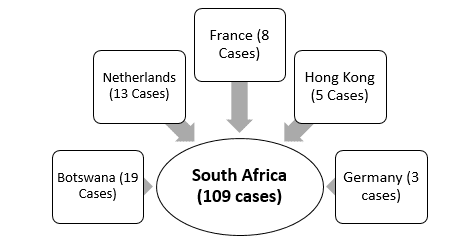 According to early findings, there may be an increased chance of reinfection with 'Omicron' – patients who have previously been infected with COVID-19 may be more readily reinfected with this variety.
It's unclear if 'Omicron' is more transmissible than Delta or other forms. RT-PCR testing can now detect the strain.
The WHO is working with technical partners to figure out how this variation could affect immunizations.
It's yet unclear if 'Omicron' infection produces more severe illness.
India on Alert
The UK, Europe, and 11 nations such as – 1, South Africa, 2, Bangladesh, 3, Botswana, 4, Brazil, 5, China, 6, Mauritius, 7, New Zealand, 8, Zimbabwe, 9, Singapore, 10, Hong Kong, and 11, Israel – are all "at danger," according to reports.
Two South African citizens tested positive for Covid-19 at Bengaluru's Kempegowda International Airport on Saturday (27th November 2021), causing concern among health officials over the new Omicron strain of the fatal virus. On Saturday, Bengaluru Rural Deputy Commissioner K. Srinivas indicated that more test results will be needed to determine whether the South Africans are infected with the Omicron type.
According to the Health Department, the results of the tests will take time to come. Both have been quarantined and will remain there until the presence of the new variety is confirmed by test results.
India has added several countries to the list of countries from which visitors will need to take extra precautions upon arrival in India, including post-arrival infection testing, in response to growing concern about a new COVID-19 variant known as 'Omicron,' which was first discovered in South Africa.
Botswana, China, Mauritius, New Zealand, Zimbabwe, South Africa, Brazil, Bangladesh, Singapore, Israel, Hong Kong, and nations in Europe, including the United Kingdom, are among the countries from which travellers will need to take extra precautions upon arriving in India.
Must Read:-