Railway suspends NTPC, Level 1 exams: From recruitment process to controversy, all details here
By Sanjay Maurya
Thousands of students who took the Railway Recruitment Board's NTPC recruitment exam on January 24 blocked trains in Bihar to protest the Indian Railways' non-technical popular category results, which were released earlier this month. The national transporter said that all the recruitment process was conducted as per the rules and there would be no undue advantage to any one group of candidates over the others to get the job in Indian Railways. Here's all you need to know about the NTPC's recruiting and selection procedure, as well as the controversy:
About Railway Recruitment Board
Railway Recruitment Board is a government organisation that works with the Ministry of Railways for the recruitment of candidates to Group C and Group D non-gazetted civil service and engineering positions in the Indian Railways.
Railway suspends NTPC, Level 1 exams
After violent protests by job applicants over the selection process of the national transporter's recruitment exams, Railways has decided to suspend its NTPC and Level 1 exams, a spokesperson for the national transporter said on January 26.
It has also created a committee to look into the issues of both those who passed and those who failed the various railway recruitment boards (RRBs). The committee would submit a report to the Railway Ministry after hearing from both parties, he added.
What posts was the examination for?
The railway is hiring for 35,281 vacant posts across various categories, ranging from junior clerk to train assistant, guard, timekeeper, and station master. A minimum qualification of 10+2 (Class 12 pass) is required for about 11,000 of these posts. The rest are higher-paying positions that require graduation as the minimum qualification. The positions are divided into five pay levels, ranging from level 2 to level 6. Junior Clerk, for example, is a level 2 position (beginning salary INR 19,900) for which a Class 12 pass is required. A degree is required for the position of Station Master, which is a level 6 position with a starting wage of INR 35,400.
What triggered the protests?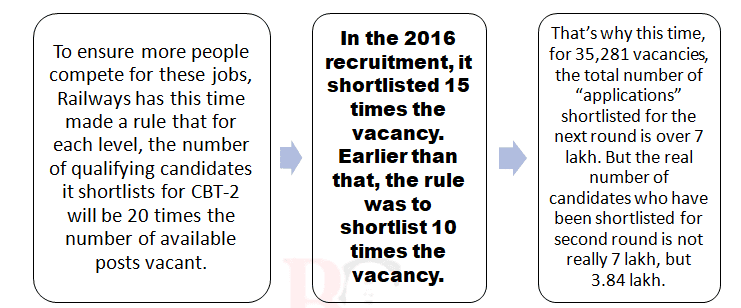 "The protest began with a few dozen students, but it grew to almost 2,000 jobless youths and students in Patna, lasting more than nine hours," said Vikas Yadav, who was at the forefront of the movement. After the recent 'inaccurate' results, RRB issued a new notification stating that another exam for the post will be held. This sparked the protest. The job applicants who appeared for RRB's Non-Technical Popular Categories exam 202 got angry and accused RRB of cheating by giving two exams.
Must Read:-