Rajasthan makes Covid-19 vaccination certificate mandatory for entry in public places from Jan 31
By Sanjay Maurya
The Rajasthan Cabinet decided on 29th December 2021 to make COVID vaccination mandatory for entry into public places after January 31 due to the fast rise in new COVID-19 cases and the growing threat of a new omicron variant. The Rajasthan administration declared in an official statement that night curfews will be strictly implemented in the state from 11 p.m. to 5.00 a.m. every day, till further notice.
Furthermore, the government has set a limit of 200 people for all social gatherings, including weddings. The host and venue management are required to seek authorization from district authorities in the case of a bigger gathering. In the event of a breach, the host and venue management would be fined INR 10,000. Home delivery of meals is not restricted by the government; however, takeaway businesses are only allowed to operate until 10 p.m.
Quick Glance

Mumbai under Section 144
Due to an increase in COVID-19 cases in Mumbai, the city has been placed under Section 144, which will last until January 7, 2022. From December 30 to January 7, New Year's festivities, parties, and other activities in any closed or open location, including restaurants, hotels, taverns, pubs, resorts, and clubs, are forbidden. The Maharashtra government published instructions on 29th December for no gathering on New Year's celebration from December 31 to January 1.
The government has especially requested that Mumbai residents avoid congregating in popular tourist destinations such as the Gateway of India, Marine Lines, Girgaon Chowpatty, Juhu Chowpatty, and other locations. On the night of the new year, residents should avoid mass gatherings at beaches, gardens, and on the roadways, and instead focus on social distancing, masks, and sanitizer.
Uttarakhand: Covid-19 test mandatory
In response to worries over the new Covid variant Omicron, the Uttarakhand government has declared that persons travelling from other states would be required to do an obligatory Covid-19 test. The health department has given orders to monitor people arriving from other countries at the border and conduct the Covid test. All districts were told that if a traveller arriving from outside the state showed signs of Covid, everyone should be tested and, if positive, placed in a 14-day quarantine.
Omicron Cases in India today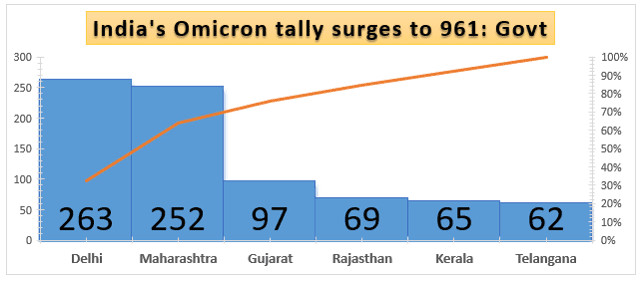 Must Read:-