RBI punished Paytm Payment Bank for sharing Data with Chinese companies
By Sanjay Maurya
Paytm Payments Bank, which processes transactions for India's digital payments giant Paytm, was barred from taking on new customers because it violated rules by flowing data to servers overseas and not completely verifying its clients. According to the reports, annual RBI inspections discovered that the company's servers were sharing information with China-based entities that indirectly own a stake in Paytm Payments Bank.
Paytm
Founder: Vijay Shekhar Sharma
Founded: August 2010
CEO: Vijay Shekhar Sharma (Dec 2010–)
Revenue: 3,187.6 crores INR (US$420 million, 2021)
Total assets: 9,150.7 crores INR (US$1.2 billion, 2021)
Headquarters: B-121, Sector 5, Noida, Uttar Pradesh, India
Parent organization: One97 Communications
The central bank on 11th March barred SoftBank-backed Paytm Payments Bank from adding new users, citing "material supervisory concerns observed in the bank." The Reserve Bank of India said in a statement that the bank has also been directed to appoint an audit company to perform a comprehensive audit of its IT system.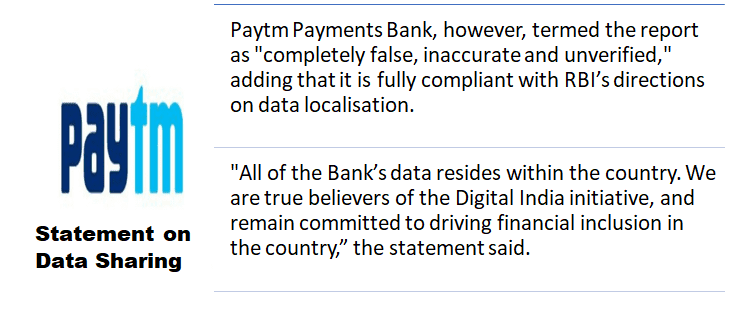 A recent Bloomberg report claiming data leak to Chinese firms is false and sensationalist.

Paytm Payments Bank is proud to be a completely homegrown bank, fully compliant with RBI's directions on data localisation. All of the Bank's data resides within India.

— Paytm Payments Bank (@PaytmBank) March 14, 2022
Paytm is acting quickly in response to the RBI's ruling. PPBL said that it will continue to cooperate with the regulator to address their concerns as soon as feasible. Customers' services will not be disrupted, according to the statement. "PPBL's existing clients will be able to continue to benefit from seamless banking and digital payments services," according to the company.
Existing customers' PPBL savings, fixed deposits with linked banks, and balances in their Paytm Wallet, FASTag or Wallet Card, and UPI services are all secure and working, according to the company.
According to the reports, the regulator now wants Paytm Payments Bank to employ a technical auditor in cooperation with the RBI. The company said in a statement that it is taking efforts to comply with the RBI's mandate, including appointing an external auditor. Existing clients will not be affected in any way. According to its website, Paytm Payments Bank has over 300 million wallets and 60 million bank accounts. According to the bank, it has over 100 million KYC-compliant customers and is adding 0.4 million each month.
Must Read:-