Russia declares war with Ukraine: Stock market crash update, India's reaction, and more
By Sanjay Maurya                          
On 24 February, Russian President Vladimir Putin announced a military crackdown in Ukraine, saying it was being done to protect the people. Putin noted that the move was in response to threats from Ukraine. He said that Russia has no intention of occupying Ukraine. Putin said the "regime" in Ukraine was responsible for the killings.
Putin warned other nations that interfering with Russia's actions will result in "consequences they have never seen."
| | |
| --- | --- |
| Russia | Ukraine |
| Prime minister: Mikhail Mishustin | Official languages – Ukrainian |
| Capital: Moscow | Capital: Kyiv |
| Area: 17.13 million km² | Area: 603,548 km² |
| President: Vladimir Putin | President: Volodymyr Zelenskyy |
| Population: 14.41 crores (2020) World Bank | Population: 4.41 crores (2020) World Bank |
| Currency: Russian ruble | Currency: Ukrainian hryvnia |
Latest developments on the Russia-Ukraine crisis:
Russia's Putin has said that "any bloodshed will be at the discretion of the Ukrainian regime." The  occupation of Ukrainian territory is not included in our plans (of a special military operation) in Ukraine. We will aim for demilitarization and demilitarization of Ukraine," he was quoted as saying in the reports.
Putin said he would execute a "special military operation" in Donbas and cautioned against foreign intervention. AFP claimed that powerful explosions were heard immediately after the announcement in Ukraine's capital Kyiv and the eastern port city of Mariupol.
The announcement was made a few hours before the special emergency session of the United Nations Security Council. The meeting was set after Mr. Putin recognized the independence of individual regions of Ukraine.
President Volodymyr Zelensky of Ukraine had earlier made an emotional late-night appeal to Russians not to support "a major war in Europe." In Russian, Zelensky said that the Russian people are being misled on Ukraine and that the likelihood of war "depends on you."
The United States has stated that it will continue to send "defensive" weaponry to Ukraine in response to the Russian incursion, as well as deploy US troops to support NATO partners in eastern Europe. The moves are anticipated to strengthen the more than 90,000 US troops now stationed in Europe, either temporarily or permanently.
India has urged "all parties" to exercise"utmost restraint," claiming that the best way to settle the escalating tension is via diplomatic dialogue.
Share Market News Today – Nifty Below 16,500, Sensex Crashes Over 2050 Points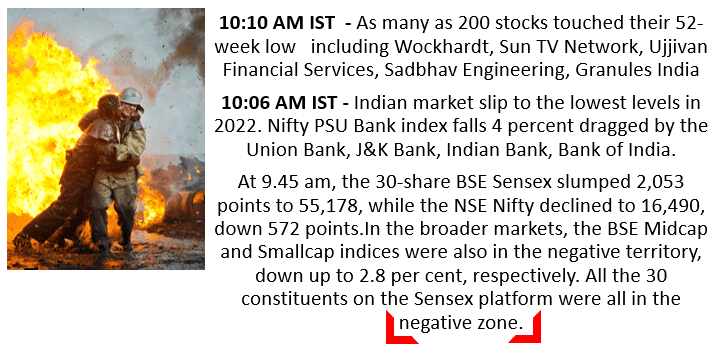 Must Read:-