Sony, Honda to join hands in EV business as demand rise
By Sanjay Maurya
Japanese electronics company Sony and carmaker Honda, have formed a joint venture to develop and market electric vehicles, the company said on 4th March. Sony and Honda plan to launch a new company this year, with the first vehicle on the market in 2025. The new company will design, produce, and market electric vehicles, but it will not own or run manufacturing facilities. With its years-long expertise in vehicle making, Honda will manufacture the automobile at its factories. Sony will create a "mobility service platform" for automobiles.
Honda Motor Company
Multinational conglomerate company
Founded: 24 September 1948, Hamamatsu, Shizuoka, Japan
Subsidiaries: Acura, Atlas Honda, Honda R&D, MORE
Founders: Soichiro Honda, Takeo Fujisawa
Industry: Conglomerate
Area served: Worldwide
Sony Corporation
CEO: Kenichiro Yoshida (1 Apr 2018)
Founded: 7 May 1946, Nihonbashi, Tokyo, Japan
Headquarters: Minato City, Tokyo, Japan
Revenue: 9 lakh crores JPY (US$81.38 billion, 2020)
Parent organization: Sony Group
Subsidiaries: Sony Pictures, Sony Pictures Networks India, MORE
Founders: Akio Morita, Masaru Ibuka
Key people – Shuzo Sumi (Chairman of the board), Kazuo Matsunaga (Vice Chairman of the board), Kenichiro Yoshida (Chairman, President & CEO), Shigeki Ishizuka (Vice-Chairman)
At this time, it's unclear what that may look like, although Sony is a major provider of image sensors for smartphones and is increasingly designing the chips for automobiles. Sony's PlayStation division is also a prominent gaming force. Sony said in January that it will form Sony Mobility to explore entry into the electric car industry. The VISION-S 02., a prototype sport utility vehicle, was also unveiled by the company.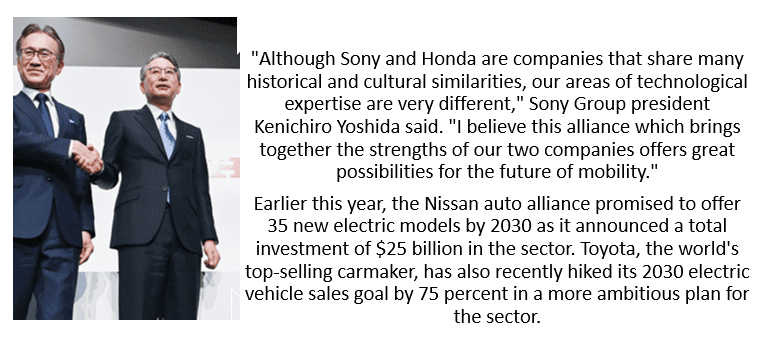 Honda, on the other hand, has been making the shift to becoming an electric vehicle manufacturer. By 2040, the Japanese carmaker plans to phase out gas-powered vehicles. Honda and General Motors have formed a cooperative venture to develop new electric cars. Another example of technology businesses entering the auto industry and carmakers striving to improve their technical skills is the Sony-Honda partnership.
Baidu and Xiaomi, two Chinese technology businesses, have created electric vehicle companies, while a report from last year said Apple is stepping up its efforts in self-driving cars.
Must Read:-