Tesla delivers almost 1 million cars globally
By Sanjay Maurya
Tesla said that it delivered almost one million electric cars (EVs) across the world in 2021, well exceeding its own goal of boosting deliveries by 50 percent. Last year, Tesla delivered 936,000 electric vehicles, roughly double the number it had the year before. According to reports, the Tesla Model 3 and Model Y were the most popular electric vehicles from the American firm, with 911,208 units delivered in total. Following that, 24,964 Model S and Model X units were sold. These are Tesla's premium models, which cost about $100,000. Tesla delivered 308,600 units in the fourth quarter, accounting for the majority of the sales boost.
Tesla, Inc.
Vehicle manufacturer
Founded: California, United States – 2003,
CEO: Elon Musk
Headquarters: Austin, United States
Revenue: 3,154 crores USD (2020)
Number of employees: 70,757 (2020)
Founders: Elon Musk, Marc Tarpenning, Martin Eberhard, JB Straubel, and Ian Wright
Subsidiaries: SolarCity, Maxwell Technologies, MORE
Tesla has been able to overcome the car industry's worldwide logistical problems. Elon Musk, the company's CEO, previously stated that by employing new chip designs and rewriting software, he was able to circumvent much of the semiconductor scarcity. Tesla gained another boost in October when the rental giant Hertz placed an order for 100,000 electric vehicles to be delivered by 2022.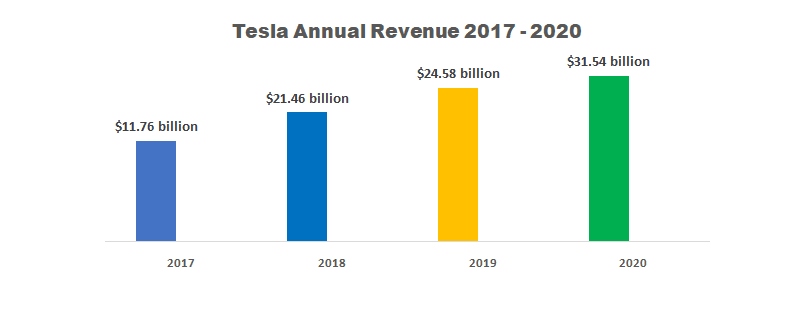 With this news, the carmaker joined a limited group of corporations with a market capitalization of more than $1 trillion. Tesla, on the other hand, is under investigation by the National Highway Traffic Safety Administration (NHTSA), which is looking into its autopilot technology due to safety concerns. Following a federal safety inquiry, the carmaker has also agreed to upgrade its software to prohibit drivers from playing video games on the car's system while it is in motion.
Top 10 carmaker between January and August 2021
| | |
| --- | --- |
| Company | Sales |
| Tesla | 473,136 |
| SGMW | 267,206 |
| BYD | 259,108 |
| Volkswagen | 214,127 |
| BMW | 172,336 |
| Mercedes | 138,601 |
| SAIC | 132,712 |
| Volvo | 115,598 |
| Audi | 107,195 |
| Kia | 87,208 |
The most popular electric vehicles in the US – Q1 2021
| | |
| --- | --- |
| Model | Number of deliveries |
| Tesla Model Y | 48,354 |
| Tesla Model 3 | 26,983 |
| Chevy Bolt EV | 9,025 |
| Ford Mustang Mach-E | 6,614 |
| Audi e-tron + e-tron Sportback | 4,324 |
| Nissan Leaf | 2,925 |
| Porsche Taycan | 2,008 |
| Tesla Model S | 505 |
| Tesla Model X | 505 |
| Volkswagen ID.4 | 474 |
| BMW i3 | 340 |
| Volkswagen e-Golf | 22 |
Must Read:-