Top 10 Best Selling Bikes and Scooters in India 2021
The last financial year was a mixed bag for the all-vehicle industries, especially the two-wheeler. The pandemic had put a lot of business on the back foot. The good thing is that FY21 ended on a good note with sales looking on track. While the motor industry showed some strong signs of recovery, most of the bikes and scooters, even the top 10 ones, showed a traffic dropdown compared to FY20. Here we have listed 10 best-selling bikes and scooters in India 2021.
#1. Hero Splendor
The King of bikes, when it comes to the sales numbers continues to be the Hero Splendor. The humble 97cc commuter managed to be on the list of the best-selling bike in India 2021 with a total sale of 24,60,248 units, though this number includes Splendor members like Plus, Super, and I Smart 110. The price of Hero Splendor starts from Rs. 75,300 and goes up to Rs 80,495. This bike price depends upon variants like Splendor plus Kick with Alloy Wheel, Splendor plus self-start with Alloy wheel, Splendor Plus Self with Alloy Wheel and i3s, and Splendor plus black and accent. Defiantly, at present, this is the most selling bike in India.
#2. Honda Activa
Whenever we talk about the top best-selling scooter in India there is only one name that comes to our mind- Honda Activa. The Activa 6G and Activa 125 reported a combined sales of 19,39,640 units in 2021. Although, the sales figure of the Honda Activa declined by 25% compared to FY20. But, nevertheless, the popularity of the Activa in the Indian scooter space has remained unbeaten and is expected to be the same for at least 3 years. The pricing of Activa start between Rs 70,134 and Rs 76,938. The Activa 6G gets a 109.51cc air-cooled engine which produces power 7.9. It has a fuel tank of 5.3 L and a.
#3. Hero HF Deluxe
Hero HF Deluxe has been India's top-selling bike after Splendor. This bike has secured the third position of the best-selling bikes in India 2021 with sales of 1,661,272 units, which is certainly an impressive number. While the sales are certainly appreciative, the company reported a sales decline of 19% compared to FY2020 during the first pandemic lockdown. Recently, Hero launched the HF100 to bring back the moment of HFs. HF Deluxe is known for being the most affordable bike at the moment, the price starts from Rs 56,120 and goes up to Rs 69,770. The bike is available in 5 different variants and 6 colors with a 97.2cc BS6 engine which produces a power of 7.91 bhp and a torque of 8.05 Nm.
#4. Honda Shine
The number 4th spot was captured by Honda Shine, which happens to be the best-selling bike in India. In order to be precise, Honda sold around 9,88,201 units of Shine in 2021. Honda Shine has been one of the most popular bikes in the 125cc bike segments in India for a long time, and the key reasons behind this are reliability and solid performance. This bike is available in 2 variants and 4 different colors with a top variant, which is featured a 125cc engine that develops a power of 10.59 bhp and a torque of 11Nm.
#5. Bajaj Pulsar
India's most loved Sport bike brand Bajaj Pulsar stands at the number five position of the best-selling bikes in India in the FY21.  Last year, Bajaj sold nearly 1M units of the Pulsar, this includes multiple models that are part of the Pulsar family. In the last two decades, the Pulsar has grown, and added ten models. Presently, the cutting edge Bajaj Pulsar specifications include 125-250cc engines, front and rear disc brakes, nitrox-mono-shock suspension, tubeless tyers among others. Talking about features, the bike comes up with project headlamps, ABS, a fuel-injection system, and a DTS-I engine. The price of Pulsar starts from Rs 80, 090 and goes up to Rs 164 179, which includes multiple models.
#6. Bajaj Platina
With sales of around 7,45,972 units of Platina, this two-wheeler has become the 6th best-selling bike in India in FY21. The company had introduced 2 models of Platina. One gets a 102cc engine that produces 7.9 bhp of power. Whereas the other model is Bajaj Platina 110 with 115.45cc engine generate 8.44 bhp. The Platina 100 is the most affordable motorcycle in its brand above the entry-level CT100 and CT110 models. As I said before, it is sold in two variants – Kick Start and Electric Start. This bike always comes on the list of one of the top-selling bikes in India, because this is a hassle-free commuter two-wheeler.
#7. TVS Jupiter
TVS Jupiter is the 2nd top-selling scooter in India after Activa. In FY21, TVS sold around 5,06,270 units of Jupiter and became the 7th best-selling two-wheeler in India. This two-wheeler is known for its neutral design and comfortable ride quality. The BS6 Jupiter is available in five variants: Sheet Metal Wheel, Standard, ZX (drum), ZX disc with iTouchstart, and Classic.
The bike gets TVS IntelliGo technology, which turns off the engine when it is left idle for a long time. The bike comes with a 109.7cc engine same as the old one, but the motor is now fuel injected to help it comply with the BS6 emission norms, which produce 7.47px and 8.4NM. The price of Jupiter starts from Rs 66,998 and goes up to 77,773.
#8. TVS Apache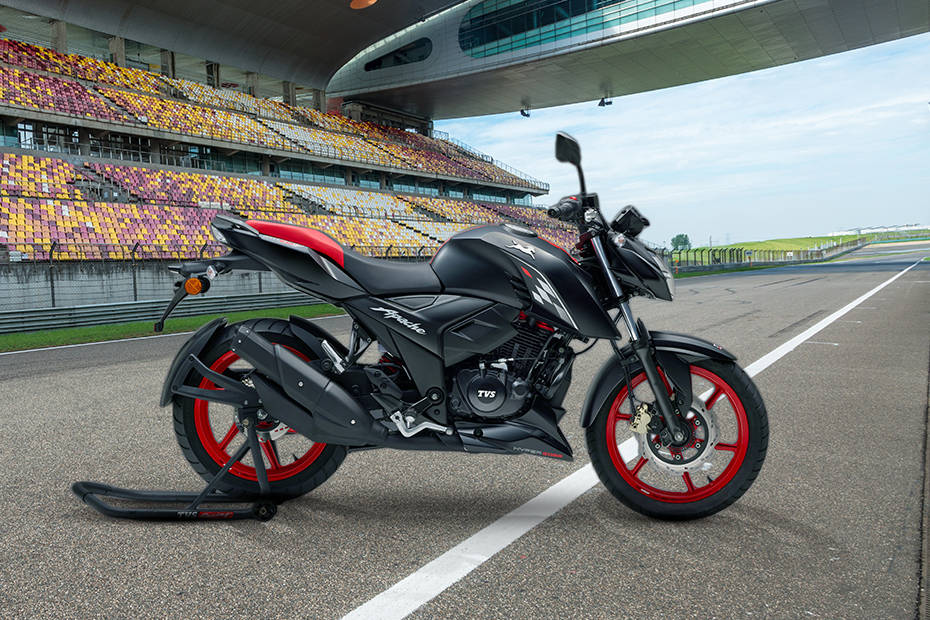 We haven't included the TVS XL100 in this list as it primarily focused on the best-selling bike and Scooter whereas the XL100 is a moped belonging to different classes.
Therefore, the first brand from TVS to come upon the best-selling bike in India on the list is the Apache series of bikes. Last year, the company sold around 3,02,253 units of Apache. After Pulsar, TVS Apache is one of the top selling sports commuter and street fighter bikes. The Apache has a total of 4 models, Apache RTR 200 4v, Apache RTR 160 2v, TVS Apache RTR 180, and TVS Apache RTR 160 4v, and each one offers a different level of performance, ride quality, and features as well as fuel efficiency. Apache bike price starts from 77,781 and goes up to Rs 2.6 Lakh.
#9. Suzuki Access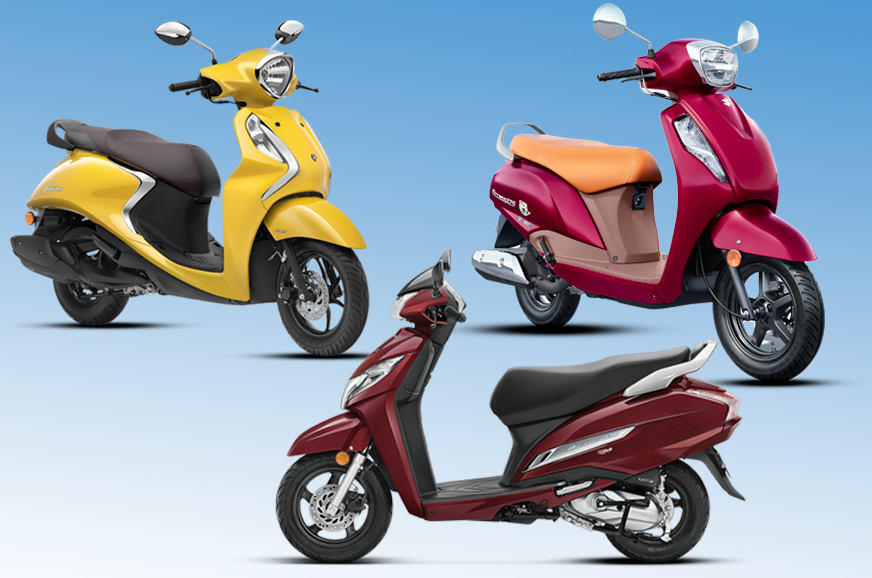 Suzuki Access has gained a lot of popularity ever since it launched. It can be experienced by reviewing data of best-selling two-wheeler vehicles. In FY 21, Suzuki sold over 4,79,834 units of Access and became one of the best-selling scooters in India. The two-wheeler vehicle is available in 7 variants and 10 colors. The Access is powered by a 124cc BS6 engine which generates power of 8.6 bhp and a torque of 10 Nm. With both front and rear drum brakes, Access comes up with a combined braking system of both wheels. The price of this Scooter starts from Rs 74,479 and goes up to 84,132.
#10. Yamaha FZ
Finally, we have the Yamaha FZ, one of the best-selling bikes in India.  Last year, the Yamaha sold more than 1.9 Lakh units of FZ and occupied the list of top-selling bikes in India. The price starts from Rs 1.03 Lakh and goes up to Rs 1,18,900. This styles bike is available in three different variants, including FZS F and FZX, which gets a 150cc engine and delivers 12.2 bhp and 13.6 Nm torque.
Must Read:-