Ukraine agrees to talk with Russia: PM Modi holds high-level meeting and more updates here
By Sanjay Maurya
After a phone call between President Volodymyr Zelenskyy and Belarusian leader Alexander Lukashenko on February 27, Ukraine said it would hold talks with Russia near the Chernobyl exclusion zone on the border with Belarus. According to a statement by Zelenskyy, a delegation will meet with Russia for talks without any preconditions.'During this period, all planes, helicopters, and missiles will remain grounded from Belarus,' he continued. Zelenskyy had previously said that he was open to negotiations with Russia but rejected Moscow's proposal to hold them in Belarus since it would serve as a launchpad for invading forces.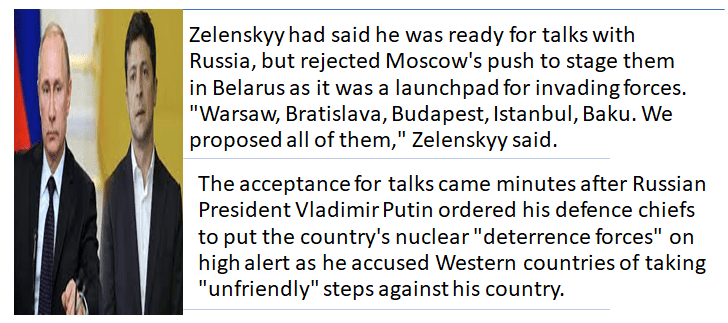 Meanwhile, Prime Minister Narendra Modi held a high-level conference on Sunday (27th February) to discuss the Ukraine crisis. He presided over the meeting shortly after returning from Uttar Pradesh, where he addressed rallies as part of the BJP's state assembly election campaign. Following Russia's war on Ukraine, a huge number of Indians, especially students, are stuck in Ukraine. India has begun evacuating them, and since Saturday more than 900 people have been brought back.
Three more flights bring back 688 Indians from Ukraine
On 27th February, India evacuated 688 more individuals from war-hit Ukraineon three Air India planes, saying it was in contact with other nations in the region to secure the safe return of all its stranded citizens as concerns mounted over their safety. According to Civil Aviation Minister Jyotiraditya Scindia, who met the evacuees at the Delhi airport on Sunday, around 13,000 Indians are currently in Ukraine.
IndiGo also announced that on Monday and Tuesday, it will operate two flights from Delhi to Budapest via Istanbul, bringing back Indians. Foreign Secretary Harsh Vardhan Shringla said that the locations of Indian people are being shared with Ukraine and Russia to ensure their safety and that Indians living near the borders of Hungary, Romania, and Slovakia are being guided towards the respective border points in phases. The International Committee of Red Cross (ensuring humanitarian protection and assistance for victims of war and other situations of violence) has also been urged to escort the Indians safely out of the country.
The first evacuation plane from Bucharest, carrying 219 people, landed in Mumbai a day earlier as part of Operation Ganga, and many of the returnees successfully returned to their home states.
Must Read:-