Top 5 Business Intelligence Tools
Nowadays, a vast amount of data is generated in companies all the time, and this data needs to be analyzed to make important business decisions. To do so, several tools are available in the market to turn raw data into valuable business insights, collectively known as Business Intelligence tools.
In terms of market size, the Business Intelligence (BI) software industry is rapidly becoming one of the most significant. According to recent reports, the global Business Intelligence market is expected to grow at a CAGR of 7.8 percent from 2021 to 2026, from US$26.50 billion in 2021 to US$33.77 billion in 2026.
The increasing emphasis on digital transformation, rising investments in analytics, rising demand for dashboards for data visualization, increased cloud adoption, and increased data generation are all major factors driving the Intelligence and Analytics Software market size.
The following are the top 5 Business Intelligence tools that grab attention and are used by millions of companies hunting for great business insights:
#1 Power BI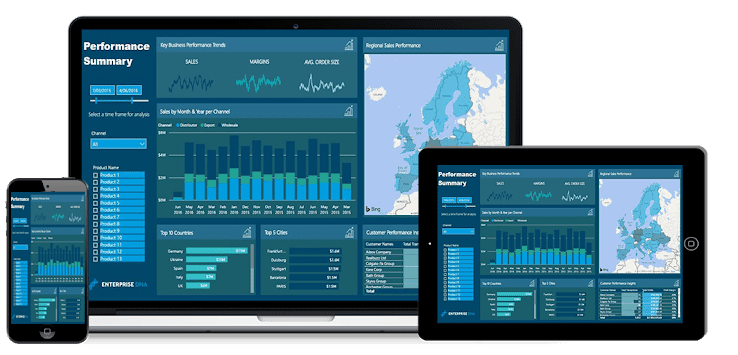 Power BI is a cloud-based business intelligence analytics service from Microsoft that allows you to analyze and visualize data. It generates and publishes innovative and clear reports for a particular company. Anyone can build custom dashboards with a unique 360-degree view of their company using Power BI. It will first bind to a variety of data sources, form the data to your specifications, and then model the data using relationships, equations, and hierarchies.
You can produce beautiful reports for your company from all angles using visual software and a custom gallery, and it then publishes the reports securely and sets up an automated data refresh. There's Power BI's one-of-a-kind feature for printing exact dashboards, which can come in handy during board meetings and discussions. Finally, Power BI provides a visualisation library. As a result, Power BI is used by the majority of MNC's.
#2 Tableau

Tableau is a popular business intelligence platform used by the vast majority of companies. It helps you to identify complex trend trends and then transform them into actionable knowledge. Tableau dashboards can be produced in minutes using simple drag-and-drop data field applications. To explore and develop Tableau dashboards, you don't need any technical expertise. It's easy to use on any computer, and the results are simple enough for everyone to understand and use at any time.
Tableau has five major projects to choose from. Tableau desktop comes first, followed by Tableau online, reader, and finally Tableau public. Tableau's other notable features include: In Tableau, you can simply pick the data and switch between visualizations on the fly, making switching between visualizations extremely simple.
Tableau, on the other hand, visualizes data from the outset, allowing you to see this important information in a new light. Tableau also provides users with a variety of options for answering questions while they explore data visualization. Tableau also offers a range of enterprise-level deployment delivery and consulting services. It also enables users to build custom formulas that aren't available in other software, and it has hundreds of native connectors that enable users to easily pull, cleanse, and compare data from virtually any source without writing custom code.
#3 Informatica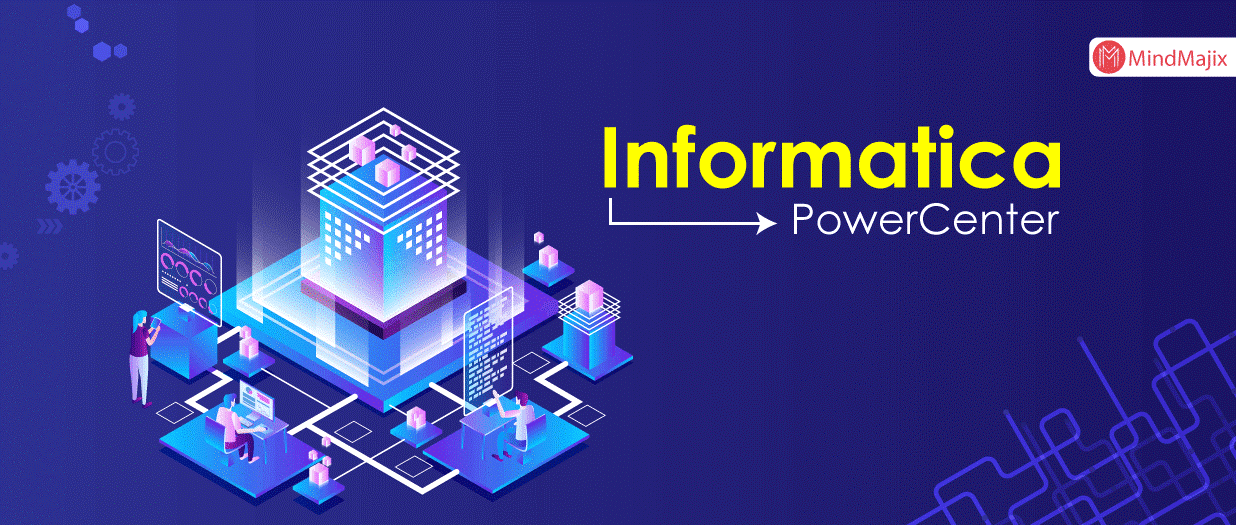 Informatica is an ETL-based data integration system. It collects data from various sources and then loads it into different targets. It's also capable of handling large amounts of structured or unstructured data, such as flat files, databases, log files, and so on. It also offers data integration applications and services for several companies, industries, and government agencies, including telecommunications, healthcare, banking, and insurance services, and it is high-performing while also being very easy to create, manage, and administer, making it a better alternative to ETL.
Administrators, developers, and practitioners would benefit from the features of Informatica Power. The metadata manager is the first of the Informatica ETL products, followed by creation capabilities, a range of usability and visual tools, and finally, metadata-based architecture. As a result, the Informatica power center is being used by some of the world's largest companies.
#4 MSBI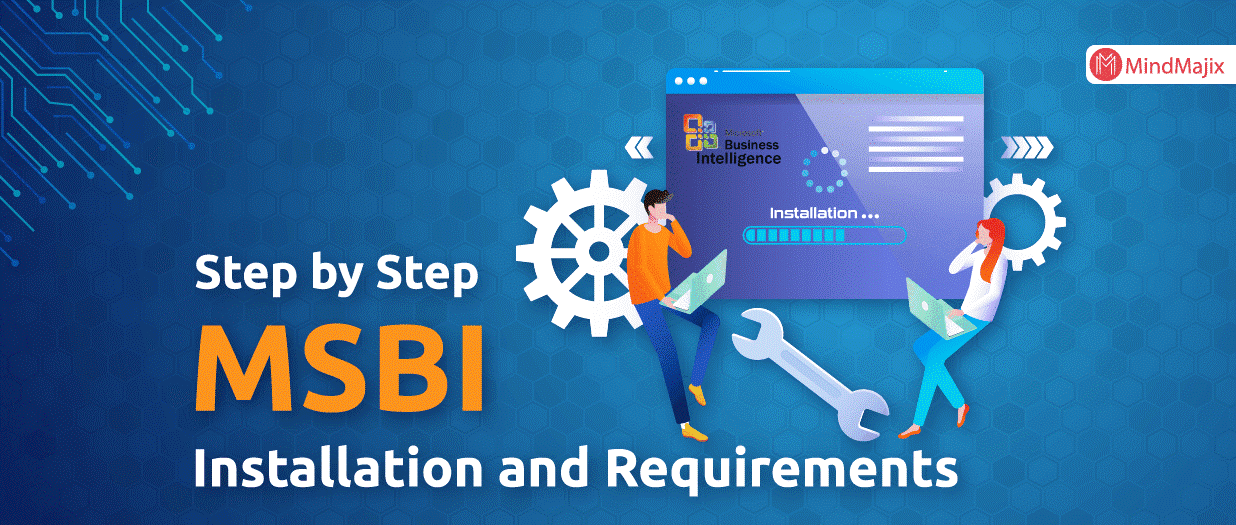 MSBI stands for Microsoft business intelligence, and it is one of the most common data and mining tools for business intelligence. It assists the company by developing virtual dashboards and scoreboards. It can also produce fast and accurate results using a search engine, even when there is a lot of data. It also includes tools that help in the provision of optimized business intelligence and data mining queries. MSBI makes use of Visual Studio and SQL Server, enabling users to access reliable and up-to-date data to make better decisions. The first is SQL server integration services, which are divided into three groups.
This is a forum for developing high-performance data integration and workflow solutions for data warehousing, including data extraction, transformation, and loading operations. The SQL server analytical services are the next step. This is the method of transforming two-dimensional data, such as rows and columns, into a multi-dimensional data model.
It is primarily used to analyze large amounts of data, after which SQL server reporting services are provided. It's a web-based enterprise reporting platform that can handle both conventional and interactive reports, as well as dimensional and multi-dimensional data. MSBI is more than ready to take on the world of business intelligence and with good reason.
#5 Cognos Analytics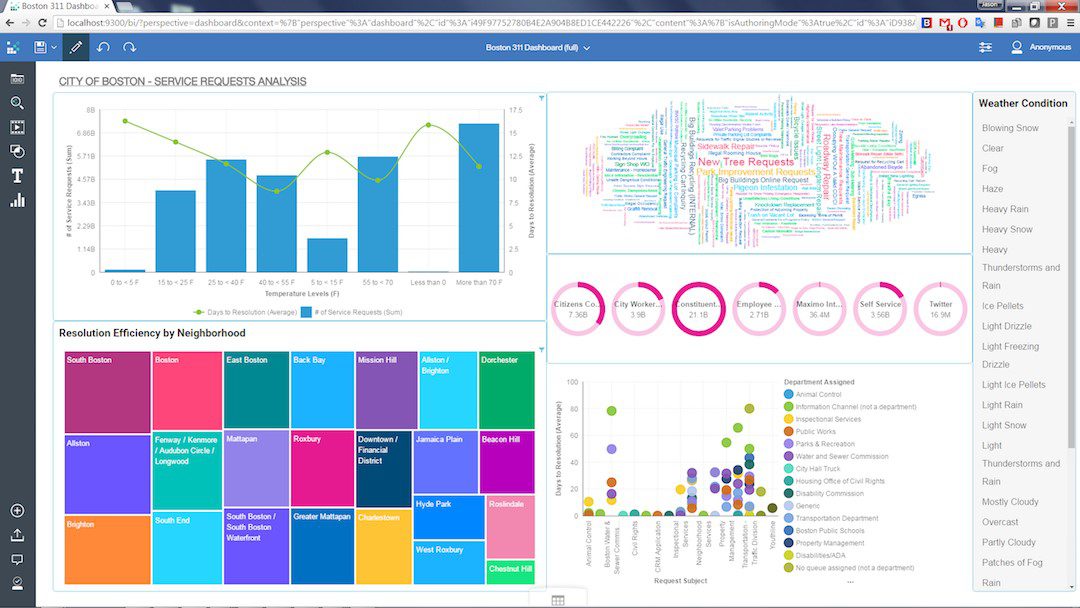 It is one of the most important technical networks in the world today. Cognos analytics software is an online-based business intelligence platform that provides a full suite of bi software to help businesses achieve their objectives. Its capabilities include dashboarding, analytics reporting, score carding, and, most importantly, data integration. It is made up of 30 different items. It primarily focuses on analytics and exploration and offers intuitive and immersive user experiences. Data governance and business IT collaboration allow the company to manage its information knowledge and respond to inquiries.
It has also strengthened its analytics, making it smarter and more embeddable. IBM is a company that specializes in Cognos enables businesses to stand out from the competition by offering innovative features such as analytics, in which key business questions are answered in a fraction of a second using AP techniques and then collective intelligence. This comes with collaboration and social networking features that streamline processes and, in the end, provide insight. It enables business people to respond to circumstances in real-time.
Final Thoughts
The recent pandemic due to COVID-19 has accelerated the need for all companies to put their data to work to speed up decision-making. A structured approach to business intelligence will help businesses find the right metrics to help them weather the storm. As business technology has evolved at a breakneck pace, a new generation of Business Intelligence (BI) software has emerged, with features targeted to small and medium-sized companies, as well as start-ups.
Also Read:- Valuable Tips to avoid Computer Vision Syndrome