The Exemplar of Ambition and Aspiration in the Architectural Arena
Prevailing stereotypes and countless biases related to women in our nation and across varied parts of the world, curb them to progress in the manifold of spheres. Despite of having a tremendous potential and capabilities, they are dooming somewhere in the gloominess. Fortunately, it's is not factual for all the females, there are some undisputable spirits, who are breaking the existing notion, and sparkling exceptionally in their genres. Unfurling the flag of Women Empowerment, Poonam Jain is brilliantly progressing as a remarkable entrepreneur in the domain of architecture. With an extraordinary vision, she along with her soul mate founded Arch Point Consultants Pvt. Ltd.
With a sense of humility, she owes a gratitude to her Master (Shri Kamlesh D Patel), Parents (Suresh Chand Jain and Shashi Jain), Husband (Amit Khandelwal), Son (Pratap Khandelwal) and In-laws ( Shri Om Prakash Khandelwal and Tara Devi Khandelwal) for everything, she has gained in this beautiful life. They rendered a stupendous support and motivated her to reach the apex on personal and professional fronts.
Talking about the tycoon's academic career, she accomplished schooling from Maheshwari Girls School from Science stream, and then opted for architecture as a core subject to seek career in. Whilst pursuing B. Arch at Aayojan School of Architecture, she met Amit- the love of her life, who is her husband now. The prowess entrepreneur liked his ambitious approach towards life and his philanthropic attitude. They completed their Bachelor of Architecture together, and then decided to start their own architectural consultancy services.
As a woman, she had a great responsibility of taking care of her family, but for her, it was not a burden; as she considered it as the foremost duty. So, instead of sacrificing her career, and in order to take care of her family, she decided to figure out a way by which she could manage both with equal efficiency. Consequently, with the grace of God and co-operation of her beloved husband, she came to know about Heartfulness.
The pendulum of balance in the entrepreneur's life is brought by a stupendous program of Heartfulness –It is a simple and subtle practice of meditation that connects each of us with the light and love in our hearts under the guidance of Dr. Kamlesh D Patel known as Daaji. It focuses on living a life of contentment, by giving importance to all the aspects of life. It really helped her to grow as a person, entrepreneur and a mother. Carrying a light of unfathomable love and gratitude in heart, she is progressing and enlightening the world with utmost wisdom.
Insights of the Company
During the initial phase, the couple's formidable organization worked on smaller projects, but now, after fifteen years, the company is a full-fledged architectural firm providing a plethora of services. The Company is named as Arch Point Pvt. Ltd., and was incepted in 2004. It offers consultancy services and almost all sorts of architectural and designing solutions. The ace organization has a team of highly competent and professional architects and designers. Its exemplary services can be broadly categorized into following categories such as Architectural consultancy, Interior designing, Townships and institutional designing, Landscaping, and so on.
Along with offering innovative solutions for commercial and industrial projects, Arch Point has also offered VASTU and AURA oriented solutions for several residential projects. Arch Point has served a multitude of clients with diversified services till today. It has worked on beaucoup of projects such as townships, hotels, educational institutes, commercial projects, residential projects, hospitals, etc.
Arch Point Working Methodology is "QUANTUM"
Q Queries
U User
A Aesthetic
N Neighbourhood
T Technical
U USP
M Masterpiece
Poonam says, about the workforce, "We treat Team as if they are working 'with us' and not 'for us'." According to Poonam's perception, it is quite essential to take care of the interests and needs of the Team, and the company should make them feel comfortable, and provides the best facilities and infrastructure at work place. The fact is that 'Team' plays the central role in the success of any organization, and if they are not happy, then they will not turn out to be efficient.
Arch Point takes various measures to ensure that its Team is comfortable and satisfied whilst working with the splendid organization. The prime factor which it considers is the workload. The organization distributes the work in such a manner that each member of its Team is able to accomplish it within a given time interval, without being stressed. Secondly, it ensures healthy and safe environment at workplace. The company also conducts awareness sessions, where it educates the Team about their rights. It also monitors infrastructure, and ensures that Team gets all the beneficial facilities such as better equipment and machines, hygienic and clean place to work, well-furnished workplace, etc. In addition to it, the colossal organization also takes regular feedback from its Team, and works on it to resolve the problems, which they are facing.
Women Participation in the Entrepreneurial World
Women's participation and contribution in the entrepreneurial world has upheaved from last few years. There are many factors responsible for this revolutionary change. One of the prominent factor is digitalization. It has given an enormous power to people, especially those who aspire to be entrepreneurs. Women are also empowered by this, and can get most of their jobs done online. In addition to it, the increase in percentage of girls going to schools and families encouraging their daughters to get educated are also the factors, which are responsible for making women more confident, and prepared them to grab the opportunities coming their way. Women are now holding authoritative positions in various industries such as banking, pharmaceuticals, electronics and telecommunication, etc.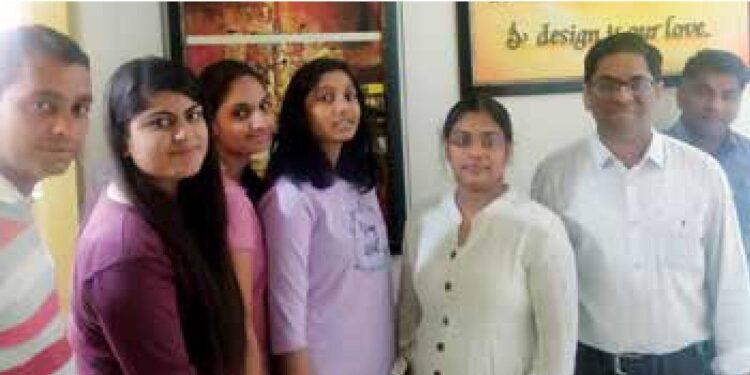 Notable Achievements
The intellectual and ambitious pioneer, with her paramount strenuous efforts, has touched the clouds of glory and success. With the blessings of 'Daaji' and the remarkable efforts of the company's team, the company has been able to complete various grand projects in multiple disciplines such as architectural projects, interior designing projects and residential projects. The team had put its efforts with immense honesty and dedication in each of the projects such as Quantum Vishwalyam, Dhai Dweep, Todarmal Smarak, Achiever home, Hotel Kapish, Sawarthiya Residency. Arch Point is currently designing a flat interior for Bharill's family, who are spiritual with high level of balance in material world. Interior design is based on Aura consultancy. This project is going to be unique as it is being designed with the help of Quantum Principles.
Arch Point has got various awards few of them are as follows:
1. Most Promising Architecture firm by Big Research
2. Awarded by N. D.T.V for its notable Project
3. Appreciated by Khandelwal Samaj Trust
4. Award for Auditorium Design Project
5. Appreciation Award by Todermal Smarak
The company is aiming to expand its clientele internationally. Owing to its international quality standards and efficient services, the company is pretty sure that it will be able to cater the international clients as well. Also, within a next few years, the couple is planning to launch the shares of its company in share market. There are various other growth plans as well, but these are the major ones, and the company is looking forward to accomplish them.
The reputed company tries its best to contribute towards the welfare and growth of the society. And, it has been said, "Charity begins at home", it has also started contributing towards society by conducting meditation sessions for its team members. Every Tuesday, all its team members attend the sessions and practice meditation. Poonam states, "The Team says that it has really helped them in maintaining a perfect balance between professional and personal life." Due to this, they are not stressed at all, and are able to enjoy their professional and personal life. It also contributes support and services to the 'Akshay Patra'. It is a charitable organization that arranges mid-day meals in schools for children.
"Being an architect is no more a gender biased profession now, since women are competing on the same platform, they definitely have to face the equal and breakthrough competition. But, hats off to them, they are doing great."
Poonam Jain ,Founder of ARCH Point