This Holi, Have an Unforgettable Experience of Holi Celebration in Mathura and Vrindavan
Mathura and Vrindavan are two cities located in the Indian state of Uttar Pradesh, which are famous for their celebrations of the Hindu festival of Holi. Holi is a festival that is celebrated all over India and marks the beginning of spring. It is also known as the "festival of colors" and is a time when people come together to play with colors, dance, sing, and enjoy the festive atmosphere.
Mathura and Vrindavan are considered to be the birthplace of Lord Krishna, who is a popular Hindu deity. As a result, the Holi celebrations in these cities have a unique significance and attract a large number of people from all over India and the world.
The Holi celebrations in Mathura and Vrindavan last for several days and involve a number of different traditions and rituals. In this article, we will explore some of the most important aspects of the Holi celebrations in these two cities.
History of Holi in Mathura and Vrindavan
The history of Holi in Mathura and Vrindavan is deeply rooted in Hindu mythology and is associated with the life of Lord Krishna. According to Hindu mythology, Lord Krishna was known for his mischievous behavior and love for playing with colors. The story goes that Lord Krishna used to play Holi with his friends and gopis (milkmaids) in the town of Vrindavan.
He would throw colors on them and smear them with abir (colored powder) and gulal (red powder). The tradition of playing with colors during Holi is said to have originated from these playful activities of Lord Krishna. Over the centuries, the Holi celebrations in Mathura and Vrindavan have evolved into a grand affair that attracts thousands of people every year. The celebrations are marked by a range of different customs and rituals that reflect the rich cultural heritage of these two cities.
Holi in Braj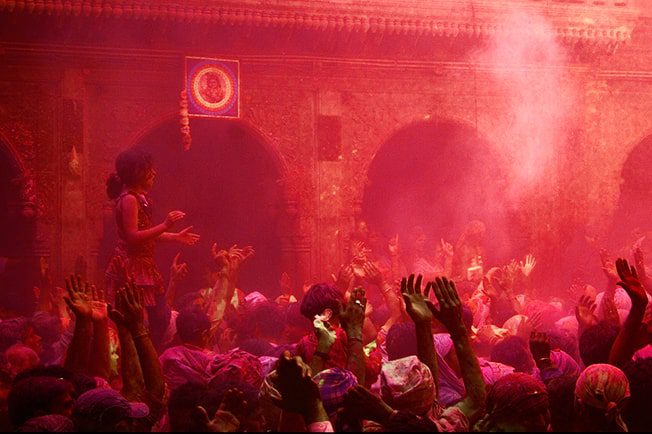 The main draw of Mathura and its surroundings is their rich culture and festival celebrations. They enthusiastically and fervently commemorate a number of festivals connected to Krishna and Radha. In all of India, people know about the Holy of Braj. The Phalgun Amavasi marks the beginning of the Braj Holi celebration, which extends to Mathura and Vrindavan as well as other nearby villages.
Ekadashi is when this event reaches its height. The pastimes that Krishna engaged in with Radha and the Gopis when he was a child are well-known in Braj and the surrounding area. He also utilised these areas for cow grazing. During this Holi season, there are a number of songs that hold a special place in Braj's heart and inspire singing throughout the entire community.
A traditional costume is worn by actors who perform plays and sing songs in classic English. Because this is a beautiful festival, Braj is decorated with colours, especially on its roadways, people's faces, and residences, which all capture the joy of this vibrant celebration. All of the Radha and Krishna temples are illuminated and embellished with bright materials. A variety of Radha and Krishna dramas performed by performers that depict Krishna's activities take place during their particular celebrations.
Braj includes parts of a number of nearby villages, including Gokul, Mathura, Vrindavan, Barsana, and Nandagaon. The sacred site of Braj, which comprises all three villages, is significant in Hindu mythology. People are at their most joyful and colourful at this time, and there are devotional tunes playing everywhere. The way that Holy Day is celebrated here differs from how it is celebrated throughout India.
Holi in Mathura
The Holi celebrations in Mathura begin with a special puja (prayer) that is performed at the Banke Bihari Temple. This temple is dedicated to Lord Krishna and is one of the most popular places of worship in Mathura. The puja is performed by the priests of the temple, who offer prayers and perform rituals to invoke the blessings of Lord Krishna.
After the puja, a procession is taken out from the temple, which is called the "Barasana Holi Procession". This procession involves a group of men who are dressed in traditional attire and carry sticks and shields. They march through the streets of Mathura, singing and dancing to the beats of the dhol (drum).
As the procession moves through the town, people throw colors and water on them, creating a festive atmosphere. The procession ends at the Radha Rani Temple, where the participants offer prayers and seek the blessings of the goddess Radha.
Another important aspect of the Holi celebrations in Mathura is the Lathmar Holi. This is a unique tradition that is observed in the town of Barsana, which is located near Mathura. In this tradition, women playfully hit men with sticks, while the men try to protect themselves with shields. The Lathmar Holi is said to be a reenactment of a playful fight between Lord Krishna and his beloved Radha.
The exact location of famous Mathura Holi
In order to experience "the authentic Mathura Holi 2022," you must fly into Barsana and travel to Nandgaon, Braj, and Vrindavan. Spend a day in Barsana to experience Radha Krishna's platonic flings. People from Nandgaon travel to Barsana with colours and paint the local women.
The women return the favour and make an attempt to defend themselves by mock-beating these people. The following day, go to Nandgaon as women from that city bring colourful flowers to Barsana. Vrindavan Holi and Braj host Holi on the grounds of the temple, where the celebrants are showered with blessed, coloured holy water by the priests. Vrindavan transforms into a riot of colour during Holi, and it is a sight to behold.
Celebrations in Vrindavan
The Holi celebrations in Vrindavan are equally vibrant and colorful. The festivities begin with the "Phoolon wali Holi" (Holi with flowers), which is a unique tradition observed at the Banke Bihari Temple. In this tradition, the priests of the temple throw flowers on the devotees, creating a shower of colors and fragrance. This is followed by a procession, in which people dance
The festivities move from Nandgaon and Barsana to Vrindavan, where they reach their peak in craziness. In Vrindavan, Phoolon Wali Holi is celebrated on the day of Holika Dahan, which coincides with Ekadashi according to the Hindu lunar calendar. The gates of the famed Banke Bihari Temple are opened at around 4:00 pm to let in a crowd of visitors who enjoy 20 to 25 minutes of priests throwing various flowers at them.
On the day of Holi, the Banke Bihari Temple is the site of the biggest celebrations, including the traditional Holi activities of gulal and coloured water tossing and smearing. Bhajans and other spiritual songs are played loudly around the city as people celebrate Holi. The Widows' Holi is another noteworthy event to see in the community.
In Hindu culture, widows are frequently compelled to don austere white clothing and stay away from festivities. A number of widows, however, violated convention two to three years ago by partaking in the Holi celebrations at the Pagal Baba Widow Ashram. Since then, the festivities have gained popularity, and widows now swarm the Gopinath Temple every year to play Holi. You must arrive here before participating in the Phoolon Wali Holi because the temple's gates open at 12 o'clock.
Barsana hosts a Holi festival.
Celebrations for Holi in Barsana begin around a week before the actual festival. Radha lived in the village of Barsana, which is close to Mathura. It is well-known for its lathmar Holi, during which women beat males with sticks in good fun. Radha formerly resided in Barsana, and Krishna would travel there to give Radha some colour.
Holi is mostly a celebration of colours, but in Brij Bhoomi, people also celebrate with flowers and laddos (a rounded sweet). Radha Rani's village is called Barsana. On top of the Brahmagiri Hills, there is a temple dedicated to Radha Rani.
The Holi festival officially begins when the residents of Nandgaon invite those of Barsana to join in the festivities. It's called Phag Amantran Utsav. In Barsana, Laddoo Holi is celebrated on the same day. Bright yellow Bundi Laddoos are flung at one another at the temple. The environment takes on a yellow colour. Yellow is after all Shri Krishna's favourite colour. Lathmar Holi is celebrated the following day in Barsana and the day after that in Nandgaon.
Holi in Nandgaon
The very next day, identical celebrations take place in Krishna's hamlet of Nandgaon, immediately after those in Barsana. The location of Nandgaon has been identified in religious writings as the one where Krishna spent the most of his formative years. Legend has it that Radha and her companions travelled to Nandgaon the following day to colour Krishna after Krishna travelled to Barsana to do so. Holi festivities consequently move from Barsana to Nandgaon.
This day might be a winner for photographers because there are so many different colours and feelings present. Take your time when taking pictures. Be patient and give yourself time to discover the ideal occasion. You'll get some excellent photographs as payment. The top balcony of the temple is the greatest location for photos. Get there as soon as you can. Very quickly, the entire area becomes crowded.
Date of Holi 2023
Hinduism places a high value on the holiday of Holi, which is observed throughout all of India. The festival of colours is now underway. Let us inform you that it is observed throughout the nation with considerable fanfare. Holi is observed annually on the Falgun month full moon, as indicated by the Hindu calendar. In 2023, Holi, also known as the festival of colours, takes place on March 8.
The Holika Dahan, sometimes referred to as Chhoti Holi, will occur on March 7 one day earlier. In commemoration of Holi, all government offices and educational institutions will be closed. You are all aware that India observes the great festival of Holi as a national holiday, thus everyone will be off work.
FAQs
Q.1- Where is Lathmar Holi celebrated in India?
Lathmar Holi is primarily celebrated in the towns of Barsana and Nandgaon in the Mathura district of the northern Indian state of Uttar Pradesh. Barsana is known for the Lathmar Holi where women playfully beat men with sticks (lathis) and men try to defend themselves with shields.
The following day, the festivities move to Nandgaon, where the men of the town throw colors at the women, in a similar playful manner. These celebrations usually take place a few days before the actual date of Holi.
Q.2- Which date is Holi in 2023?
In 2023, Holi, also known as the festival of colours, takes place on March 8.
Q.3- Why is Lathmar Holi celebrated?
Lathmar Holi is celebrated in the town of Barsana in Uttar Pradesh, India. It is a unique festival where women beat men with sticks or lathis. The festival is believed to be based on the mythological story of Lord Krishna and his beloved Radha.
According to legend, Lord Krishna visited Barsana and teased Radha and her friends, who responded by playfully hitting him with sticks. This act is now re-enacted every year during Lathmar Holi. The festival is a celebration of the unique relationship between men and women and is seen as a symbol of equality and mutual respect.
Must Read:-