Innovating Solutions in Physiotherapy 
Physiotherapy is a centuries old profession that has been evolving over the years, while incorporating developments in modern medicine and technologies. Physiotherapy initially involved the use of therapeutic massage and soft tissue mobilization but over the years has come a long way integrating growing knowledge of medical science and Physiology – it now has is recognized as critical aspect of modern healthcare system with its place in prevention, recovery and performance enhancement. 
Physiotherapists today are important in helping patients recover from:
Musculoskeletal – Sports injuries, arthritis or post-fracture rehab, back and neck pains
Neurological – Stroke, Spinal cord injuries, almost all nervous system related conditions.
Pediatrics – Developmental delay; cerebral palsy, congenital deformities etc
Cardio- Pulmonary – Post-operative cardiac rehab or respiratory issues including Covid-related breathing issues and weakness Besides working in a hospital or a private clinic setting, physiotherapists can be seen working with sports teams like cricket and soccer.
People are increasingly conscious of their health and physical fitness, especially now so with the pandemic. With this, there is an increasing demand for healthcare options like physiotherpay and rehabilitation as people need further guidance or injury care. To achieve better outcomes to fulfill this growing need of physiotherapy care, it is important to have a good combination of traditional and evidence-based physiotherapy techniques with innovative technological advancements.
V2U offers this combined approach of "touch with technology": V2U healthcare provides the best-advanced technology while Physio Asia Therapy Centre provides the special Healing Touch.
ABOUT V2U HEALTHCARE
V2U healthcare is a manufacturer, wholesaler, and distributor of physiotherapy, rehabilitation medicine, and wellness products. V2U business model is vertically integrated as a supply chain – At one end, tying up with the manufacturer, and other end to the retail end users.
Company is emerging as a regional brand owning company with product band ownership capabilities – its vision is to develop the business in international markets – with a key focus on Asian markets by creating and offering innovative products and clinical solutions in physiotherapy and rehabilitation.
Vision: To be a leading rehabilitation medicine & wellness solution provider in Asia by acting as a vital link in the value chain from supplier to end-user.
Mission: To provide easy access to cost-effective and efficient physiotherapy, rehabilitation and wellness products utilizing the latest technology.
V2U with its clearly defined vision to become a key regional player has a strategy in place to increase brand presence and market penetration. This is being accomplished via its presence at the regional medical trade shows and Professional congresses across the Asia pacific region. Also organizing continuing Training and Skill upgrading Activities via Physio Asia Academy.
It is also establishing stronger presence on Social media channels and websites with localized contents.
The history of V2U Healthcare dates back to 2002, with the establishment of first company Rehab Asia Pte Ltd in Singapore. In January 2010, when the idea of consolidation of existing businesses under one roof emerged and hence V2U was established. This was because in due course of time, a few different ventures were to be created and assets needed consolidation.
V2U has now established it Branch offices / subsidiary companies in following countries:
Rehamed Healthcare Sdn Bhd, Kuala Lumpur, Malaysia.
V2U Healthcare, Ho Chi Minh, Vietnam.
V2U Healthcare, Manila, Philippines.
V2U Marketing Co Ltd , Bangkok , Thailand
Physio Asia Therapy Centre – Singapore & Manila
The team at V2U is passionate about providing rehab and wellness solutions. The company respects its people and values their contributions. They constantly strive to provide innovative and value-added solutions.
The V2U logo symbolizes expansion from its core clinical rehabilitation services to the manufacturing and distribution of rehabilitation products across the world with a strong presence in ASEAN countries. V2U Healthcare deals with the rehab industry business and the logo signifies a sun with heat and light. Heat is the passion with which it serves its customers, and light signifies bringing in new knowledge and advancements to the rehabilitation industry.
V2U, as the name sounds, "We to You", is service-oriented and lives up to its name by giving value to its customers and value in the supply chain process. V2U brand promise is "Value to You is Value to Us". V2U is structured in a way to create maximum value by the integration of the supply chain vertically via:
Working closely with manufacturers: It adds up value by product features and application enhancements.
Bringing new technologies to the market place and representing them on a regional basis and coupled with education and training.
Reaching its end users: Through Physio Asia Therapy Centre that offers relief and remedies to clients suffering from pain and strength training and rehabilitation.
DINESH VERMA: V2U FOUNDER & TECHNOLOGICAL HEALER
Administering the well-being of people through an amalgamation of technology and training is the passion of Dinesh Verma, Founder of V2U Healthcare and Physio Asia Therapy Centre as he aims to create an environment of physical and emotional comfort for the patients who are suffering from physical & mobility disorders.
An alumnus of Delhi Tamil Education Association Snr Sec School Lodi Estate, Dinesh Verma completed his degree in physiotherapy from the Institute for the Physically Handicapped, Delhi in 1988. Understanding that by being a mere practitioner of the subject will not help him in establishing it as a prime mode of treatment, he decided to be a promoter as well. For that he earned his Graduate Diploma in Business Administration from Singapore Institute of Management and further attained his MBA degree from Henley Business School (U.K.)   in 1998 (Receiving Gold Award for Overall Top Performer among the graduating batch)
Before Establishing V2U Healthcare, Dinesh Verma worked for 10 years at several Organizations in Singapore such as – Margaret Drive Special School, Gleneagles Hospital, and Quintech Scientific Pte Ltd.
"My career began with finding an opportunity and seizing it. At beginning of my career – I identified a GAP between industry and professionals and hence decided bridge this gap.  We continue to identify the need to provide clinical solutions—not just through technology— but with integrating our clinical strengths to provide total solutions.
Apart from developing business, Dinesh has constantly volunteered for professional advancement via his roles as the President of Singapore Physiotherapy Association (2012 –14) and Secretary n treasurer earlier.  He Chaired the Core Steering Committee for the World Confederation for Physical Therapy held in 2015. Since 2014 he is also serving as Executive committee member of Asia Western Pacific World Confederation of Physical Therapy. Dinesh also loves to Mentor upcoming Entrepreneurs and feel pleasure to inspire younger generation.
Dinesh's family is also dedicated to the Physiotherapy world as his wife, Monika Verma, is an established Clinical Physiotherapist and Director at Physio Asia Therapy Centre. His elder daughter, as well, is a Physiotherapy graduate from Perth, Australia while his younger daughter is pursuing a career in the technology field.
V2U HEALTHCARE – Re-defining Physiotherapy
V2U has been working with global partners to create innovative products. The rapid integration of computerization into physiotherapy and rehabilitation is becoming a norm. V2U identifies these technologies, such as computer-based assessment systems for balance, walking and running and offers 3D GAIT Lab, which does a biomechanical assessment of all joints at lower limb – identifies problem areas and V2U defines corrective measures. For instance. a patient may have pain in the knee – but when assessed for full biomechanics from hip to the foot – it may be found that the knee pain is being caused by an abnormality in the foot or hip. The V2U team will provide orthotics or footwear solutions and re-evaluate to ensure that correction is working as desired, hence to get the most effective solution.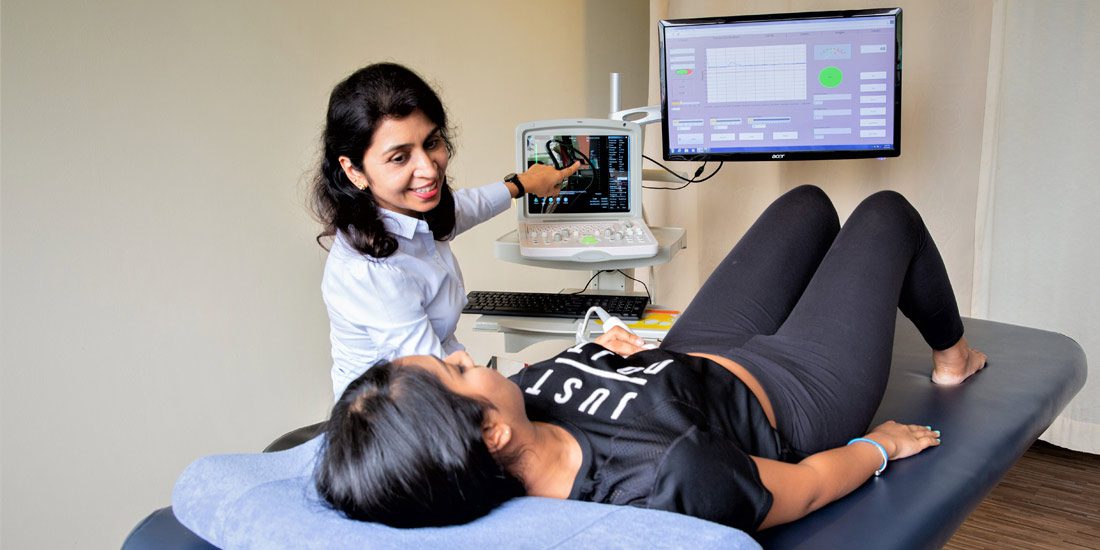 Some of the innovative technologies offered by V2U include:
V2U TRAC PRO: A State-of-the-Art Spinal Decompression Therapy System to treat Back and Neck Pain. It has precise and controlled pull patterns to have decompressive effects on the herniated spinal discs (often get bulged, resulting in sciatica pain) apart from general stretching of soft tissues and muscles.
ACHIEVO PRESSURE BIOFEEDBACK: Imaging Ultrasound with a Pressure biofeedback system. Research has shown that recurrent back pain is often due to weakness of core stability muscles and hence specific training of these muscles is critical for long term recovery. Its proprietary system can identify weak muscles by visualizing on-screen by imaging ultrasound and then monitoring muscle action control via pressure cuff.
V2U Dynamic Tilt and exercise table – Versatile and multifunctional Exercise table capable of performing Pilates level exercise option as well as Standing tilt for Neurological cases
V2U Radial Shockwave Therapy –  device for pain management High Power Laser –V2U's 12Watt high power Laser is a highly effective technology for pain management and muscle injury recovery.
V2U is working on some NEW and simple home-use and wearable technologies as well:
V2U Combo Stim: A TENS (Electrical Stimulator device) with approved parameters to reduce pain and also enable strengthening.
iFMT: A specific Foot Drop Stimulator for patients with foot drop – a result of stroke or Diabetes or nerve injury.
iPMT: A pelvic floor muscle strengthening device.
KMES: A Movement sensor that can guide patients with correct movement patterns; record sessions with objective readings and range of movement.
With the current global situation of Covid, it has become critical to have options to manage the client remotely. V2U is working on a new solution that will allow patients to be monitored while they are being treated at their remote facility or home. Wearable Technologies are becoming a popular mode of long-term management. Simple and effective devices such as TENS for pain management; iFMT for Foot drop management and Sensors for exercise training and documentation are needed in the current times with global movement restrictions.
V2U is always on the lookout for new and emerging technologies. However, it has defined structured criteria to filter proven technologies and bring them to its customers. It is always a participant in leading regional trade shows and professional meetings to seek such solutions, seeking online information and is often approached by new technology developers as well.
V2U has a key thrust to bridge the gaps in technology development and technology implementation. Often, it is observed that clinical professionals are more hands-on rather than technology-oriented and hence it requires much effort to manage this change and facilitate the adoption of technologies with ease. Physio Asia Academy provides much-needed training and skills enhancement for the adoption of these technologies with the greatest efficiency.
With technologically advanced products and Physio Asia as its subsidiary, V2U is set to reform the physio and rehab care industry.
PHYSIO ASIA THERAPY CENTRE:  INSPIRATIONAL METHODOLOGY
Physio Asia Therapy Centre entered the world of healing with the aim to achieve tremendous success by providing professional care which stands on the foundation of evidence-based practice. The mission of this prestigious Physiotherapy Centre is to help people improve their quality of life, by being a pioneer in introducing innovative and world-class services. The Centre strives to uphold its high service standards, leveraging on the use of the latest technology and nonsurgical treatments proven by research, thus assisting its patients in getting back to full recovery quickly. It follows a holistic approach towards full assessment with client education, treatment, and self-management of conditions.
Physio Asia's  exclusive and proprietary approach to provide comprehensive and integrated treatment for those suffering from acute, sub-acute or chronic, and debilitating lower back or neck pain called SCORES (Spinal Core Stability Program).  This program aims at treating such conditions through V2U's Spinal Decompression Therapy during acute and subacute stage and for full functional recovery –  raising postural awareness and specific core spinal muscle strengthening utilizing ACHIEVO Core Stability Trainer – a proprietary system offering Real time imaging ultrasound to visualize weak muscles and make them work by observing functional response via pressure biofeedback cuff system. Conditioning the spinal muscles helps in significantly reducing the risk of further recurrences.
Physio Asia uses technology of 3D Gait Analysis system to analyze walking and running patterns and the correlation of various joints and muscles from back to foot to treat existing deficits and reduce the risk of future injuries through individualized rehab programs. Based on analysis, corrective measures such as Knee braces and foot orthotics are prescribed – to improve body dynamics, as dysfunction in one area of body can translate pain in other area. Assessing the body as a whole and not in parts is key to Physio Asia approach in managing chronic conditions.
The physiotherapists at the Centre are highly qualified and are trained well to understand the distinct nature of problems that the patients might suffer from. They maintain a personal equation with the patients and work as a support system which helps patients in dealing with the pain or limitation with strength. Furthermore, to provide safe and effective quality care to the patients, the facilities at the Centre are regularly updated with the latest world class equipment and the staff regularly undergo training to stay up to date with the latest manual techniques and expand their treatment repertoire.
Physio Asia Therapy Centre is the only such practice to receive the Singapore Prestige Brand Award twice – in 2102 and 2018, among the Established brand category and in 2016 it accomplished Singapore Quality Class and Service Class certification – A high level accreditation granted by SPRING Singapore (Govt. based agency) and it looks forward to further expansion via franchising.
MEETING GROWTH OBJECTIVES AND CHALLENGES AHEAD
Although times are challenging with Covid for immediate opportunities, such times can bring opportunities to re-invent the portfolio and revise strategic direction. V2U is upbeat on new and emerging opportunities such as –
Remote Treatment options
Wearable and home-use technologies
Development of E-commerce channels
Entering into a new market will all be giving tremendous growth opportunity to V2U healthcare.
V2U Healthcare, having established direct offices in S E Asian counties, is looking at expanding  its business and opportunities in South Asia region especially in India through expansion of distribution channels – traditional as well as ONLINE sales channels.
V2U's clinical business – Physio Asia Therapy Centre, having well established in Singapore And expanded to the Philippines in 2020 is targeting to be established in Malaysia by early 2021.   It plans to seek further growth via franchises and shall target the Indian market for potential franchisees.
V2U has also been showered with many accolades for its pioneering performance through the years:
2009: Leading Singapore – Indian Entrepreneur Award 2009 – Event organized by the Indian Chamber of Commerce and DBS Bank and audited by KPMG
2011: Dinesh Verma, Chairman V2U Healthcare – Awarded as Most Promising Entrepreneur Award by Asia Pacific Entrepreneurship Awards
2012: Singapore Prestige Brand Award – for its clinic – Physio Asia Therapy Centre – in Established Brand Category by ASME & Lianhe Zaobao presented by Deputy Prime Minister of Singapore – Mr. Teo Chee Hean
2013: MIDAS Touch Asia –V2U Healthcare awarded for ENTREPRISE AWARD – GOLD Category. Co-organized by Channel News Asia
2014: Physio Ratna – Highest Award honor given to one physiotherapist each year – awarded by the Indian Association of Physiotherapists
2014: SICCI-DBS Singapore Indian Entrepreneur Awards finalist in the New Upcoming entrepreneurs — presented by MP, Inderjit Singh. He also was awarded the overall category winner amongst the finalists for the category by Prime Minister Lee Hsien Loong
2016: Recipient of Singapore Indian Business Leader Award and book
2016: Certified as Singapore Quality Class and Singapore Service Class for business Excellence (Awarded by SPRING Singapore – Govt Agency)
2017: January – Asia's 100 Leading Brands and Leaders – by ASIA ONE magazine (India). Award Process Audit by Price Waterhouse Coopers
2018: Singapore Prestige Brand Award 2018 – for its clinic Physio Asia Therapy Centre – Singapore
2019: Singapore Indian Chamber of Commerce Entrepreneur Awards – Promising Enterprise category for Physio Asia Therapy Centre.
KEY MESSAGE FROM DINESH
A firm believer in Author Shiv Khera's Quote –
"Winners don't do different things. They do things differently".
Hence Dinesh believes that – To be successful, one needs to create value that creates a differentiation from the competition and  result in a  win-win strategy for the  stakeholders.