Magh Mela 2023, way to Moksha, starting from January 6: Important dates, history, where to Stay?
The Magh Mela is an important annual Hindu ritual held on the banks of the Sangam (Ganges, Yamuna, and Saraswati) in Prayagraj (old Allahabad), Uttar Pradesh. In 2023, the Magh Mela begins from January 6 (Paush Purnima) and ends on February 18 (MahaShivratri), 2023. Magh Mela is also known as Mini Kumbh Mela and is held in North India in the month of Magh as per the traditional Hindu calendar.
Entry to this fair is free and a large number of devotees arrive here to take a dip in the holy waters of the Sangam. It is to be noted here that Magh Mela is not confined to the month of Magh and the important bathing dates are spread over a period of 45 days.
Important Bathing Dates During Magh Mela 2023: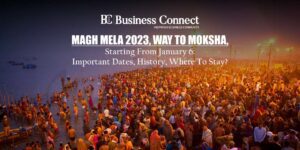 The time period of these 45 days of the fair is known as Kalpavas. It is believed that these days are equal to the total number of years in the 4 yugas: Satyuga, Treta, Dwapar, and Kaliyuga.
According to the Puranas, the month of Magh has a deep connection with "Madh" i.e. "Madhav", a form of Shri Krishna. Kalpavas in the month of Magh, Krishna worship has special importance.
Important Bathing Dates
Some important days when bathing in holy water brings good fortune are as follows: –
January 6 (Paush Purnima)
January 15 (Makar Sankranti)
January 21 (Mauni Amavasya)
January 26 (Basant Panchami)
February 5 (Maghi Poornima)
February 18 (MahaShivratri)
Why is Magh Mela Held?
MaghSnan is organized every year on the banks of Ganga, Yamuna, and Saraswati in Prayag. The description of this bath is also found in Hindu Puranas. According to the scriptures, Prayagraj is the king of pilgrimages. By taking a bath here one gets auspicious results and gets relief from every suffering. and Magh Mela is also a way to Moksha (merging with the Supreme Soul) – the ultimate aim of Hindus.
Paush Purnima 2023
Paush Purnima holds great religious significance among Hindus. People worship Lord Vishnu and keep a fast on this holy day. Paush Purnima is going to be observed on January 6, 2023.
Paush Purnima 2023: Date and Time
Purnima Tithi Begins – January 6, 2023 -02:14 AM
Purnima Tithi Ends – January 7, 2023 – 04:37 AM
Major attractions of Magh Mela: Sacred Bath, ShayyaDaan, Havan, Arghya, and Anndaan.
Arrangements
More crowd is expected to come to the fair on the main bathing festival. Therefore, along with the district administration, the railways have also geared up.
The CPRO said that all necessary arrangements have been made for the pilgrims to travel from the railway station to their destination so that there is no inconvenience to the pilgrims at the fair. The staff posted at the railway station has been trained, in which they will help the devotees if they face any problem during the journey.
Four mega passenger shelters have been prepared by the Railways at Prayagraj Junction to ensure facilities for Magh Mela pilgrims going to Prayagraj. Each of these shelters can accommodate 2,500 passengers. Therefore, 10,000 passengers can stay at Prayagraj Junction itself if needed, officials said.
Special trains are also available for smooth flow.
Where to Stay?
Every year a large number of people come here and stay in temporary houses or tents at the Sangam, spending the entire month of Magha in worship.
Staying options – Government-sponsored tents, Temporary accommodation provided by ashrams and spiritual centers, Hotels, and lodges.
How to Reach for Magh Mela?
Nearest Major City – Varanasi or Banaras
Nearest Airport – Prayagraj (Allahabad) Airport (IXD)
Nearest Railbase – Prayagraj (Allahabad) Chheoki Junction
Distance from Varanasi – 120.9 Km
Disclaimer: The information provided here is based on assumptions and sources only. It is important to mention here that Business Connect Magazine does not confirm any kind of recognition/authenticity.
Must Read:-