Elon Musk and Mark Zuckerberg Agree For 'Cage Fight'
Written by Sanjay Kumar
 News Highlights
Zuckerberg vs. Musk: Cage fight showdown as tech giants clash.
Social media rivalry escalates with provocative exchanges and memes.
Previously, Elon Musk challenged Russian President Vladimir Putin.
Mark Zuckerberg – Chief Executive Officer of Facebook

 

Elon Musk – Chief Executive Officer of Tesla Motors

 

Born: 14 May 1984 (age 39 years), White Plains, New York, United States
Born: 28 June 1971 (age 51 years), Pretoria, South Africa
Net worth: 10,000 crores USD (2023) Forbes
Net worth: 23,440 crores USD (2023) Forbes
Spouse: Priscilla Chan (m. 2012)
Spouse: Talulah Riley (m. 2013–2016), Talulah Riley (m. 2010–2012), Justine Musk (m. 2000–2008)

Parents: Edward Zuckerberg, Karen Kempner
Parents: Errol Musk, Maye Musk
Organizations founded: Meta, Chan Zuckerberg Initiative, FWD.us, Meta AI, Startup:Education
Full name: Elon Reeve Musk
Meta CEO Mark Zuckerberg has accepted Elon Musk's cage fight challenge, as revealed in an Instagram post. In response to Musk's tweet expressing his readiness for a cage match, Zuckerberg shared a screenshot of the tweet and captioned it with a bold statement, saying, "send me location."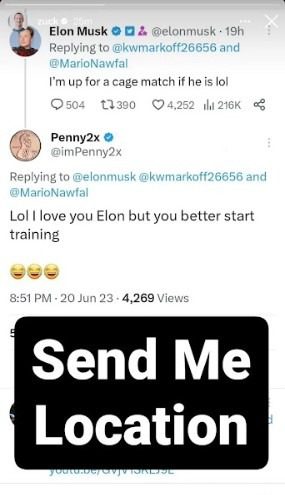 The Verge reported that this Instagram post by Zuckerberg was verified as a serious declaration, placing pressure on Musk to respond. Meta spokesperson Iska Saric stated to the media that "The story speaks for itself." In a brief two-word reply, Musk responded with "Vegas Octagon."
According to The Verge's report, Elon Musk has been teasing Zuckerberg with provocative remarks on Twitter, creating escalating tension between the two CEOs.
Meanwhile, during an internal company meeting at Meta, Chief Product Officer Chris Cox expressed his belief that creators are seeking a "properly managed" version of Twitter. This statement received enthusiastic responses from the employees. In a recent podcast interview with Lex Fridman, Zuckerberg also reiterated his long-standing belief that Twitter should aim to have a user base of one billion people.
As the anticipation grows, Musk's post has attracted a flood of hilarious memes in the comment section, with Twitter users already taking sides and sharing their support through witty posts.
Previously, Elon Musk challenged Russian President Vladimir Putin amidst the violent situation in Ukraine. Taking to Twitter, Musk expressed his willingness to engage in a one-on-one fight with Putin, suggesting that the outcome would determine the fate of Ukraine.
Musk's tweet, written in Russian, also directly addressed Putin, asking if he would "accept this challenge" and tagging the Kremlin's official account.
Must Read:-