Unleashing the Power of Payomatix White Label Solutions: Revolutionizing Payment Processing for Businesses
Introduction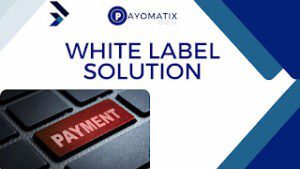 In today's digital era, seamless and efficient payment processing has become a cornerstone for businesses worldwide. A white-label payment gateway offers a fantastic solution that empowers businesses to provide secure and smooth transactions under their brand. As a leader in this domain, Payomatix has been significantly transforming the way businesses handle payment processing in India.
Payomatix, a leading payment processing company, offers a game-changing solution with its White Label Solutions. This article explores the benefits, unique selling propositions (USPs), advantages, and features of Payomatix's White Label Solutions, highlighting how it empowers businesses to elevate their payment processing capabilities.
Understanding White Label Solutions:
White Label Solutions provide businesses with the opportunity to offer payment processing services under their own brand name, leveraging Payomatix's robust infrastructure and expertise. This seamless integration allows businesses to provide a complete end-to-end payment solution to their customers, enhancing their brand value and customer experience.
What Makes Payomatix Stand Out – The Best White Label Payment Gateway in India
Payomatix, with its advanced technology and customer-centric approach, is recognized as the best white-label payment gateway in India. The platform offers a multitude of features, including Direct Payment API, Transaction API, Payment Link, Payment Page, and much more. Its Payment Orchestration Platform integrates these features, providing businesses with a unified platform for all their payment needs.
The Powerful Features of Payomatix
Payomatix's white-label payment solution includes numerous features tailored to meet diverse business needs:
1- Direct Payment API: Direct Payment API from Payomatix allows businesses to handle transactions directly on their platforms, ensuring a seamless user experience. This advanced feature enhances transaction flow control, ensuring maximum success rates for digital payments.
2- Get Transaction API: Offers real-time transaction updates, enabling businesses to track payments effectively.
3- Email and SMS Campaigns: This provides businesses the tools to run effective marketing campaigns, enhancing customer engagement and retention.
4- Invoice: Creates professional, detailed invoices for every transaction, contributing to a transparent payment process.
5- Payment Link/Page/Card: Offers multiple avenues for customers to make payments, enhancing convenience and improving the payment success rate.
6- Webhook: Enables real-time notifications about transaction status, maintaining a constant communication line for businesses.
7- Pay Button and Store: Allows businesses to sell directly from their website, providing a smooth shopping and payment experience for their customers.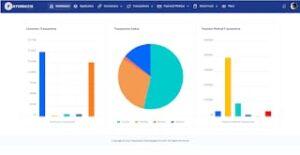 The Unique Selling Proposition of Payomatix
Payomatix's unique features and its commitment to ensuring a top-notch user experience set it apart from its competitors:
1- Customization: Allows businesses to customize the payment gateway to align with their brand image.
2- Seamless API: Offers easy and quick integration with multiple platforms.
3- Multiple Payment Options: Supports a wide range of payment methods, catering to the diverse preferences of customers.
4- Reconciliation History: Provides detailed transaction histories, assisting in effective reconciliation.
5- Owner's Identification: Enhances security by verifying the identity of the account owner.
6- Single API, Multiple Integrations: Allows businesses to connect with multiple payment services via a single API, enhancing efficiency.
7- No More Transaction Bounce: Advanced technology ensures a high success rate for transactions.
8- Create a Memorable Impact: By offering a seamless payment experience, businesses can leave a positive, lasting impression on their customers.
Payomatix: The Future of Payment Gateway Solutions in India
As businesses continue to embrace the digital revolution, the demand for efficient and reliable payment gateway solutions grows. Payomatix's white-label solution is paving the way for the future of digital payments in India. With its robust technology, comprehensive features, and commitment to providing excellent customer experience, Payomatix is setting a high standard in the world of payment gateway solutions.
Conclusion
Payomatix's White Label Solutions empower businesses to elevate their payment processing capabilities, providing a seamless and customizable payment experience to their customers. With its extensive benefits, unique selling propositions, advantages, and advanced features, Payomatix's White Label Solutions positions businesses for success in the dynamic digital landscape.
The digital age demands businesses to have an efficient, secure, and user-friendly payment processing system. Payomatix's white-label solutions answer this call perfectly. By leveraging the power of Payomatix, businesses can navigate the complex realm of digital transactions with ease and grow their brand impact and customer trust.