HedgeHomes, India's First End to End Home Buying Platform
"We don't want customers to fall in a price trap. We understand customer's pain points, hence have devised a comprehensive list of parameters to rate projects which in turn could be used as a guiding tool"
Anirban Chatterjee
The Internet revolution has taken down the world's largest democracy, India by an unprecedented storm. Leaders, investors, and entrepreneurs globally are looking forward to the market of more than 300 million internet users.
The exploding growth of e-commerce industry in the country has invigorated many executives, thought leaders and even business tycoons to take their business online, and the changing equation in real estate industry in India is yet another such example.
The real estate industry today is the fastest growing one, thanks to the global meltdown. And among the best ones is India's first end to end home buying platform HedgeHomes.
HedgeHomes is a real-estate consulting startup founded by IIT, IIM & BITS Pilani graduates to bring transparency & trust in real estate buying.
In conversation with Business Connect Magazine, Mohit Bhambri, Anirban Chatterjee, Ritul Kakar and Aman Prateek the core team members of HedgeHomes talks about their future plans, outlook, saving the consumer from biased opinions and more,
Business Connect: What problem does your company solve and how are you different from others in the field?
Mohit: We help the homebuyers to take right property decision through our extensive market research from legal, construction and sustainability check of properties. We don't want customers to fall in a price trap. We understand customer's pain points, hence have devised a comprehensive list of parameters to rate projects which in turn could be used as a guiding tool.
We work with all the reputed builders, but we judge builders on a project to project basis, we don't blindly follow brands. We understand the dilemma, hence our team of engineers and law consultants have surveyed & rated properties on 9 parameters Legal Checks, Construction Quality, Livability, Location, Builder's Background, Project Amenities, Value of Money, RERA Compliances, Vastu Analysis so that a Homebuyer take a logical decision.
The No. 1 thing that has made us successful and distinguishes our organization from others in the field by far is an obsessive-compulsive focus on building trust & transparency in real-estate buying for our customer as opposed to obsession over the competitor.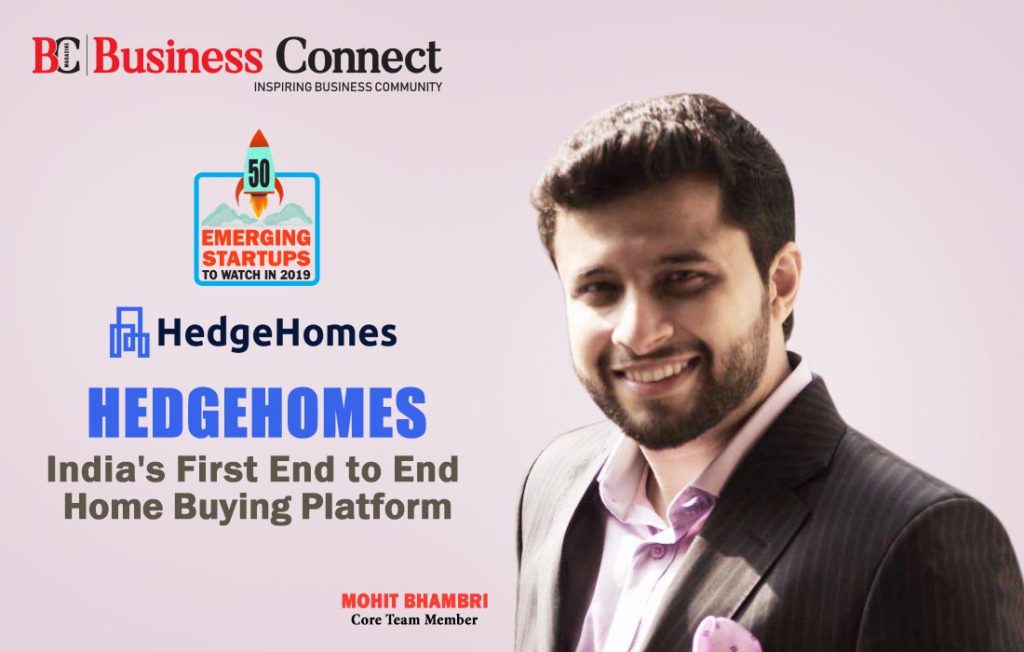 Business Connect: How have you infused technology smoothly into your business?
Mohit: We are working on using technology to make the customer experience easy and hassle-free, but I strongly feel that there are just some things that technology can't do.  Nothing can replace the human touch especially when that person is empowered to go to just about any lengths to help the customer.  We understand that the customer experience is not singular, but it's in each of those singular moments when interacting with the customer that loyalty is forged or lost.
Business Connect: How challenging is it to run a startup in an atmosphere of cut-throat competition in the market?
Ritul: Entrepreneurship comes with a host of challenges. Rewarding challenges, but harsh challenges nonetheless. Referrals & repeat customers are important matrixes that we keep a track on. Apart from that, continuous process & product innovation has made all the difference for us in this competitive market.
One of the biggest challenges in the cut-throat startup atmosphere is Team building. This is especially hard if you've never run or managed a team before, but even if you have management experience, picking the right team for a startup is stressful and difficult. Decision-making also is to believe it or not, the most stressful challenge faced by every entrepreneur to strive in this competitive market.
Business Connect: What is your current business model?
Anirban: We at HedgeHomes (HH) simplified the process of home buying through its end to end transparent hassle-free services management. We have a B2B and B2C revenue model.
B2C Subscription Based Model:
For properties worth, less than 3 Crore we are currently providing all the above services for free at least for the next 8 to 9 months. For Properties, more than 3 Crore we charge an upfront fee of Rs 25,999/- And you can rest assured that the service you will receive will far outweigh any fee. That's what you really want, isn't it?
1) Property Identification:  HH team has done advanced research of all the projects happening in Noida NCR region and rated them for performance on 3 major aspects i.e. Construction Quality, Legal Clarity in the project & Future sustainability. So, the assigned account manager calls you to understand your requirement and suggests the best options available.
2) Assisted Site Visits:  Your account managers schedule your site visits to the shortlisted projects and helps you in understanding and comparing them.
3) Negotiating the best price:  Through the unique model of bulk booking, Hedgehomes ensures that you buy your home at the best market price with additional perks.
4) Ensuring the BBA is free from any hidden clauses:  As the BBA is the backbone of the complete transaction our legal experts help you in ensuring that your BBA is free from any hidden/ambiguous clauses.
5) Post booking services: HedgeHomes provides doorstep services for all the post-booking activities like home loans, documentation etc.
6) Quality Inspection:  Before the handover of the flat, HH quality Engineers check the entire unit and if there is any discrepancy we ensure replacement of the same. Once HH quality Engineers gives a go-ahead then only keys are handover to the client.
In B2B: BBM (Bulk Booking Model)
Under the Bulk booking model, Hedgehomes groups a set of buyers interested in a property and helps negotiate the best price from the builder basis the volume of sale.
We have a quarterly target of 20+  bookings depending on projects; on each booking, we take  Rs 25,000 to Rs 50,000 at the end of the quarter for our end to consulting services from the builders. We are playing on volume the focus is to get as many clients in the portfolio.
It's a win-win situation for all the parties as for builders they get bulk bookings from us, for buyers they get subsidized rates from us as compared to market rates.
Business Connect: What kind of clients do you serve?
Aman: We generally connect with clients between the age group of 25-45 years. 32% of our clients are NRIs and mostly high net worth individuals.
Initially, we started off with high-end properties which are worth more than 3 crores. Seeing the enormous response from the clients, we entered the budget segment ranging between 35 lakhs to 3 crores.
Business Connect: What kind of change do you want to bring with your products/ services?
Aman: Our vision was always to satisfy all the requirements of a person around his home buying process. All the listing platforms have empowered brokers and vendors, not the end users. As soon as you request for any query in the listing platforms like Magic Bricks, 99 Acres etc. you end up getting tons of calls from different brokers which spoils the entire user experience
Business Connect:  What holds in the future for the company?
Ritul: We are already witnessing the green shoots of market revival, but there is no doubt that the revival will be gradual and that it will happen in stages. As such, there is no clear timeline one can attribute for a full-fledged revival, which also depends on unpredictable factors such as new government policies, stock market performance and buyer sentiment. We've been tackling this problem for past 1 years and we've reached midway. We have gained a lot of insights and have figured out some very basic dynamics on the basis of which we'd be changing the model in the future.
Buying a property is quite an intimidating task or might not sound too enticing, perhaps because most of us have had at least one bad experience with an incompetent broker in India. We are depended on uneducated channel partners who are empowered by listing platforms, these sites do not do any background verification leading the end user to a biased opinion. HedgeHomes has been saving the consumer from such bias and making available properties that would suit their requirements perfectly.