Top 10 Famous Personalities in The Field of The Automobile Industry
One of the most important sectors of the global economy is the automobile industry. Due to the large revenues and rising client demands, it is crucial to the growth of the global economy. Since the vehicle industry contributes to the nation's economic growth, it is largely acknowledged as a significant economic sector. The automobile industry is made up of numerous businesses that produce automobiles as well as businesses that promote and distribute automobile products such as cars, buses, vans, lorries, motorbikes, mopeds, and motorised bicycles. Several sizable car manufacturer blocs that cooperate with suppliers globally make up the global automotive industry.
Since the inception of automobile industry, a significant number of people have engaged in invention and innovation for the growth of the industry. It's their contribution that helped to bring this sector where it is today.
The industry employs thousands of people, from CEOs who receive $50 million in bonuses to entry-level workers who ensure quality for $15 per hour. Some, though, have a considerably greater impact and actually help to mould the future. These are the individuals—from vehicle collectors to executives, innovators to rapper/designers—who have the greatest influence on the automobile sector. Here, you find Top 10 Famous Personalities in The Field of The Automobile Industry who are known across the globe because of their works.
Mary Barra
Osamu Suzuki
Ferruccio Lamborghini
Chung Mong Koo
John DeLorean
Susanne Klatten
Henry Royce
Henry Ford
Ratan Tata
Elon Musk
10. Mary Barra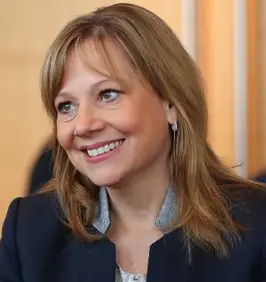 Birthdate: December 24, 1961
Sun Sign: Capricorn
Birthplace: Royal Oak, Michigan
General Motors (GM), the manufacturer of Buick, Cadillac, Chevrolet, GMC, and Wuling, is one of the biggest automakers in the world. GM CEO Mary Barra led the organisation through its most trying moments, demonstrating not just her leadership skills but also her tenacity and resolve throughout widespread scandals and scams. Mary Barra is married to Anthony Barra, an engineering consultant. They met at Kettering University. They live in Northville, Detroit, with their two children, Nicholas and Rachel Barra.
Mary is not fluent in Finnish despite being born into a Finnish household. Whether Mary Barra stays with GM or pursues another professional path, there is no questioning the accomplishments she has made as the CEO of the Detroit-based auto manufacturing behemoth; truly one of the most inspirational female leaders of her generation.
09. Osamu Suzuki
Birthdate: January 30, 1930
Birthplace: Gero, Gifu Prefecture, Japan,
Death:2007
Osamu Suzuki had to defeat industry heavyweights like Volkswagen, Renault, and Fiat as well as rival Daihatsu from his native Japan to build a joint venture with Maruti Udyog. Only his tenacity allowed him to succeed. It took an enormous amount of faith to work with the government and invest in a nation with no history of vehicle manufacturing. But the smart Suzuki knew a modern, dependable, fuel-efficient, and reasonably priced car was just what India needed. Suzuki's little SS80 (and later SB308) launched a revolution and gave the world's largest democracy access to motor vehicles.
The Maruti 800, and later the Alto, established the standard against which all automobiles were judged. They also influenced market structure, leading to a strong demand for small cars. Osamu Suzuki has personally directed Maruti Udyog (now Maruti Suzuki) and has fought the Indian government, rivals, and exploitative alliance partners for more than three decades.He received Padma Bhushan from Government of India in 2007.
08. Ferruccio Lamborghini
Birthdate: 28 April 1916;
Sun Sign: Taurus
Birthplace: Emilia-Romagna region of Northern Italy
Death: 20 February 1993
One of the best supercar producers nowadays is Lamborghini. Ferrucio Lamborghini founded the business and guided it to success, but his initial interests were in general engineering. It is said that Lamborghini first repaired his father's tractors before starting from scratch to make his own. That gave him the foundation he required to launch a company to sell his automobiles in addition to creating his own cars.
During WWII, he was enrolled in the Italian Air Force, working in the transport sections. After 1944, he became a prisoner of war in the British military forces, who put him to work in their motoring department, where he gained first-hand experience keeping cars on the road despite limited part supplies.
After the war, he returned to his hometown and began turning outdated war surplus material into much-needed tractors for local farmers. The Lamborghini tractor business began in a modest garage, but it quickly grew to require larger facilities.
07. Chung Mong Koo
Birthdate:19 March 1938
Sun Sign: Pisces
Birthplace: Kangwon Province, South Korea
The largest automobile manufacturer in all of South Korea, Hyundai Motor Group is also a well-known global automobile manufacturer. It is undoubtedly interesting to learn about the life of the chairman, Chung Mong Koo, who is credited with the prosperity that the Hyundai Group enjoys today. The original founder of the Hyundai group, Chung-Ju Yung, had an elder son named Koo. After he received his degree from Hanyang University, his position as the obvious heir to the Hyundai dynasty was pretty much assured.
Chung Mong Koo has a significant interest in archery outside of business, which is noteworthy. He had been providing the South Korean archers with significant help for a while. He also served as the Korea Archery Association's chairman for around ten years. Koo is somewhat to credit for all the countless medals South Korea consistently wins in the sport of archery at international competitions. Some corporate legends have such a profound impact on the world that they continue to inspire people decades after their time in power. Undoubtedly, Chung Mong Koo is responsible for the heritage of Hyundai.
06. John DeLorean
Birthdate: 6 January 1925
Sun Sign: Aries
Birthplace: Detroit, Michigan,
Death: March 19, 2005
Although he tragically passed away in 2005, John DeLorean was a true titan of the auto industry and a brilliant businessman. He was an engineer prior to operating his own DeLorean car firm, despite being most well-known for doing so. He developed numerous fantastic automobile models, including the Pontiac Firebird, thanks to his engineering prowess at General Motors, where he rose to the position of youngest Division Head in the company's history.
DeLorean was famously depicted in the Back to the Future film trilogy (1985, 1989, and 1990) as the model of automobile converted into a time machine by eccentric scientist Doc Brown, although the company had shut down before the first film was made. Stephen Wynne, a mechanic who was born in Liverpool, established the new DeLorean Motor Company in 1995. Shortly after, he also bought the company's remaining inventory of parts and the stylised "DMC" trademark.
05. Susanne Klatten
Birthdate: 28 April 1962
Sun Sign: Taurus
Birthplace: Bad Homburg, West Germany
BMW is regarded as one of the most well-known automakers in the world. It's critical that the individual in charge of the business be in tune with the company's style due to their spectacular appearance and high performance. Due to the fact that she and her family own about 50% of BMW Automobiles, Susanne Klatten is one of the most well-known women in Germany.
Daughter of the late industrial scion Herbert Quandt, who had turned a nearly bankrupt BMW into the automotive behemoth it is today, Susanne Klatten is a married mother of three teenagers. With a net worth of $13.2 billion (10.5 billion euros), which includes a 12.5 percent share in BMW, she is also the richest woman in Germany and is ranked 55th on Forbes Magazine's 2008 list of the world's billionaires.
Franz Josef Pop was one of the three individuals who founded BMW, one of the world's opulent automobiles. The initial General Director of BMW AG, Franz held the job for 20 years.
04. Henry Royce:
Birthdate:27 March 1863
Sun Sign: Aries
Birthplace: Alwalton, Huntingdonshire
Death: 22 April 1933
Frederick Henry Royce, famous for his designs of automobile and aircraft engines, gained engineering through experience while serving an apprenticeship at the Great Northern Railway Company at the age of fifteen. At age 21, he established his own engineering company and began producing electrically powered motors, dynamos, and cranes. Eventually, C.S. Rolls became interested in his work and joined him in co-founding the Rolls Royce Company.
The Rolls Royce and Bentley cars continue to be popular among the wealthy and famous because of Royce's reputation for excellence and quality. His own attention to detail was the cause of this. The Bentley was purchased in 1931 by the business that Royce created. Royce didn't have the benefit of coming from a wealthy family or the opportunity of receiving an elite school, but through perseverance and the application of the engineering talents he learned as an apprentice on the factory floor, Royce produced one of the most well-known automobiles.
03. Henry Ford
Birthdate: July 30, 1863
Sun Sign: Leo
Birthplace: Springwells Township, Michigan, United States
Died: April 7, 1947
Henry Ford, entrepreneur, and creator of the Ford Motor Company, is credited for democratising access to the automobile for Americans in the 20th century. He rose to prominence and became one of the richest individuals in the world as a result of the success of his business. Throughout the initial years of World War I, he also became well-known for his pacifism.
His invention of the Ford Model T vehicle transformed both American manufacturing and transportation. He rose to become one of the richest and most well-known people in the world as the owner of Ford Motor Company. Fordism, the mass manufacture of affordable items with high worker wages, is credited to him. Ford believed that consumerism held the secret to world peace.
His fierce dedication to consistently reducing costs led to numerous technical and commercial advancements, including a franchise structure that placed dealerships across North America and in significant cities on six continents. Ford prepared for his family to have permanent control of the Ford Foundation and gave the majority of his enormous riches to it.
02. Ratan Tata
Birthdate: December 28, 1937
Sun Sign: Capricorn
Birthplace: Surat
An established industrialist from India, Ratan Tata served as the previous head of Tata Sons, an international corporation. During his chairmanship, the Tata Group acquired well-known international companies like Tetley, Jaguar Land Rover, and Corus. Ratan Tata had a key role in transforming the Tata Group from a mostly Indian-focused organisation into a multinational corporation.
01. Elon Musk
Birthdate: June 28, 1971
Sun Sign: Cancer
Birthplace: Pretoria, South Africa
Elon Musk and Tesla Motors have garnered more media attention than anyone else in the past 2-3 years. Elon Musk is the co-founder and CEO of The Boring Company, SpaceX, Neuralink, and Tesla. Elon is responsible for overseeing all product design, engineering, and global manufacturing for Tesla's electric automobiles, battery goods, and solar energy products as the company's co-founder and CEO.
Tesla's goal has been to hasten the global switch to renewable energy since it was founded in 2003. The Roadster sports vehicle, the company's first offering, debuted in 2008. The Model S sedan and Model X SUV then followed in 2012 and 2015, respectively.
Elon manages the creation of rockets and spacecraft at SpaceX in his capacity as chief designer for trips to Earth orbit and ultimately other planets. The SpaceX Falcon 1 was the first privately manufactured liquid fuel rocket to enter orbit in 2008, and SpaceX created additional history in 2017 by relaunching a Falcon 9 rocket with a Dragon spacecraft for the first time.
FAQs
Q.1- Who produced the first automobile?
The first automobile was built in 1885 by Karl Benz, who is regarded as the inventor of the automobile. Before 1885, there were steam and other forms of vehicles, but Benz's car is the predecessor of the modern automobile.
Q.2-How many automobile companies are there in India?
In India, there are more than 14,000 automobile companies, whereas the United States has more than 99,000 manufacturing businesses. In India, Maruti Suzuki is the largest automaker. Three Maruti Suzuki factories in India are responsible for producing automobiles such the Alto K10, Swift, WagonR, Ciaz, Baleno, and Vitara Brezza.
Q.3-Where is the automobile industry in India?
According to statistics from 2021, India has the fourth-largest automobile industry worldwide. India became to the fourth-largest nation in the world by automobile industry worth in 2022. India will overtake Germany as the world's fifth-largest auto market in 2020 in terms of sales.
The auto sector in India is currently valued more than $100 billion, produces 8% of the total exports, and accounts for 2.3% of the country's GDP. Tata Motors, Ashok Leyland, Mahindra & Mahindra, Force Motors, Tractors and Farm Equipment Limited, Eicher Motors, Royal Enfield, Sonalika Tractors, Hindustan Motors, Hradyesh, ICML, Kerala Automobiles Limited, Reva, Pravaig Dynamics, Premier, Tara International, and Vehicle Factory Jabalpur are some of the country's major automakers.
Q.4-What is the future of automobile industry in India?
The automotive sector appears to have countless opportunities. On the other hand, in the long run, connectivity and electrification are expected to further advance the automotive sector. Policy changes and technology are the key forces behind these movements.
Q.5-Who are top 10 famous personalities in the field of the automobile industry
Mary Barra
Osamu Suzuki
Ferruccio Lamborghini
Chung Mong Koo
John DeLorean
Susanne Klatten
Henry Royce
Henry Ford
Ratan Tata
Elon Musk
Must Read:-