Top 5 Stock Brokers In 2022
There are two stock exchanges in India- NSE, and BSE. A share broker has to be registered with either of these two exchanges to become an authorised stock broker. These authorised stock brokers can be divided in two categories- Full Services Brokers & Discount Stock Broker.
Full Services Brokers offer all kind of services including stock trading and research trading with local support while Discount Services Brokers are online brokers deals in only stocks and commodity trading services. They don't include Research and advisory, wealth management, PMS, and branch support in their services.
In our list of top 5 stock brokers, we have included both types of brokers.
Before we see our top 5 stock brokers, let's understand the points which make them the best 5 in our opinion.
Brokerage Charges: probably the most important factor while choosing a stock broking platform. If this is high then you have to give a large share of your profit to the platform.
High Quality Platform: This includes overall features along with user-friendly tools on the platform. Also, how convenient and satisfactory it was to the users
Most Active clients: The overall popularity of the platform among the people in a given time.
Quality Services: When it comes to trouble shooting and making over all experience of the users convenient and friendly, how the platform performs.
Research and Advisory: If a user feels stuck, she looks for some advisory, first within the app or platform. If it is available or not.
Zerodha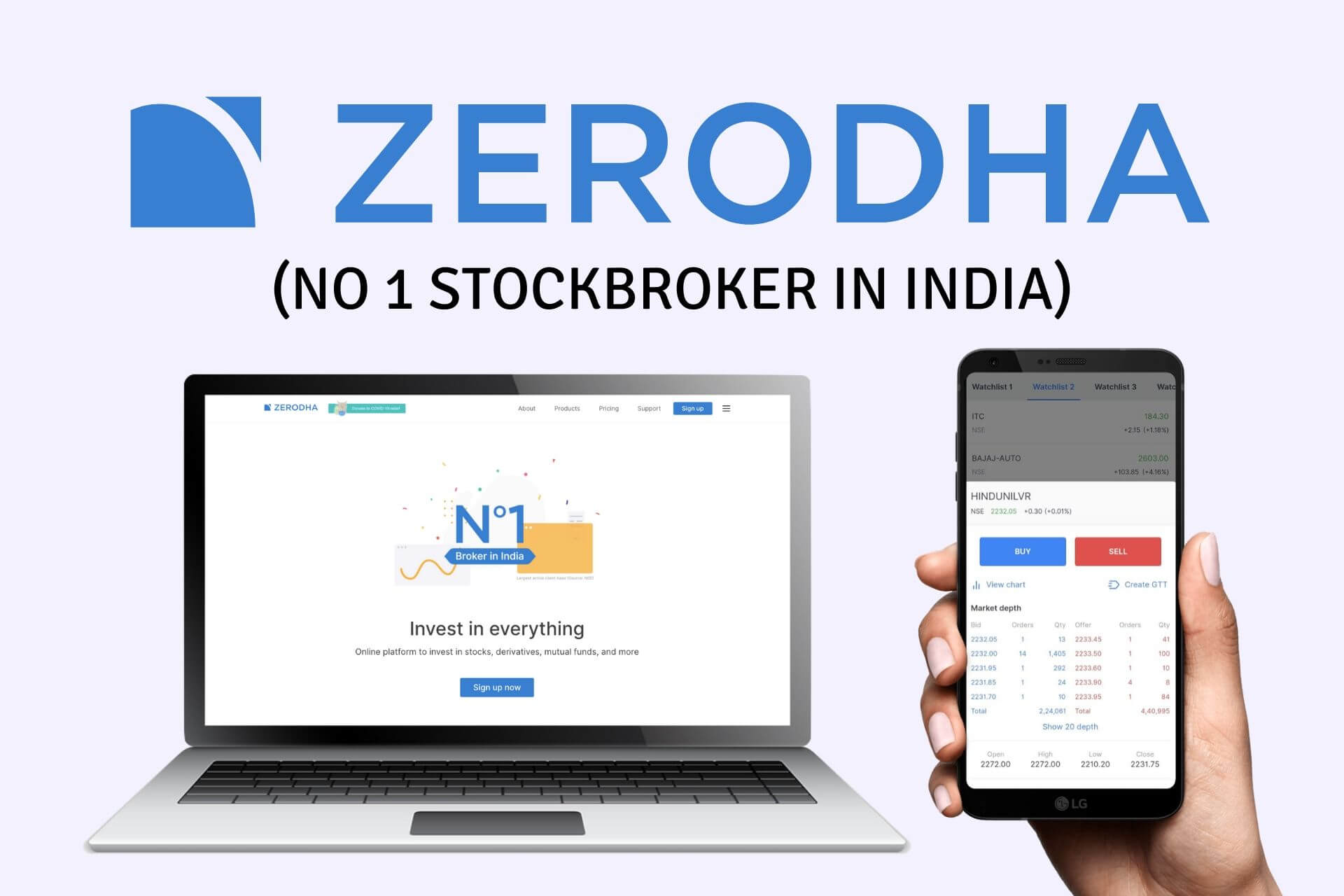 With maximum active user-base, Zerodha holds the first rank. It is known to have introduced the concept of discount broking in 2010 which made the trading easy for new traders and investors. Along with that it functions on latest technology, has premium trading tools and three-way trading platform which make it best trading platform in India. Because of that It has been rewarded Retail Broker of the Year in 2018. It is also one of the largest discount broker and best broker for trading.
Upstox
An online investment brand of RKSV Upstox is also in discount broking. It provides fantastic trading platform and tools which are fast, reliable and easy to use. This online platform in Indian stock market offers low-cost trading services with modern technology to free trade option. Customers are not charged for equity delivery trading and trading in Equity, F&O and Equity intraday. However, for all other trading segments, customers are charged flat Rs 20 per trade brokerage.
Backed by Tiger Global Management, Kalaari Capital and Ratan Tata, Upstox, as per their website, has 90 lacs + investors and has reached a turnover of more than Rs.60k Crore
Groww
SEBI registered and a member of NSE and BSE, Groww offers its customers flat fee discounts on brokerage services. Through this platform one can invest in Equity, IPO and direct mutual funds. The brokerage charges are as low as Rs 20 or 0.05% per trade irrespective quantity or amount. Groww as a website and mobile app also offers free mutual fund services with 0% charges.
The services of Groww are excellent and give its customers a satisfactory trading experience. Also, Groww has fastest growing rate with a customer base of 20 million + users. It is one of the highest-rated applications with a rating of 4.5+ in the Google Play Store.
ICICI Direct
A part of ICICI Group, ICICI direct is the largest retail stock broker which provide full broker services. Having over 50 lakh users this platform offers online trading and investment services such as equity, commodity along with currency trading at BSE, NSE and MCX. It also expands its services in Mutual Fund and IPO, Fixed Deposits, Bond, NCD, Wealth Products, Home Loans and Loans against securities.
They have multiple brokerage plans such as Neo Plan, Lifetime Prepaid Brokerage Plan, ICICI Prime Plan and I Secure Plan. The trading is brokerage free but they charge flat Rs 20 per carried out order brokerage for Equity Intra-day. One can access trading tips and research, payout within 30 minutes after selling the shares under the plans. Their 3 in 1 account Services include ICICI Bank Account, ICICI Trading Account, and ICICI Demat Account that provide excellent service.
Angel One
Angel One Limited, formerly known as Angel Broking Limited is a full-service retail broking company in India started in 1987. It offers a flat rate brokerage plan named Angel iTrade Prime at a fixed rate which is Rs 20 for each trade. However, Equity Delivery is free.
The plan offers the access to trade in all segments like intraday, Currencies and commodities, F&O. Even though Angel is named the first large-size full-service broker, they offer discount brokerage rates. If you are just a beginner, it could be a right choice. You will have access to personalised services and premium research reports once you start with them.
This blog post gives a general idea on 5 best stock brokers at present in India and doesn't apply to any individual's specific needs. The stock marketing is huge and one is advised to invest after a thorough research as per their needs.
Must Read:-