Vs Trans, An Efficiently Emerging Logistics Solutions Provider
"Just listen to your heart and keep working hard for your goal. Be honest to yourself and your work. Never underestimate the moral support that your family can provide and spend quality time with them. It's a great stress buster."
VS TRANS LOGISTIC LLP
The logistics industry today that has been an employment source for hundreds is all set to touch a boom in the coming years.
There is a scope for higher job creations in this sector because of the investments that this industry has been drawing, there are alterations and variations happening constantly to stimulate more job prospects in the coming few years. At the present scenario, the sector is bringing in approximately 22 million employment opportunities already for the people and this is only going to grow improving the result by significant growth.
New logistics plan are anticipated in the country and the planning has already started by the Indian Government. They are strongly intending to devise a plan that is the most cost-effective for the transport of goods. The policy is channeling its focus on aiming to come up with a proper integrated logistic plan with an objective to single out all the glitches and iron out the gaps and bottlenecks in this sector. This will not just encourage the sector but will also enable the startups in this sector to provide better movement of the good all around the country seamlessly.
With rapid developments happening, India has amplified its performance index in terms of better logistics services. And since the sector is growing, the government is also actively taking part in cementing the pillar towards strength with programs like 'Make In India' and increasing trade with India eventually playing an important role in the global supply chain.
Coming up in the market of logistics, a fast emerging logistical solutions provider, VS TRANS LOJISTIK LLP is developing. They specialize in providing efficient, reliable and customer-focused comprehensive solutions as per customer's needs.
A joint venture of Vivek Goyal and Saurabh Bansal, Designated Partners, VS TRANS LOJISTIK LLP, is one of the most well established Freight Forwarder/Transporter/Custom Clearance In India. They offer full logistics services like Sea Freight, Air Freight & Land Freight, their logistics activities start from Ex Works, Consolidation Trucking, Customs clearance, Warehousing, 3PL, Cross trade & Material Inspection. They also are handling commodities like Stone/Marble/ Granite/Rice/Ceramic-Tiles/Handicraft/Furniture/Industrial-Item/Agri/Garment/Made ups and many more.
What gives VS TRANS LOJISTIK LLP an edge over their peers is the fact that they are open to new solutions, services, products, and ideas. They are highly flexible in quickly responding to changing market conditions and agent needs. They are continuously improving and surpassing their own set standards each time with ethical business practices and seeking innovativeness. The team will be at disposal for assistance and ready to negotiate with a provision of the highest level of quality and accountability.
THE MOUNTAINS CROSSED AND THE LESSONS LEARNT
A number of obstacles came in the way of VS TRANS LOJISTIK LLP, but the company managed to sail through all of them pretty smoothly. In the initial phase, they had to deal with gaining the trust of customers in their words & services, but with time by giving reliable & committed services they overcame the obstacles. Moving out of the comfort zone came after we comprehended that we have now turned into a job provider from a job seeker. Of course, the obstacles were there but believe in themselves, perseverance and consistent hard work helped them in overcoming every hiccup. In fact, their team's belief in them and their enthusiasm was the most encouraging and drove them to work even harder.
Learning came in its own fancy way for the company and both the partners. It was neatly understood that losing hope cannot be an option, if you have to achieve your target, you have to keep moving on. When you are in a struggling phase, what values the most is how much hard work are you putting in and the confidence with which you do your job. It is very important for one to understand that there is no substitute for hard work, belief in yourself and the one you follow and have patience, each and everything will at some point or another fall into the right place.
MARKET RELEVANCE AND CORPORATE SCENARIO
Relevance in terms of the market for VS TRANS LOJISTIK LLP was a very rolling the dice kind of situation. But pulling yourself together and remaining motivated for the act was the key always for the partners and the team working with them. When you work hard with quality there is a way and scope at any level, innovative mind & creative will always hold you on the winning stage. If you deliver more than what you promise to the customer, it becomes easier to be relevant but this itself is difficult as the industry constantly is changing. You have to be well informed and well prepared about the customer requirements and you have to stay ahead of the competition.
The coworkers and partners at VS TRANS LOJISTIK LLP are efficient and positive towards their work in the most challenging times. The employees are not just mere staff, but they are more of the assets and pillars of the company. With a positive environment at work, they do their work with best of the efficiency. They are more like a family than employees for the partners and the way you treat your family is how the staff treated there, with affection and positivity.
They are constantly encouraged, guided, corrected and rewarded. It is always ensured that the employees working at VS TRANS LOJISTIK LLP are not compromising on their family time. The partners are two positive people and they keep the environment positive as well and believe that only a satisfied staff can bring in customers that are satisfied. They don't just keep their employees motivated, they also have a branch-wise monthly star performer of the month in which the employee is provided with a certificate and a cash reward.
For the partners at the company, the idea of getting inspired is quite a subjective one, there are a number of people and none at the same time. But at the core it is believed by each one at VS TRANS LOJISTIK LLP, one turns into a successful businessman only after a number of failed attempts and learning from the same. The main focus has to remain on the goal and the goal only, only then it is possible for one to achieve what has been set at the beginning of starting the venture. The belief in hard work for both the partners is pretty strong and they only thrive to do better. And this could be in terms of anything, less cost, better service, time, or a happier team, it is best to be better than what you are today.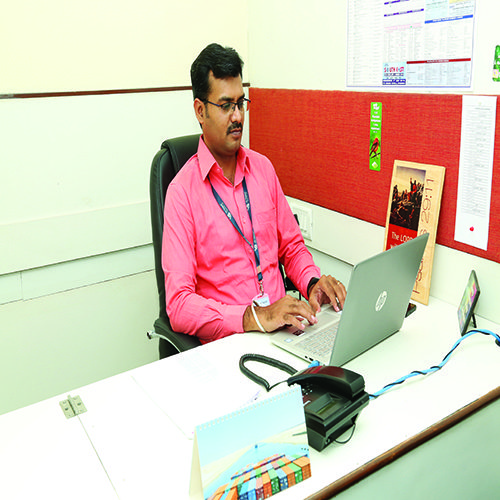 Mr. Sharvin Kumar, General Manager of VS Trans Lojistik LLP, an enthusiastic person, Nurturing team with his knowledge and looking after the business development functions, with over 15 years of experience, he has worked with premium organizations in the past. He has been working to develop VS Trans Lojistik LLP as finest freight forwarding company. He loves working with staff on professional development. His strength lies in finding innovative ways to improve existing systems, procedures and practices, giving the organization that much need.
Mr. Pankaj Kumar Bagri, Chief Financial Officer of VS Trans Lojistik LLP, spearheads Accounting, Taxation, Legal and Financial Planning. Having a decade of experience, he guides the team related accounting matters and resolve them and made a high performance team. He is passionate in his work and always available to serve his company. He provides the guidance and share his knowledge with juniors and motivate them. He is a strong pillar of VS Trans Lojistik LLP.
GOALS TO WORK HARD FOR
For VS TRANS LOJISTIK LLP, it is on the cards to establish the company higher as a global brand, they have started to chalk a plan to work towards coming up with a number of small offices around the world and once the brand has been established globally, it will automatically mark its space in the international market. And since they are in the logistics industry, they already have their fair share of presence in the global market already, it can only be worked on to amplify. The belief in advertising isn't much believed in here, most of the new business is established through word-of-mouth, a satisfied customer is their best advertisement. So, VS TRANS LOJISTIK LLP is already a Global Brand in terms of service.
They are also looking to come up with an expansion plan that brings IPO in the picture. They are growing as a company and are looking forward to have a far better place in the near future and are willing to add whatever infrastructure is needed for the same like more employees, bigger place to work and of course capital which they try to generate by focusing more on revenue and indeed they don't mind in venture capitalists if both parties share the same vision.
FEATHERS IN THE CAP
VS TRANS LOJISTIK LLP is growing exponentially, they are now SGS and ISO certified. They started off with a team of 27 people and today after three years the boast of a team of 75 people. They are proud of the fact that no customer and no staff member have left the company and this is considered as a massive achievement. The company has served a number of big giants in the market like Indorama, Tata Metalik, Tata Chemical, Bajaj Auto, also doing business to all continent's is a milestone well for the company.
They are handling special equipment, Reefers, Oil Tanks, Cross Traded and many more.
The sector of Indian logistics is witnessing multiple factors that are driving it towards a boom and rapid growth. The growth is not on its own, it is well aided by constant market demand and supply. After the implantation of GST happened, the demand that led to growth was strengthened by recovery and benefits and according to a study, the scenario after GST implementation will and has only soared higher.
VS TRANS LOJISTIK LLP considers it strategically essential to maintain a professionally attractive culture and have created an environment which fosters satisfied, productive staff and actively supports employee development. This ensures that VS Trans remains a preferred employer, where the best and brightest choose to be employed.
They are looking forward to streamlining the processes better, with more and more interactive sessions with the employees, With constant efforts put in, they together are working towards a common goal of making the company a 50 billion business venture eventually becoming a global leader in the logistics sector in the most cost-efficient manner.
 "Being a part of Logistic gives us ample satisfaction, it's like a source of breathing for us, and it pushes us to incorporate our complete energy towards our work."
VS TRANS LOJISTIK LLP