Adani Group – Brand of the Month 
The Adani Group, headquartered in Ahmedabad, is an Indian global conglomerate. Gautam Adani founded it in 1988 as a commodity trading corporation, with Adani Enterprises as its centrepiece. The Group's diverse business ventures include port management, electric power generation and transmission, renewable energy, mining, airport operations, natural gas, food processing, and infrastructure. Adani Group employs about 100,000 people worldwide, both directly and indirectly.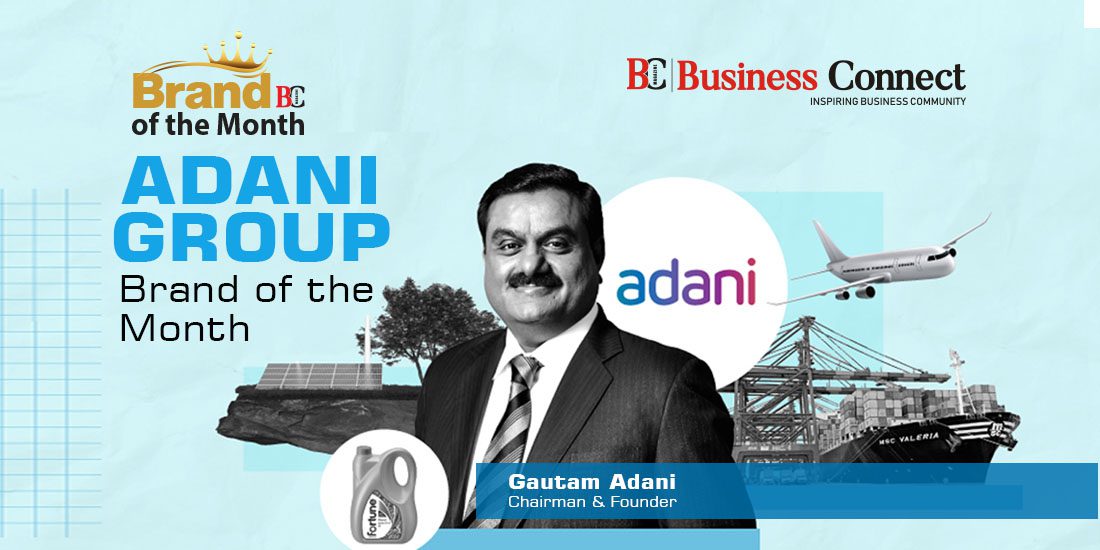 Adani Group Net Worth in Billion
Adani Group became the third Indian company to surpass the US$100 billion market value milestone in April 2021. In April 2022, it became the third Indian conglomerate, after Tata Group and Reliance Industries, to have a market capitalization of more than $200 billion. In November 2022, Adani Group's market value overtook Tata Group, reaching $280 billion (24 trillion INR). It is projected to reach $1 trillion by 2029.
Gautam Adani Net Worth
Adani is the founder of Adani Group which is India's largest port operator. The nation's largest tightly held thermal coal producer and trader is the infrastructure company. Adani Enterprises, the group's publicly traded trading company, reported $9.3 billion in sales for the fiscal year ending March 31, 2022. His current net worth in December 2022, as per Forbes, is $ 138 billion which is approximately INR 10.94 lakh crores.
Gautam Adani Net Worth in USD
Gautam Adani's net worth in December 2022, as per Forbes, is $ 138 billion.
Gautam Adani Net Worth in Rupees in 2022
As per Forbes, his current net worth is $ 138 billion in December 2022 which is approximately INR 10.94 lakh crores.
Gautam Adani Net Worth Ranking
With a net worth of USD 138 billion, Gautam Adani is the third richest person in the world today.
Companies under Adani Group
Adani Enterprises
Adani Enterprises is a holding company that acts as an incubator for new business ventures of the Adani Group and specialises in the stand-alone mining and sale of coal and iron ore. Adani Wilmar (food processing), Adani Airport Holdings (airport operations), and Adani Road Transport(road development) are its three main businesses. The production of solar PV modules, data centres, agri-output storage and distribution, rail and metro infrastructure, bunkering, real estate, financial services, oil exploration, petrochemicals, and cement are all areas in which Adani Enterprises has business interests through its other subsidiaries.
Adani Green Energy
Adani Green Energy, the group's renewable energy division, has a portfolio that comprises wind and solar power projects. With a total installed solar power capacity of 12.3 GW, it is the largest solar power developer in the world. Adani Greens creates three new subsidiary businesses for the renewable energy industry.
Adani Ports & SEZ
The largest private port firm and special economic zone in India is Adani Ports & SEZ (APSEZ), which operates ten ports and terminals, the largest of which is Mundra Port. CEO of APSEZ Karan Adani is the company's leader. The company runs a special economic zone, logistics, and port management. The following ports are where the company conducts business: Mundra, Dahej, and Hazira in Gujarat; Dhamra in Odisha; Kattupalli in Tamil Nadu; and Vizhinjam in Kerala.
Adani Transmission
Adani Transmission, which was integrated in 2013, manages the installation, use, and upkeep of electric power transmission systems. As of May 2021, the company, which operates India's biggest private power transmission and distribution network, owns, operates, and maintains 17,200 circuit kilometres of transmission lines with voltages ranging from 400 to 765 kilovolts.
Adani Power
In August 1996, Adani Power was founded. As the largest private sector power generation company in the nation, the corporation constructs and maintains power plants. With four thermal power projects spread across India, it has a total installed capacity of 12,450 MW.
Adani Total Gas
The municipal gas distribution company Adani Total Gas in India provides compressed natural gas stations and piped natural gas connections to both commercial and residential customers. Adani Group, an oil and gas producer in India, and Total Energies, a French energy company, are collaborating on it. By November 2020, Adani Total Gas will be present as a standalone organisation in 22 different regions (GAs). A 50:50 joint venture between Adani Total Gas and Indian Oil Corporation, Indian Oil-Adani Gas Pvt. Ltd.
also manages city gas distribution networks. With a combined footprint of 41 GAs spread across 74 districts, Adani Total Gas is the largest city gas operator in India. To change the composition of the energy mix, the Adani Group recently agreed to a strategic relationship with Snam, the leading gas infrastructure company in Europe.
Adani Wilmar
Adani Wilmar, a partnership between Wilmar International Limited and Adani Enterprises Ltd, is the owner of the Fortune brand of edible oils. Including soya bean, sunflower, mustard, and rice bran, it boasts the broadest selection of edible oils. About 20% of the Indian market is made up of its Fortune brand of oil.
Must Read:-