IPL Media Rights winners: Viacom18 wins digital while Star bags TV rights
What are the four packages provided for bidding?
Package A: Indian sub-continent exclusive TV (broadcast) rights.
Package B: Covers digital rights for the Indian sub-continent.
Package C: For 18 selected games in each season for digital space.
Package D: All games will be for combined TV and digital rights for overseas markets.
Iam thrilled to announce that STAR INDIA wins India
TV rights with their bid of Rs 23,575 crores. The bid is a direct testimony to the BCCI's organizational capabilities despite two pandemic years.

— Jay Shah (@JayShah) June 14, 2022
Jay Shah, Secretary of the Board of Control for Cricket in India (BCCI), announced the winners of the IPL media rights auction, which lasted for three days and garnered a record INR 48,390 crore for five years. Shah stated in a series of tweets that the Indian Premier League (IPL) is currently the world's second-most valuable sporting league in terms of per-match value.
The BCCI Secretary said that STAR INDIA won India TV rights with their bid of INR 23,575 crore, while Viacom18 bagged digital rights with its winning bid of INR 23,758 crore.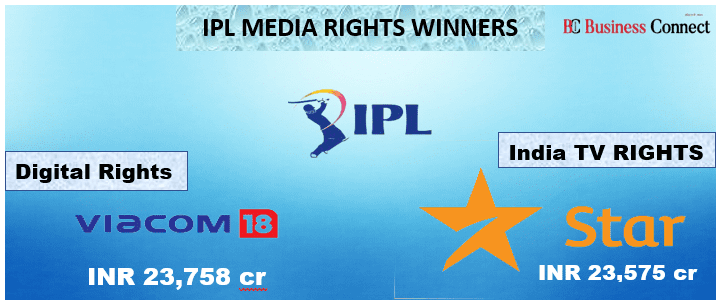 It's worth noting that, for the first time, digital media rights have sold for more than TV, indicating the country's growing interest in internet viewing. "The bid is a direct testimony to the BCCI's organizational capabilities despite two pandemic years," he added. Speaking on the advent of digital views, Shah also stated, "India has experienced a digital revolution, and the sector's potential is limitless. The way cricket is watched has altered as a result of the digital revolution.
It has played a significant role in the game's development and the Digital India ambition." Viacom 18 also secured rights to parts of the Rest of the World, including Australia, South Africa, and the United Kingdom, while Times Internet won rights to the Middle East and North Africa, as well as the United States. The cash earned by the IPL would be used by the BCCI to "strengthen our domestic cricket structure, starting at the grassroots, to increase infrastructure and spruce up venues across India, and enrich the entire cricket-watching experience," according to Shah.
Must Read:-