Purpose of Brands in a post-pandemic world
Author: Ranjoy Dey | Chief Growth Officer | Creative Factor Group
In this digital tsunami of information and content in a post-pandemic world, the AIDA/ ACPP funnel models of consumer awareness and interaction have been destroyed beyond revival. Brands are already going Omnichannel – to keep in sync with the random 'discovery' and 'engagement' consumer journeys prevalent in the mobile-first (sometime mobile-only) reality. As a result, content distribution is now a key priority for those Brands who have already mastered the art of multimedia content creation. There is an active and budget-supported effort to be omnipresent with fresh content in sync with the platforms and their typicality.
Not only Brands. OTT apps, eCommerce platforms, YouTubers, Influencers, Content Creators, Freelancers, Small entrepreneurs, and Content Publishers are diving in the deep end of content creation & distribution – both micro content as well as specialized technical content. In the past few years, the Digital Content Creation market experienced a huge surge under the influence of COVID-19. In 2019, the Global Digital Content Market size was USD 167,370 Million and it is expected to reach USD 397,390 Million by the end of 2026, with a CAGR of 13% during 2021-2026*.
Consumers are spoilt for choice of quality content in this deluge, and they are demanding more. They are ready to experiment, explore new Brands & products/services at the impulse of a click, and being extremely vocal about their opinions across any channel they can – which in turn is influencing million others. In this environment, the Brands are struggling to have meaningful conversations or engagement. Even the Brands with strong media monitoring command centres are moving to automated or AI-driven conversation channelization – rather than being able to deliver any unique touch of their persona.
Another major impact of the Pandemic, coupled with the deluge of information, is that it has generated a major lack of trust. The 2021 Edelman Trust Barometer reveals an epidemic of misinformation and widespread mistrust of societal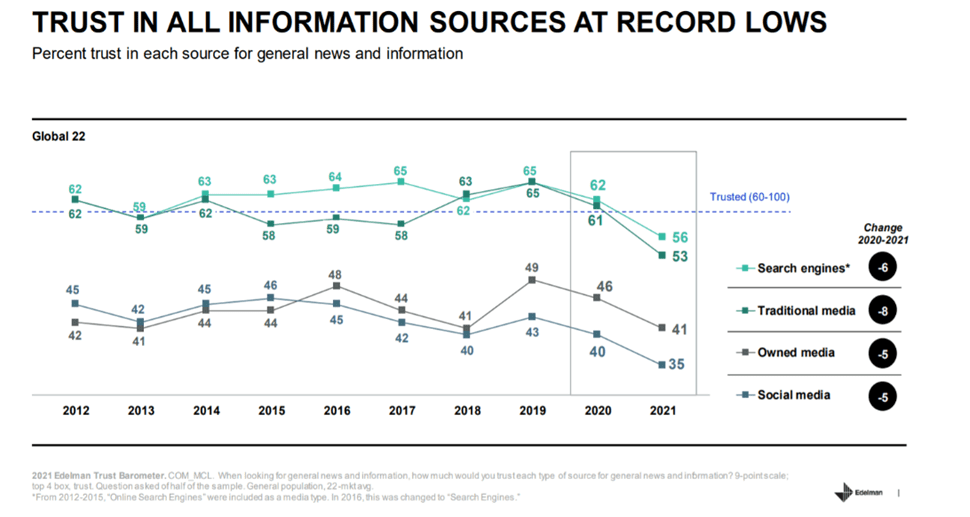 institutions and leaders around the world. Adding to this is a failing trust ecosystem unable to confront the rampant infodemic, leaving the four institutions—business, government, NGOs and media—in an environment of information bankruptcy and a mandate to rebuild trust and chart a new path forward.
This environment is an ideal ground for businesses for championing a core purpose, Trust. Trust in the experience. Trust in the brand. Trust in price. Trust in the safety of the products and services. Trust in sourcing. While the world seems to be clouded by mistrust and misinformation, there is a glimmer of hope in business. Consumers clearly expect business to step in and fill the void, and the high expectations of business to address and solve today's challenges has never been more apparent.
The heightened expectations from businesses bring CEOs new demands to focus on societal engagement with the same rigor, thoughtfulness, and energy used to deliver on profits. Trust remains the most important currency in lasting relationships between the four institutions- Business, government, media, and NGOs, and their various stakeholders. Particularly in times of turbulence and volatility, trust is what holds society together and where growth rebuilds and rebounds#.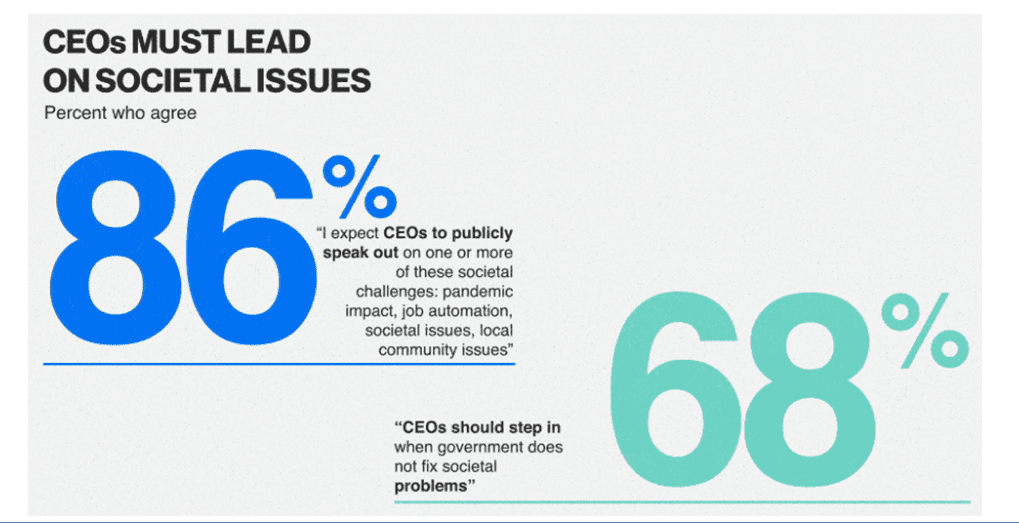 It's simple, authenticity breeds trust and trust breeds loyalty. And with 44 percent of consumers saying that in the next one to two years, they'll prioritize brands they've purchased from before ##, companies can't afford to erode trust. Across all sectors, from luxury to grocery to clothing and footwear, organizations must double down on this now to maintain relationships in the future. It will require you to define who you are as a brand, communicate that to your target consumer and, most importantly, live those values authentically.
But authenticity doesn't live and die in communication only. It's present in the way you do business; the stakeholders you benefit in your value chain and the products you sell. Right now, with fewer in-person experiences, brand trust is critical – and trust begins with positive relationships. According to the State of the Connected Customer report, the most important factors in establishing strong customer relationships are empathy, personalization, convenience, and digital transformation. These factors help define successful customer experience (CX).
During 2020-22, as many quarantined, people searched for grounding and stability, community and purpose. Many brands expressed empathy in their advertising and promotion, supporting health care professionals and essential workers. Today customers expect brands to care about societal issues, demonstrate empathy, reflect strong values, and act. According to EY's 2021 Future Consumer Index, consumers will continue to prioritize affordability and health, yet 49% will prioritize the environment and climate change in how they live and the products they buy and 56% will be more likely to buy from companies that ensure what they do has a positive impact on society.
Brands that reinforce their missions and values in an authentic way will be most successful at building relationships and trust with customers. Brands which understand CX across multiple platforms, via digital and in person touchpoints, will continue to benefit in both the short and long term.
In a nutshell, a powerful brand purpose sets out how a company intends to change the world for the better. Its role is to unite customers and culture alike in the pursuit of that intention. It's a statement of belief, of hope, of pursuit.
Must Read:-