Top 10 Bollywood movies that every entrepreneur should watch
By Sanjay Maurya
There is no quick fix, no fixed formula to achieve success in your journey, true entrepreneurs overcome obstacles and write their own success stories. When it comes to entrepreneurs and businessmen, Bollywood has its own set of stories. Some of the best films on the entrepreneurial journey, hardships, and achievements have come from Bollywood. If you are a businessman or want to become one, then you must watch some of the movies listed below.
Top 10 inspiring Bollywood movies for entrepreneurs
01 – 3 Idiots
CBFC: U/A 2009 ‧ Comedy/Romance ‧ 2h 51m
"Kaamyaab hone ke liye nahin, Kaabil hone ke liye padho!"
Release date: 25 December 2009 (India)
Director: Rajkumar Hirani
Screenplay: Rajkumar Hirani, Vidhu Vinod Chopra, Abhijat Joshi
Budget: 55 crores INR, 35 crores INR
Music director: Shantanu Moitra, Sanjay Wandrekar, Atul Raninga
Farhan and Raju build a strong friendship with Rancho in college because of his upbeat and refreshing attitude on life. Years later, a bet allows them to search for their long-lost friend, whose presence appears to be enigmatic. Rancho tells his friends throughout the film not to chase success, if you work for excellence then success will come to you. Unfortunately, we just care about success and ignore excellence, which requireshard effort, dedication, and passion.
02 – Guru
CBFC: U 2007 ‧ Musical/Drama ‧ 2h 46m
"Jab log tumhare khilaaf bolne lage, samajh lo tarakki kar rahe ho"
Release date: 12 January 2007 (India)
Director: Mani Ratnam
Box office: INR 836.7 million
Language: Hindi
Distributed by: Madras Talkies, Reliance Entertainment
Abhishek Bachchan plays the role of Guru in this Mani Ratnam film, which is based on the life of late Dhirubhai Ambani. Aishwarya Rai plays the role of Guru's wife in this biographical drama. The film sheds light on the entrepreneurial journey of a modest villager and his transformation into India's biggest business magnate.
03 – Trishul
CBFC: U 1978 ‧ Action/Drama ‧ 2h 47m
"Main paanch lakh ka sauda karne aaya hoon,aur meri jeb mein paanch phooti kaudiyaan bhi nahi hai" – Amitabh Bachchan
Release date: 5 May 1978 (India)
Director: Yash Chopra
Music director: Mohammed Zahur Khayyam
Distributed by: Yash Raj Films
Box office: est. ₹202 million
Trishul is a father-son melodrama starring Sanjeev Kumar and Amitabh Bachchan.
When Raj's mother refuses to allow her son to marry Shanti, he obeys her wish and leaves her despite the pregnancy. Years later, Shanti's son Vijay returns to his father's family and establishes a corporate empire to avenge his mother.
04 – Rocket Singh: Salesman of the Year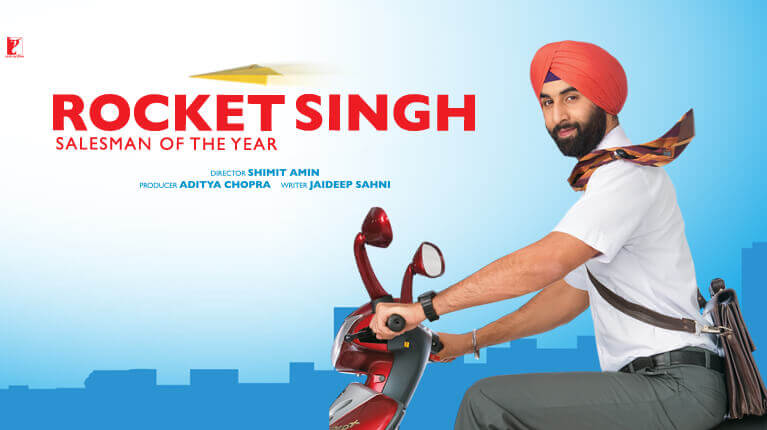 CBFC: U/A 2009 ‧ Comedy/Drama ‧ 2h 30m
"Risk toh Spiderman ko bhi lena padta hai, main toh phir bhi salesman hoon"
Release date: 11 December 2009 (India)
Director: Shimit Amin
Written by: Jaideep Sahni
Distributed by: Yash Raj Films
The movie is about how a salesperson through his hard work and determination starts his own company and achieves success. The film discusses a variety of intriguing subjects to consider when establishing your own business, such as customer service, which is a factor that many entrepreneurs overlook. Although this film did not do well at the box office, it is still regarded as one of the best Hindi films for aspiring entrepreneurs.
05 – Udaan
CBFC: U/A 2010 ‧ Drama ‧ 2h 14m
"Ek Udaan Hi Sapno Ko Zindagi Degi Sapno Se Jod Do Isse"
Release date: 16 July 2010 (India)
Director: Vikramaditya Motwane
Box office: 3.35 crores INR
Awards: Filmfare Award for Best Supporting Actor, MORE
Screenplay: Vikramaditya Motwane, Anurag Kashyap, Satyanshu Singh, Devanshu Kumar
Rohan goes home to his strict father and an uninformed half-brother after being thrown out of school. Despite his desire to become a writer, Rohan is obliged to work in his father's factory. Rohan inspires us to believe that everyone can achieve their goals if they work hard to make them a reality.
06 – Band Baaja Baaraat
CBFC: U 2010 ‧ Romance/Comedy ‧ 2h 20m
"Reception ho yah inflation, shadiyaan toh honi hai"
Release date: 10 December 2010 (India)
Director: Maneesh Sharma
Produced by: Aditya Chopra
Distributed by: Yash Raj Films
Language: Hindi
It is a Hindi romantic comedy film starring Ranveer Singh and Anushka Sharma which was released in 2010. It is also Maneesh Sharma's first film as both an actor and director. The story follows two freshers who build and develop a wedding planning company while falling in love along the way. Band Baaja Baaraat, a simple and light-hearted approach to wedding planning, has inspired many Indian teens who want to work as professional wedding planners.
07 – Badmash Company
CBFC: U/A 2010 ‧ Crime/Hindi cinema ‧2h 22m
"Bade se bada business, paise se nahi, ek bade idea se bada hota hai"
Release date: 7 May 2010 (India)
Director: Parmeet Sethi
Box office: ₹530 million
Distributed by: Yash Raj Films
Badmash Company, starring Shahid Kapoor, Vir, Chang, and Anushka Sharma, tells the story of a middle-class man with a fantastic business mind but, unfortunately, began misusing his ideas. In the end, he realizes his life follies and begins to live honestly.
08 – Bazaar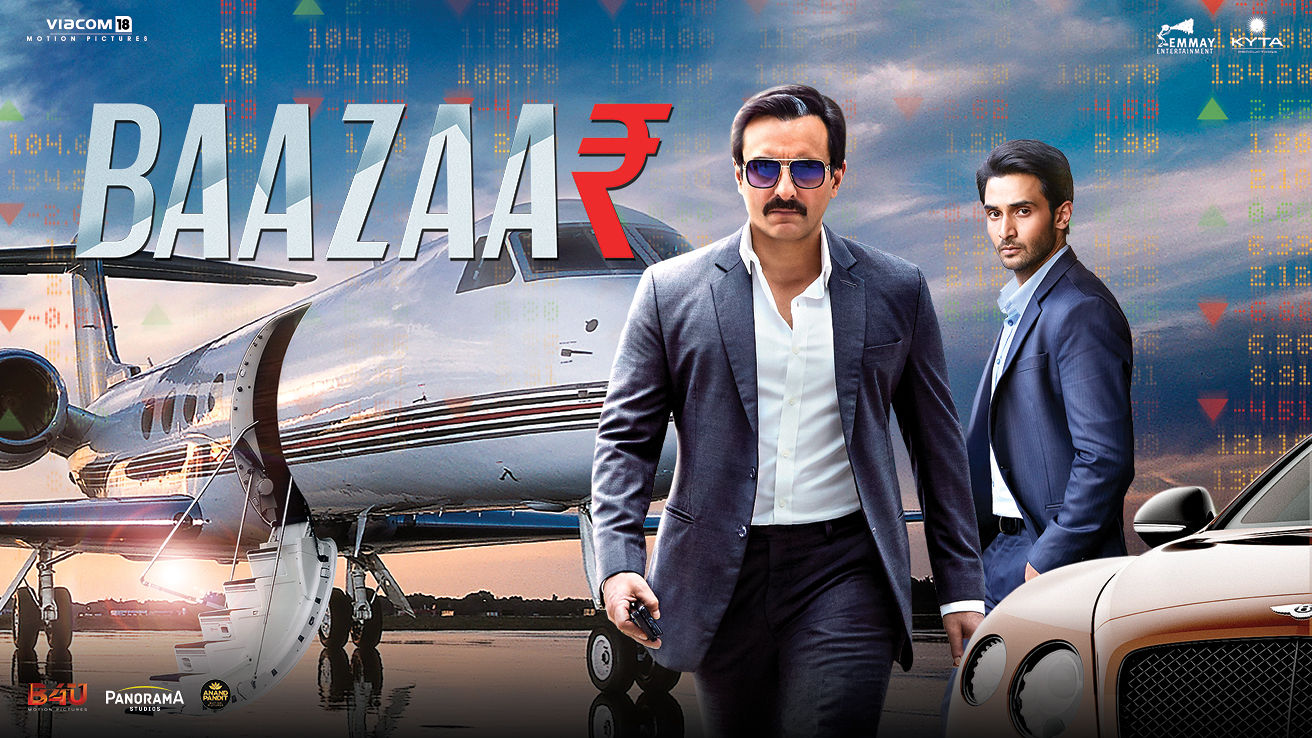 CBFC: U/A 2018 ‧ Drama/Thriller ‧ 2h 17m
"Tu emotions par chalta hai, main maths par"
Release date: 26 October 2018 (India)
Director: Gauravv K. Chawla
Rizwan, a novice stock trader, travels to Mumbai to work for Shakun Kothari, a prominent Gujarati dealer. Everything appears to be going well until Rizwan's idol betrays him. Baazaar is a fast-paced film that is entertaining to watch. The film is full of terrific banter and unexpected twists and turns.
09 – Manjhi – The Mountain Man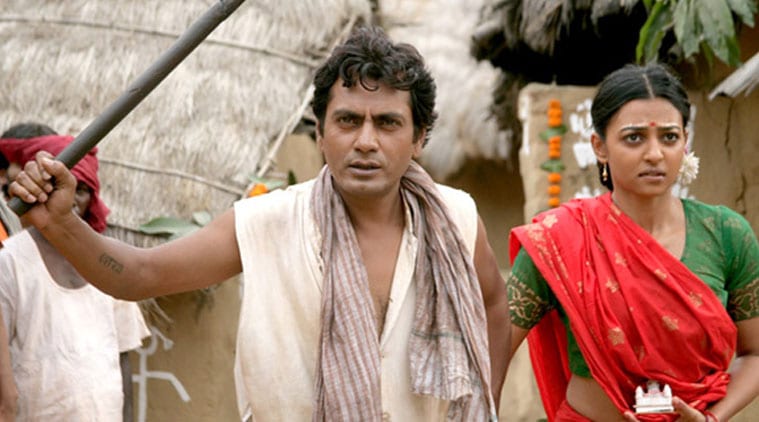 CBFC: U 2015 ‧ Romance/Drama ‧ 2 hours
"Bhagwan ke bharose mat baithye, kya pata bhagwan humre bharose baitha ho"
Release date: 21 August 2015 (India)
Director: Ketan Mehta
Box office: est. ₹18 crores (US$2.4 million) 50 weeks
Based on the true story of Dashrath Manjhi, when his wife passes away trying to cross a mountain, Manjhi, out of anger, seeks to build a road through the treacherous mountain despite the obstacles and difficulties that come his way. He lives up to his dream until the very end, and this movie will make you bite your nails in hopes of how he'll conquer his next hurdle.
10 – Avtaar
CBFC: U 1983 ‧ Hindi cinema/Drama ‧ 2h 31m
"Retire toh aadmi ko us din hona chahiye, jab uparwaale ka bulava aa jaye"
Release date: 11 March 1983 (India)
Director: Mohan Kumar
Production company: Emkay Pictures
Avtaar, directed by Rajesh Khanna and starring Shabana Azmi, is one of Rajesh Khanna's biggest hits. This is the story of Avtaar, an older parent who overcomes all obstacles in his personal life to achieve great entrepreneurial success, directed by Mohan Kumar. Avatar is a heartwarming film with excellent acting and direction which conveys the belief that defeat is not final and success can still shine a light on you.
Best Indian web series for entrepreneur
TVF Pitchers
2015 ‧ Comedy-drama – 9.3/10 · IMDb
"I am a zero in the team but inke peeche lag jaata hun toh net value 10 times ho jaati hai"
A narrative about the challenges and tribulations of four young entrepreneurs who quit their day jobs to create their own business. The show has received excellent feedback from the majority of the country's young, and we can find daily motivational posts about pitchers on social media.
FAQ
Which are the top 5 Bollywood movies that every entrepreneur should watch?
The top 5 Bollywood movies that every entrepreneur should watch are as follows: –
3 Idiots
Guru
Rocket Singh: Salesman of the Year
Udaan
Bazaar
Is there a documentary about Elon Musk in 2022?
The documentary 'Return to Space,' on Elon Musk's 20-year odyssey, is now available on Netflix.Its story follows the two-decade mission of Elon Musk and SpaceX engineers to send NASA astronauts back to the International Space Station and revolutionize space travel.
What are the top 10 Hollywood movies for entrepreneurs?
The top 10 Hollywood movies For Entrepreneurs are as follows: –
The Pursuit of Happyness (2006)
The Founder (2016)
Wall Street (1987)
The Social Network (2010)
Rocky (1976)
Joy (2015)
Jerry Maguire (1996)
Moneyball (2011)
Boiler Room (2000)
Glengarry Glen Ross (1992)
Which movie is based on Mark Zuckerberg?
The Social Network – CBFC: U/A 2010 ‧ Drama/History ‧ 2 hours
The Social Network is a 2010 American biographical drama film directed by David Fincher and written by Aaron Sorkin.
Must Read:-