Amid Russia-Ukraine war, Ukraine Govt calls on hacker underground to defend against Russia
By Sanjay Maurya
News Highlights
The websites of several Ukrainian banks and government agencies were reportedly denied service shortly after Russia invaded Ukraine.
ESET said that malware capable of erasing data had been found on hundreds of computers in Ukraine.
The volunteers would be organised into defensive and offensive cyber squads, according to Aushev.
According to reports, the Ukrainian government is looking for volunteers from the country's hacker community to help secure infrastructure and conduct cyber surveillance missions against the Russian military. On February 24, as Russian forces attacked cities across Ukraine, pleas from volunteers began to surface on hacker forums, while many residents fled the capital, Kyiv.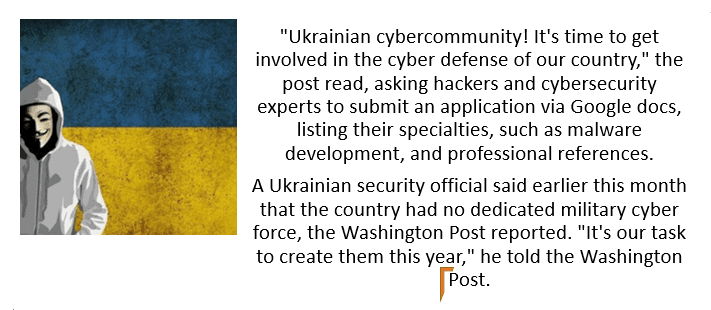 Yegor Aushev, the co-founder of a cybersecurity company in Kyiv, told Reuters he wrote the post at the request of a senior Defense Ministry official who contacted him on Thursday. Aushev's company, Cyber Unit Technologies, is well-known for collaborating with Ukraine's government on critical infrastructure defence. The request came from the Defense Ministry on Thursday morning, according to another source closely involved in the plan.
Representatives from Ukraine's Defense Ministry did not reply to a request for comment. A defense attaché at Ukraine's embassy in Washington said he "cannot confirm or deny information from Telegram channels", referring to the mobile messaging platform, and declined to comment further.
According to specialists at the cybersecurity firm ESET, a newly discovered piece of damaging malware was detected spreading in Ukraine on February 23, affecting hundreds of computers. Russia was suspected, which has been repeatedly accused of hacking against Ukraine and other countries.
According to Reuters, the victims included government institutions and financial institutions. The charges have been refuted by Russia. Aushev, who was reached late Thursday night in Ukraine, said he had already received hundreds of applications and would begin vetting them to verify that none of them were Russian agents.
The volunteers would be organised into defensive and offensive cyber squads, according to Aushev. Infrastructure such as power plants and water systems would be protected by the defence force. 225,000 Ukrainians lost power as a result of a cyberattack blamed on Russian state hackers in 2015.
Aushev claims that the offensive volunteer unit he is forming would aid Ukraine's military in conducting digital espionage operations against invading Russian troops."Inside our nation, we have an army," Aushev remarked. " We need to know what they are doing."
Must Read:-