Benjamin Netanyahu set to become next prime minister of Israel; PM Modi says' Congratulation my friend'
The command of the powerful country will once again be in the hands of Benjamin Netanyahu. A coalition of right-wing parties led by Netanyahu has won a majority in Israel's parliament. The coalition won a majority in the 120-member parliament by winning 64 seats. After which the next PM of Israel will be Netanyahu. Netanyahu was almost certain to become prime minister after 90 percent of the votes were counted. Israel's caretaker prime minister Lapid on Thursday (November 3) congratulated his rival Benjamin Netanyahu on his "victory" in national elections.
Benjamin Netanyahu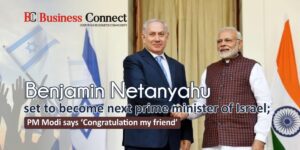 Leader of the Opposition in Israel
Born: 21 October 1949 (age 73 years), Tel Aviv-Yafo, Israel
Education: MIT Sloan School of Management (1976), MORE
Spouse: Sara Netanyahu (m. 1991), Fleur Cates (m. 1981–1984), Miriam Haran (m. 1972–1978)
Previous offices: Minister of Defence of Israel (2018–2019), MORE
Party: Likud
Height: 1.84 m
Office: Member of the Israeli Knesset since 2003
"Prime Minister Lapid congratulated Leader of the opposition Netanyahu on his election victory and updated him that he has instructed his entire office to prepare for an organized transition of power," a statement from Lapid's office said. It is important to know that the relationship between Benjamin Netanyahu and PM Modi has been very good and both are also considered to be good friends of each other.
Prime Minister Narendra Modi congratulated his new Israeli counterpart Benjamin Netanyahu on his electoral victory on Thursday (November 3). Along with this, he expressed the hope of taking forward the future strategic partnership between the two countries. Netanyahu replied – Thank you, my friend, Prime Minister Narendra Modi, I wish Israel and India a continued successful partnership.
According to the latest updates from the Central Elections Committee, Netanyahu's Likud party will get 31 seats, Prime Minister Yair Lapid's Yesh Atid 24, Religious Zionism 14, National Unity 12, Shas 11, and United Torah Judaism will have eight seats.
There are 120 seats in the Parliament of Israel. Netanyahu's Likud party and its allies are projected to win 64 of these seats. Let us tell you that the politics of Israel is completely based on the coalition. Here no single party can ever get a majority in the Parliament. Therefore, the help of other parties has to be taken to form the government.
In Israel, generally, no party can get a majority in the 120-member parliament. No one has got a clear majority in Israel in the last four elections. At times, the coalition failed to form the government even by a small margin. Netanyahu's outright majority marks the end of a turbulent era in Israeli politics. However, 73-year-old Netanyahu still faces corruption charges, which he has consistently denied.
Must Read:-