Delhi: Dry days slashed to 3 from 21 earlier, all details here
By Sanjay Maurya
The Delhi government lowered the number of dry days from 21 to just three on Monday (24th January 2022). Liquor shops and opium vends in the national capital will now be closed only on three national holidays: Republic Day (January 26), Independence Day (August 15), and Gandhi Jayanti (October 2), according to the new excise policy.
The excise department, on the other hand, stated that the restrictions on the sale of liquor on dry days will not apply to the service of alcohol to occupants in case of hotels having L-15 license. L-15 license allows hotels to serve liquor to guests in their rooms.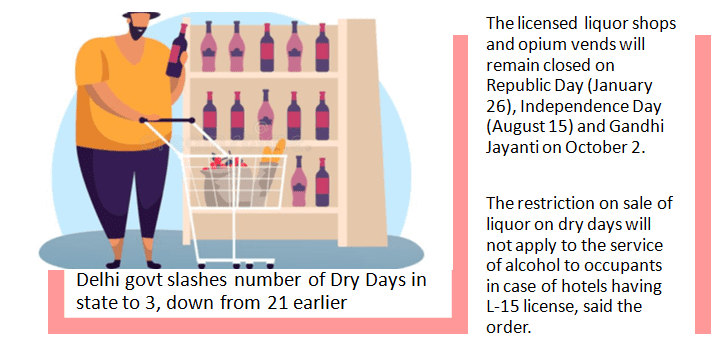 "It is hereby ordered that the following dates shall be observed as "Dry Day" in the National Capital Territory of Delhi by all the licensees of the Excise department and opium vends located in Delhi for the year 2022," the department's order stated, listing the three national holidays as the days when the sale of alcohol will be prohibited.
Previously, there were 21 dry days, including the anniversary of great leaders and religious holidays. On a dry day, a licensee's business premises will be closed. In addition to the above three dry days, the Government may declare any other day in the year as 'Dry Day' from time to time.
The hospitality business applauded the move, while the opposition BJP and Congress slammed it. Holi, Diwali, Janmashtami, Muharram, Id-ul-Zuha (Bakrid), Good Friday, Ram Navami, Mahavir Jayanti, Buddha Purnima, Maharishi Valmiki's Birthday, Guru Nanak's Birthday, Dussehra, and other holidays were marked as dry days in 2021.
The licensees will not be entitled to any compensation if the number of 'dry days' varies. It said that all licensees shall display the 'dry day' order in a prominent location on their permitted premises.
"This is a positive step that will help both consumers and traders. It would save us from losses caused by more dry days in the past, which resulted in the closure of stores, restaurants, and businesses despite paying the entire licence cost for the year, said the President of the National Restaurants Association of India, Kabir Suri.
Must Read:-