Indian Army Day 2022:  Interesting Facts About Army's New Combat Uniform
By Sanjay Maurya
On Army Day, January 15, the Indian Army will debut a new digital pattern combat uniform that will be lighter and more environmentally friendly. According to government authorities, the new camouflage uniform will have a "digital" design and will be unveiled at the Army Day parade on January 15.
According to reports, the decision to launch the new Army uniform was decided during the most recent Army Commanders' Conference. Troops would not be obliged to tuck their shirts in, and camouflage uniforms will be completely different from the uniforms currently in use. The new camouflage uniform would come in many colours, including earthy and olive.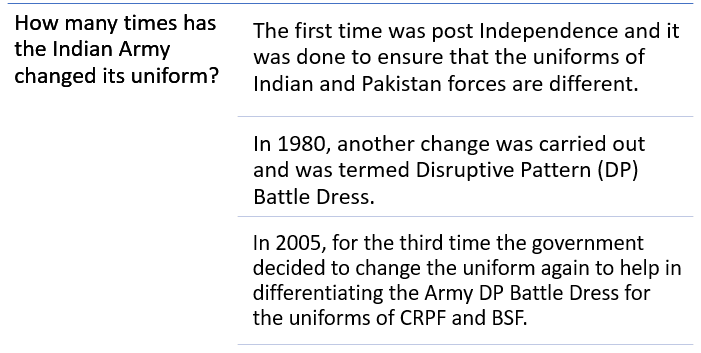 Army Day is commonly associated with parades and other military functions that include demonstrating the Army's skills, conferring military honours, and so on. The main parade of the day takes place at Cariappa Parade ground in the national capital. The Army Day celebrations this year have a unique twist. According to reports, the Army will debut its new battle uniform at this year's Army Day Parade. Here's all you need to know about the Indian Army's new battle uniform.
Interesting facts about the new combat uniform of the Indian Army
The new uniform was created with two goals in mind: to protect soldiers from extreme weather conditions and to offer field camouflage to boost survival.
The new Indian Army uniform will be made of a lightweight fabric that dries fast, making it more comfortable for the army during the operation.
After considering 15 patterns, eight styles, and four materials, the new Army Combat Pattern Uniform was created with the support of the National Institute of Fashion Technology (NIFT).
The uniform of the Army is made out of a 70:30 ratio of cotton and polyester.
The new battle uniform has been finalized, according to reports, following extensive talks and research of military outfits from numerous countries.
In both summer and winter, the new uniform will be much more durable and comfortable.
The outfits, which will have a combination of colours including olive and earthy, have been developed with factors such as the troops' deployment zones and the weather circumstances in which they operate in mind.
Must Read:-