100% Online School in India | K8 School powered by Discovery Education
The covid crisis prompted the closure of educational institutions all across the globe. A recent study by the World Economic Forum suggests that a whopping 1.2 billion children are out of the classrooms because of the covid. And many new studies speculate that students will continue to remain outside the schools because of the surge in new infections well into the year 2022 also.
Teachers and parents unanimously seem to agree that teaching children was never so difficult as during the recent disruption in the education systems. Because of the forced switch to online learning for schools, teachers are struggling to bring quality education to the students despite their best efforts. The parents also face many challenges as they have to sit with their children through the classes, adding to their already existing responsibilities.
However, many educational institutions around the world have seen the distinctive rise of e-learning due to the suspension of face-to-face learning. But while many continue to struggle due to the switch to e-learning, many others have faced the challenge head-on and delivered efficient online solutions for learning. Research also suggests that when taught in an online mode students show increased retention of information in less time.
Educators are, therefore, right in discussing whether or not in the post-pandemic world, the educational institutions will show a shift towards the increased adoption of online learning.
K8 School, powered by Discovery Education, is India's First and Only Accredited 100% Online School serving students from Nursery to Grade 8.
We at K8 School strongly believe that online education is not one of the choices available to the parents and students in the pandemic and post-pandemic world, but the only right choice. We are helping children and their parents not only navigate the challenges of day-to-day learning but also offer high-quality education and unparalleled support in a safe and distraction-free learning environment.
We had an enlightening conversation with Mr. Sharad Bhatia, Founder & CEO of K8 School.
While elaborating on what K8 School brings to the table, Mr. Bhatia says, "The primary fabric of virtual teaching has a completely different feel as compared to that of traditional classrooms. The same content, same teaching style, and same size of classrooms in a virtual set-up are rendering teaching and learning far less effective. Children aren't going to school as they used to, and they need something different to keep them engaged right from the comfort of their homes.
K8 School is changing the paradigm of learning in India by bringing together the best features of all schools under one roof within the safety of the home. We believe in creating a flexible and nurturing learning ecosystem for our students where they excel in academics while simultaneously chasing their dreams."
Here's more about K8 School, in conversation with Mr. Sharad Bhatia.
Online classes in schools are a forced option for many after the pandemic. How do you see K8 School changing the standard model of education in India?
Online schools are the face of post-pandemic schooling. I further want to emphasize that we at K8 School are not advocating something that is a temporary solution but strongly uphold that an accredited 100 percent online school in India is the first step towards the 'greater good' of the students in this part of the globe.
Students worldwide are taking advantage of online education which offers myriad opportunities for quality education and creative learning methods. Many leading educationists worldwide see online learning as the future of education as it offers students a convenient option with endless virtual options.
It is time we provide our students in India too with a healthy learning environment where they are given the right platforms for consistent growth and learning from a young age. It is with this vision that the interactive, engaging, and immersive learning at K8 School is structured; to test the high order thinking skills of students and to maximize their potential.
We want education to reach the child, instead of the child walking to it every day.
How do you ensure that teaching at K8 School is 100% suitable for each student? How does your school manage to create an ideal learning environment for the students?
The teaching methodology at K8 School is extremely student-centric and is delivered through 3-5 hours of live interactive online classes 5-6 days a week. We believe in providing dedicated attention to every child which is why our maximum batch strength is 15 students only. The small batch size also ensures an adequate level of classroom interaction among peers and further helps the teachers to personalize the teaching instructions.
Please tell us more about this ideal learning environment and how your school manages to create it?
K8 School is the only accredited online school in India that is technologically equipped with student-friendly digital learning platforms for students.
We constantly strive to provide education based on inclusivity and our digital platform, the Learning Management System, is carefully designed with a mixed bag of online resources that cover all types of learners – the fast and the slow learners. Immersive supplementary content for learning is also provided by a partnership with Discovery Education. Our teachers further add to this rich educational experience with effective online teaching strategies and pre-planned lesson plans.
The results that flow down to the students are therefore highly customized as per their individual needs. Our students are our priority and at the center of every decision we make.
But isn't this an extra burden on the parents? In terms of mentoring their kids and paying for online infrastructure constantly?
Not at all! On the contrary, we offer state-of-the-art education to students within the comfort of their homes at an affordable fee. Moreover, there is no need for the parents to sit with the children in their classes as the Learning Management System is powerful enough to inspire children to learn easily and independently.  
Allow me to elaborate on this very important concern. The presumptions that online teaching platforms add to the burden of parents are actually ill-founded. In fact, when executed properly, online learning platforms have come to relieve the burden of the parents to a great extent.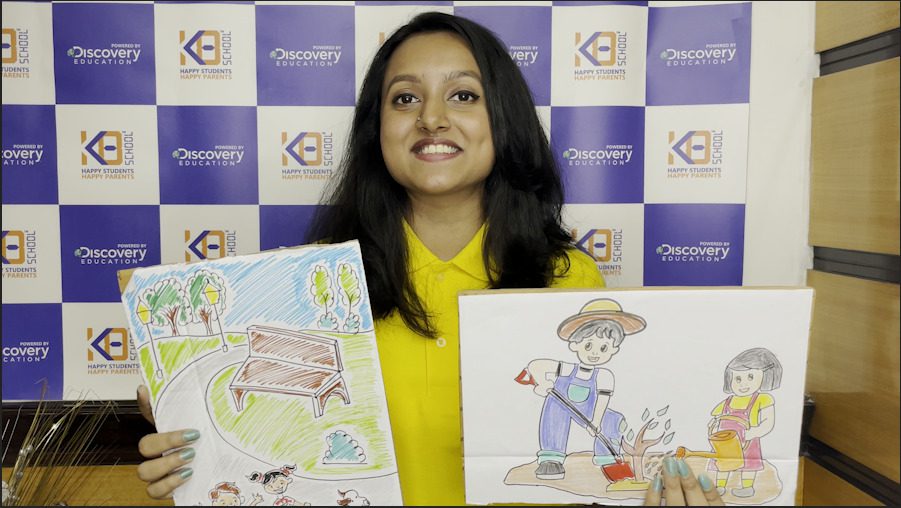 All our teachers are trained and certified by Cognia and are adept at maximizing the learning potential of kids in a productive 3.5 to 5 hours duration. The idea is to focus on 'quality' learning and prolonged retention with the help of core concept building. Carefully-crafted activities are designed to make learning both meaningful and entertaining while continuously building a solid foundation for their subsequent learning.
If we were to talk of the financial costs, we are an affordable school with a very transparent fee structure. At no point during the academic year are the parents burdened with any hidden charges. Considering that we offer a world-class international curriculum through advanced technological infrastructure, our fee structure is actually very nominal.
I would concur that an online school education cuts down on extra costs in the name of physical infrastructure, hidden charges of co-curricular or recreational activities, uniforms, supplementary, books, transportation, and whatnot!
We are here with a mission to offer the best international curriculum to students in India at an affordable fee within the comfort of their homes. But having said that, emphasis is also laid on developing multiple intelligences and skills in every child, using counselling, yoga, music, art, dance, story-telling, cultural exchanges, personality-development classes, moral studies and many other extracurricular activities for holistic development.
All of this is done without charging anything from the parents in the name of "Extra Costs". We just stick to our nominal annual tuition fee and do not believe in overburdening parents with huge amounts of fees for n number of different activities. Our mission is to provide equal opportunities for all children to a good education in a safe learning ecosystem.
Also, isn't this a saving in itself for the parents who pay sky-rocketing fees without getting much in return?
One last question, apart from this reduced overall cost, are you providing something extra to the students?
Where do I even begin to answer this very important question!
We are India's first and only 'Cognia' accredited school and have travelled that extra mile to create an online school for kids that offers nothing but the best education for each student.
Education at K8 School offers students the opportunity to learn subjects such as Foreign Languages, Advanced Mathematics, Business Keyboarding, Coding Fundamentals, Visual Art, Critical Thinking and Problem Solving etc, over and above the regular core subjects like Maths, Science, Language Arts. Stress is laid on 'STEM' education in our school to address the learning needs of 21st century children.
Also, emphasis is laid on continuous online assessments for students after every lesson and module. The assessments are carefully planned for each module separately and can be in the form of subjective or objective tests, video submissions, quizzes, discussions etc. The focus basically is on nurturing the independent thinking abilities of students.
We also provide the parents with the freedom to consistently keep a track of their child's performance by logging in to the Learning Management System at any time along with apprising them of the progress of their children from time to time, so that parents of our K8 Schoolers are always on track with the progress of their children. Connecting with teachers at K8 School is also just a click away through our school's mobile app. In fact, we encourage a culture for parents to reach out to us and provide feedback for continuous improvement.
K8 School also has a dedicated support mechanism for each student for academic, career and personal guidance. The teachers of K8 School serve as anchors giving wings to the hopes and aspirations of students.
And all of us collectively at K8 School consistently strive to uphold our school motto 'Happy Students, Happy Parents' by propelling success for each student while ensuring their well-being.
Must Read:-