Vaishali Takkar of 'Sasural Simar Ka' dies at 30: Police recovered suicide note mentioning harassment
TV actress Vaishali Takkar, known for her role in shows like Yeh Rishta Kya Kehlata Hai and Sasural Simar Ka, was found dead at her house in Indore on Sunday(October 16). She was 30 when she breathed her last. Police found her body hanging from the ceiling fan and also found a suicide note from her room.
Vaishali Takkar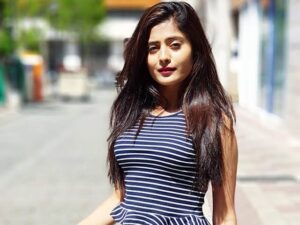 Indian actress
Born – 15 July 1992Ujjain, Madhya Pradesh, India
Died – 16 October 2022 (aged 30)Indore, Madhya Pradesh, India – Cause of death suicide by hanging
Nationality – Indian
Occupation – Actress, model
Years active – 2015–2022
According to family members, Vaishali came home at around 11 pm. Everything was normal with her behavior, but after going to her room, she hanged herself with Chunari. She was immediately taken to a private hospital where she was declared brought dead. Cops reached the spot and recovered the dead body, after which they sent it to Maharaja Yeshwantrao Hospital for post-mortem. The actress was to be married in December.
Know what was written in the suicide note?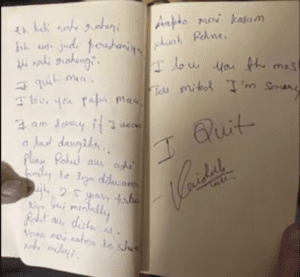 Vaishali Takkaralso left a suicide note before suicide, which was seized by Tejaji Nagar police and started an investigation. The note suggested that she was being harassed by her former boyfriend. At the same time, Vaishali has also written that 'If there is no daughter, then there will be no problems related to her. I Quit Maa, I love you Papa, Maa. I Quit.
ACP said that a suicide note has been recovered from the deceased, in which the name of a person living nearby has been written. It has been written that he was harassing the deceased. The post-mortem of the dead body has been done and the statements of the relatives will be taken. The ACP said that further action would be taken on the basis of the facts which will come in further investigation.
Career
Vaishali Takkar was born on 15 July 1992 in Ujjain, Madhya Pradesh to H.B Takkar and Annu Takkar. Takkar's first television series was Star Plus's longest-running drama Yeh Rishta Kya Kehlata Hai in which she played the role of Sanjana from 2015 to 2016.
Television
2015–2016 – Yeh Rishta Kya Kehlata Hai (StarPlus)
2016 – Bhakton Ki Bhakti Mein Shakti (channel – Lifeok), Yeh Vaada Raha (Zeetv), Yeh Hai Aashiqui (Original network – Bindass)
2016–2017 – Sasural Simar Ka (Colors TV)
2018 – Super Sisters (SAB tv)
2018–2019 – Vish Ya Amrit: Sitara (Colors TV)
2019–2020 – Manmohini 2 (ZeeTv)
2021–2022 – Rakshabandhan (Dangal TV)
Must Read:-