Bill Gates Net Worth
Bill Gates Biography
American billionaire and philanthropist William Henry Gates (Bill Gates) along with his late childhood friend Paul Allen, is the founder of Microsoft. Gates served as chairman, CEO, president, and chief software architect during his tenure at Microsoft. He played a significant role in the microcomputer revolution of the 1970s and 1980s.
Gates has appeared on the Forbes list of the world's richest people every year since 1987. With the exception of the years 2010 to 2013, he consistently held the Forbes title of the richest person in the world from 1995 to 2017.
In October 2017, Jeff Bezos, the founder and CEO of Amazon, overtook him in terms of wealth; at the time, he was believed to have a net worth of US$90.6 billion compared to Gates' US$89.9 billion.
Bill Gates Net Worth: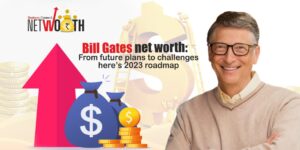 Gates was the fifth-richest person in the world as of November 2022, with an estimated net worth of US$107 billion.
Bill Gates's Rich Life
Bill Gates enjoys some extravagances, such as a $125 million Washington mansion, a private jet, and a collection of high-end automobiles.
He and his wife frequently give money to charity through the Bill and Melinda Gates Foundation rather than spending billions on themselves. Through the Giving Pledge, which they started in 2010, they have also committed to giving away the majority of their wealth.
Gates has pursued corporate and humanitarian activities since leaving Microsoft's day-to-day operations in 2008. He has made significant contributions to a variety of philanthropic organisations and scientific research initiatives through the Bill & Melinda Gates Foundation, which is said to be the world's largest private charity. Through the organisation, he supervised a vaccination effort in the early twenty-first century that contributed considerably to the eradication of wild poliovirus in Africa.
Bill Gates Education:
Bill Gates went on to join Harvard University in the autumn of 1973 to study law in order to follow in his father's footsteps but later on dropped out to pursue software programming.
Personal Life
Melinda French and Bill Gates got married on the Hawaiian island of Lanai on January 1st, 1994. They grew close after Melinda began working at Microsoft in 1987. Bill and Melinda had three kids: Jennifer, Rory, and Phoebe.
The Gateses announced their divorce on May 3, 2021, after 27 years of marriage and 34 years together. They pledged to continue cooperating on philanthropic projects.
Bill Gates' daughter, Jennifer Gates, wed Olympic equestrian Nayel Nassar in October 2021 at their estate in Westchester County, New York.
Gates is an enthusiastic reader, and a quote from The Great Gatsby is etched on the ceiling of his expansive home library. He also likes to play bridge, tennis, and golf. His days are organized down to the minute, just like the president of the United States. Despite his riches and considerable work travel, Gates flew in a commercial aircraft coach (economy class) until 1997, when he purchased a private jet.
Bill Gates Age:
Born on October 28, 1955, Bill Gates is 67 years old now.
Bill Gates's Future Plan:
On July 14, 2022, billionaire Bill Gates reaffirmed his promise to donate his wealth and said he would someday "drop off" the list of the world's richest people.
It took place concurrently with the announcement that Microsoft's co-founder would donate $20 billion (£17 billion) to his non-profit organization.
The fourth-richest person in the world claimed that giving his money back to the general population was his "responsibility."
In 2010, Mr. Gates promised to donate his riches, but since then, it has more than doubled. The Bill & Melinda Gates Foundation, the non-profit organization he and his ex-wife created in 2000, will get the $118 billion Forbes estimates for his current net worth, which will decrease sharply after that payment in July.
Bill Gates Rules:
If you think your teacher is tough, wait 'til you get a boss. He doesn't have tenure, so he tends to be a bit edgier. When you screw up, he's not going to ask you how you feel about it.
Sorry, you won't make $40,000 a year right out of high school. And you won't be a vice president or have a car phone either. You may even have to wear a uniform that doesn't have a Gap label.
Television is not real life. Your life is not a sitcom. Your problems will not all be solved in 30 minutes, minus time for commercials. In real life, people actually have to leave the coffee shop to go to jobs. Your friends will not be as perky or pliable as Jennifer Aniston.
Bill Gates Quotes
"We make the future sustainable when we invest in the poor, not when we insist on their suffering."
"I really had a lot of dreams when I was a kid, and I think a great deal of that grew out of the fact that I had a chance to read a lot."
"Be nice to nerds. Chances are you'll end up working for one."
Must Read:-