Cold wave to hit north India in next two days, says IMD report
By Sanjay Maurya
Over the following two days, the temperature expected to drop, especially in North India. Between 18thand 20thDecember 2021, the India Meteorological Department (IMD) predicts low temperatures in Haryana, Punjab, Chandigarh, and Rajasthan. According to the IMD, a cold wave will be present in isolated areas throughout Punjab till December 20 and in Haryana, Chandigarh, and north Rajasthan from December 18 to December 20, 2021.
Today (December 16) and tomorrow will be foggy in Punjab. In the early hours of December 16 and 17, severe fog in isolated pockets is extremely possible throughout Assam, Meghalaya, Mizoram, and Tripura, even in the northeast.
Quick Glance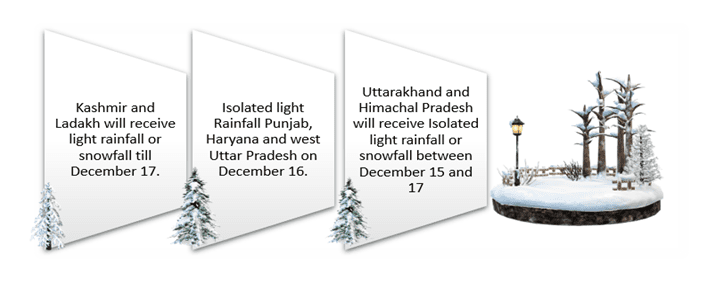 While the lowest temperature in North-West and surrounding Central India will remain unchanged for the next two days, it will drop by 2-3 degrees Celsius after that, resulting in a cooler Christmas. Cold evenings are expected throughout the weekend, according to the reports, with a strong Western Disturbance expected around Christmas.
Things are likely to turn cold in Delhi, the capital. Under the impact of a western disturbance, the meteorological service forecast partly overcast sky and a drizzle for today evening in Delhi and neighboring places. With the arrival of chilly and dry northwesterly winds from the snow-capped Himalayas on Friday (December 17), the temperature is expected to plummet.
According to the reports, the lowest temperature might dip to 5 degrees Celsius by the weekend. The unrelenting cold wave in Kashmir Valley and Ladakh continues, although the meteorological office predicts minimal rain till December 23. Director of the Meteorological Department (MeT) for Jammu & Kashmir (J&K) and Ladakh, Sonam Lotus, stated, "At the moment, the weather in various parts of Jammu and Kashmir is partial to usually overcast. Until December 23, mostly dry weather is forecast."
The minimum temperature in Delhi this season was 6.4 degrees Celsius on December 12, the lowest temperature of the season so far in the national capital.
In the lower troposphere, a cyclonic circulation is present across the southeast Bay of Bengal and its environs. In the following 4-5 days, it is expected to travel west-northwestwards towards the Tamil Nadu coast. From the cyclonic circulation over the southeast Bay of Bengal and its environs to the Tamil Nadu coast, a trough (line of low pressure) has formed. IMD forecasted moderate to heavy rainfall over Karnataka, Kerala, Mahe, Tamil Nadu, Puducherry, and Karaikal during the next five days due to the cyclonic circulation.
Must Read:-