Driven by a culinary expert, preparing heart-winning chefs: Palate Culinary Academy
Palate Culinary Academy has become an epitomization of the best-in-town training institute for chefs and budding entrepreneurs. The academy is driven by a popular proverb according to which it is the belly that rules the mind. To rule over the heart and mind of people, its effervescent founder Rakhee Vaswani prepares best chefs by means of her seasoned expertise. Ms Rakhee Vaswani, known for giving a magical touch in her delicacies, is immensely popular on social media. She is followed by every age group ranging from teenagers to grown-ups.
Over the past years, she and her academy has played the role of a catalyst by increasing the importance of cooks and chefs in a tremendous way. She is one of those few lady entrepreneurs who wanted to change the perception of people who think that cooking is just a daily chore activity. Of late, with the change in time, the mindset has also changed and it is now regarded an art that many youngsters have increasingly been showing an interest in. With the growth and development of the hotel and restaurant industry, there is an unmatched demand for people with expertise in cooking.
Nowadays, chefs are evolving as glamorous personalities and money churners as well as earning respect in the society. There was a period when graduates in this culinary and hotel management were looking for jobs in Gulf countries like Dubai and Saudi Arabia, just because of the great demand and high pay. But, now this trend is changing and with the development of hotel management and hospitality industry in India, chefs are in great demand. Furthermore, these experts are earning well in India given that they serve appetizing food.
When we talk about good food, women are thought to be a natural chef when compared to their male counterparts. This has opened new doors of opportunities for them. In recent times, the realization and valuation of women entrepreneurs have gained higher acceptance in India. Although, it is not a fairly new concept, in the last few decades a new breed of female entrepreneurs has gained prominence on Indian landscape. India never witnessed the kind of women entrepreneurial environment that we are seeing today. These entrepreneurs have carved a niche for themselves in specific domains such as Culinary, Patisserie and eateries etc. Among a set of many successful female entrepreneurs, Rakhee Vaswani has emerged as numero uno in teaching and training. When we talk about providing UK-certified culinary course and international standards of teaching from renowned chefs, she has hardly got any match. Her academy is a unique initiative in the arena of culinary training as it is honoured with being first CTH certified academy in India.
Bringing Local and International Chefs on Single Platform
Palate Culinary Academy is the first-of-its-kind initiative equipped with a state-of-the-art kitchen where she teaches how to cook or bake more than a hundred cuisines through one-day workshops as well as professional courses. The founder was bent on bringing a league of best cooks and chefs since the very beginning of the academy. Moreover, the academy is driven by its unique selling point (USP) of bringing a plethora of local and international chefs on a single platform. Ms Rakhee Vaswani got inspired to give final shape to her out-of-the-box idea due to her craving to bridge the gap between east and west. The passion of founder motivated her to dive into the entrepreneurial venture. Since its inception, the academy has maintained the international standards of teaching by bringing the best chefs onboard. The academy believes in providing hands-on training to the aspiring chefs and entrepreneurs. Apart from this, it provides customized consultation for every student.
Ms Vaswani always looks out for something different apart from staying in sync with daily inventions so that she doesn't miss out on crucial discoveries and trending cuisines. Besides, she is helping people with her culinary studio too which provides one day workshop whereas her academy provides international certifications. She believes in building an institute with passion and team support.
About the Lady
Celebrity Chef Rakhee Vaswani is a culinary expert and a Le Cordon Bleu-trained chef who is successfully leading Palate Culinary Studio and Palate Culinary Academy. She has been a TV celebrity by hosting her own TV show 'Rewind with Rakhee' on Living Foods – India's first food-tainment channel and 4 TV shows based on baking, superfoods and lots more thereafter. Recently, her new show called Bake Diaries was launched on FoodFood Channel. She is passionate about food and believes that it's the perfect remedy for all problems. She is the successful author of her first cookbook called Picky Eaters. She also collaborated with TV channels like Colors Infinity and NDTV for exclusive recipe videos/shows. Chef Rakhee is also the executive editor and columnist for BBC GoodFood India.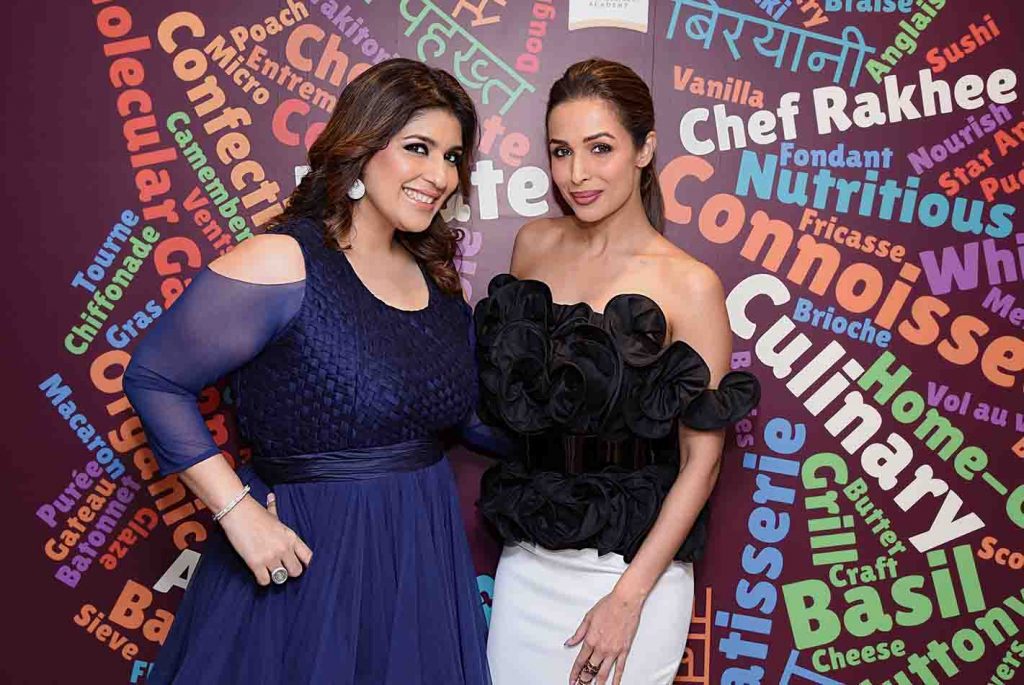 Her journey has not been a hunky-dory affair. She had to develop the higher threshold of pain, understanding and adaptation which has helped her become a successful entrepreneur. She believes that the support from family and encouragement from peers helped her become a successful woman entrepreneur. This is a prerequisite for any struggling woman who wants to fulfil her dream. She wants women to realise that it is never too late to start or restart a career.
Future Plans
The Company is looking forward to adding to their international affiliations while expansion plans are also on their mind. Moreover, it is looking to franchise its brand. Apart from this, expansion of academy into university is also one among its plans.
Words of Wisdom
Ms Vaswani, in a candid chat, shared some of her learnings for the aspiring entrepreneurs and chefs. She believes that age should be no bar for achieving dreams. Moreover, she says one should never stop learning. She adds, "Each and every day teaches us something different. Add that extra flavor of passion, spice it up with some efforts and relish the fruit of your hard work".