Amid Omicron Fears: Delhi Bans social Gatherings and celebrations ahead of Christmas & New Year
By Sanjay Maurya
The Delhi government on December 22 banned cultural activities, meetings, or gatherings for the upcoming Christmas and New Year festivals, citing the rapid spread of the Omicron version of the coronavirus across the country.
Colleges/universities and Schools in the national capital can operate if they strictly follow guidelines. Restaurants and bars will be allowed to open with half their regular seating capacity. According to a DDMA notice, all DMs and District DCPs must ensure that no cultural events /congregations/gatherings be held in Delhi to celebrate Christmas or New Year.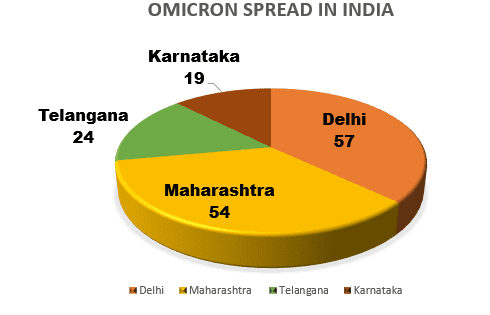 Amid Omicron fears, the Delhi Disaster Management Authority (DDMA) also urged district magistrates to identify probable COVID-19 super spreader regions in Delhi and take all necessary measures to restrict the spread in their jurisdictions.
According to the order, all District Magistrates must perform an extensive assessment of the whole region under their jurisdiction to identify pockets, marketplaces, colonies, crowded locations, slum areas, and other sites that have the potential to become COVID-19 viral super-spreaders or hotspots.
In light of the escalating COVID cases and the new variant of concern micro, the Delhi Disaster Management Authority has instructed DMs to take all necessary precautions in their respective jurisdictions to stop the spread. At shops/workplaces, no mask/no entry should be rigidly enforced, the official said. Ahead of the festival's schedule, the DDMA also asked district magistrates to identify possible COVID-19 super spreader regions.
District Magistrates and Deputy Commissioners of Police (DCPs) have also been directed to strengthen the enforcement machinery to ensure that individuals follow social-distancing requirements and wear masks.
Delhi Bans Culture Events – Key Points
All social, entertainment, cultural, religious, political, sports, and festival-related gatherings are prohibited.
Banquet halls cannot function except for conferences, weddings, meetings, and exhibitions, that too with many riders.
The Delhi Metro can accommodate up to 30 standing people per coach at full capacity.
Funerals and Weddings in the national capital are limited to 200 guests.
The national capital has seen a dramatic increase in Omicron cases, prompting Chief Minister Arvind Kejriwal to convene a review meeting on Thursday (23 December). CM Kejriwal is expected to meet with cabinet ministers and officials to discuss preparations for a probable third wave of COVID-19 and Omicron variant. Hospital beds, medications, and home-isolation measures will all be discussed during the conference.
Must Read:-