Samsung announces merger of mobile and consumer electronics divisions under new co-CEOs
By Sanjay Maurya
In the company's biggest shake-up since 2017, Samsung Electronics stated today that it has integrated its mobile and consumer electronics businesses and introduced its new leadership to replace its three primary divisions heads, effective from December 7.
Jong-Hee (JH) Han, the leader of the visual display company, has been appointed to vice chairman and co-CEO and will continue to run the newly combined mobile and consumer electronics unit, popularly known as the SET division.
Quick Glance: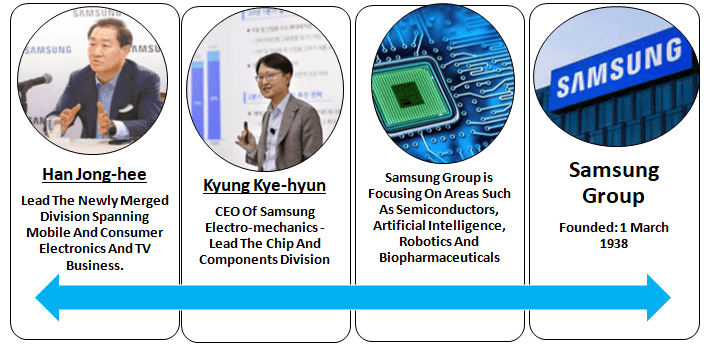 Han is anticipated to "strengthen the synergies across the many companies in the SET division and help develop new business and technologies," according to Samsung. Han played a vital part in the firm reaching the top position in worldwide TV sales for the previous 15 years.
Despite having no prior experience with the mobile division, Han progressed through the ranks of Samsung's visual display business. Analysts say they don't know what type of adjustments or labour divisions to expect under Han. On the other hand,the CEO of Samsung Electro-Mechanics Kyung Kye-Hyun has been chosen co-CEO of Samsung Electronics and will manage the chip and component division.
The newly amalgamated companies are of varying sizes. In the July-September quarter, the mobile business generated an operating profit of 3.36 trillion won ($2.84 billion), compared to 760 billion won for consumer electronics. According to Yuanta Securities Korea analyst Lee Jae-Yun, the reshufflemight help Samsung deal with issues in its mobile and consumer electronics divisions, such as better linking devices to appliances on a platform that catches and retains users.
The merger of its two main divisions, mobile and consumer electronics, is considered as an attempt to streamline its structures and concentrate more on the semiconductor sector. The company's vice president and de facto head, Jay Y. Lee, was freed on parole in August, prompting the broad restructuring announcement.
Samsung unveiled plans to build a $17 billion semiconductor facility in Taylor, Texas, in November, as part of a $205 billion three-year investment plan that encompasses semiconductors, artificial intelligence, robotics, and biopharma. Kinam Kim, the former vice chairman and head of the DS division, has been appointed to the position of chairman of Samsung Advanced Institute of Technology. Hark Kyu Park was selected as the company's new chief financial officer as part of the reshuffle.
Must Read:-