IPL Media Rights 2023-27: Auction date, base price, list of participants, and more
By Sanjay Maurya
With the successful conclusion of the Indian Premier League (IPL) 2022 where Gujarat Titans emerged as the new champions, the BCCI is now working on the next e-auction of the IPL media rights for the next five years (IPL 2023-27). For the first time in IPL history, media rights will be e-auctioned from June 12. The process is going to be very difficult and it may take several days for the final bid winner to be announced.
IPL Media Rights Auction 2023-27, Date- 12 June
Base Price- INR 32,890 Crore
Bidders
Google
Apple
Amazon
Disney+HotStar
Sony
Sky Sports UK
Zee Entertainment
SuperSports (South Africa)
Amazon Prime Video has already begun live-streaming cricket matches, and the OTT giant is apparently bidding for the IPL rights in order to grow its user base in India.
IPL media rights auction 2023-27 divided into 4 categories
Broadcasting rights (in India and the subcontinent) – The Indian subcontinent's base fee for IPL media rights is INR 49 crore per match. With 74 matches in a tournament, the cost for five years is INR 18,130 crore, or INR 3,626 crore per year.
Digital rights — The digital rights are set at INR 33 crore permatch, amounting to INR 12,210 crore for the tournament and INR 2,442 crore for the year.
Nonexclusive 18 match rights (which covers season openers, playoffs, and other events) — this is a new right, and only includes 18 games with non-exclusive rights. This deal is worth INR 16 crore every game, for a total of INR 1,440 crore over five years. (INR 288 crore yearly)
International Broadcasting rights – the overseas broadcasting rights are priced at three crores per game, with a total value of INR 1,110 crore for five years.
The 'Invitation to Tender' ("ITT") was made available to the bidders in February 2022 upon receipt of payment of a non-refundable fee of INR 25,00,000 (Rupees Twenty-Five Lakhs only), plus any applicable Goods and Services Tax. According to reports in the media, at least ten companies have picked up the bid documents for the media rights.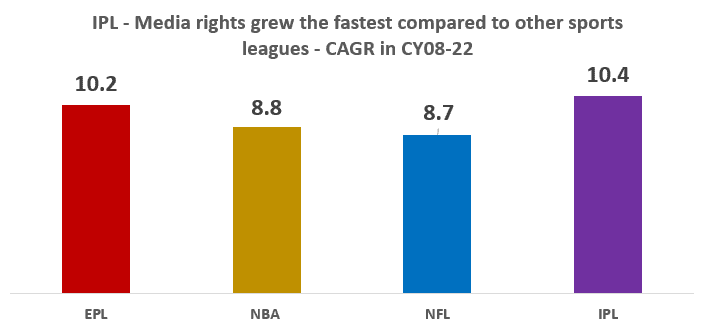 BCCI has sold the five-year rights (TV and digital) for IPL 2018 to 2022 to Star Sports India at INR 16,347.50 crore. However, by selling the broadcasting rights for the IPL 2023-27, the board aims to collect more than INR 40,000 crore this time.
Must Read:-