14 killed, 50 people missing after landslide hits Army camp in Manipur
At least 14 people have been killed and over 50 are feared trapped after a massive landslide at a railway construction site in Manipur's Noney district. Efforts are on to rescue the people trapped under the rubble. The incident took place on Wednesday night (June 30) at Tupul Yard Railway Construction Camp. DGP P Dongel has informed that a total of 23 people were rescued from the rubble, out of which 14 died.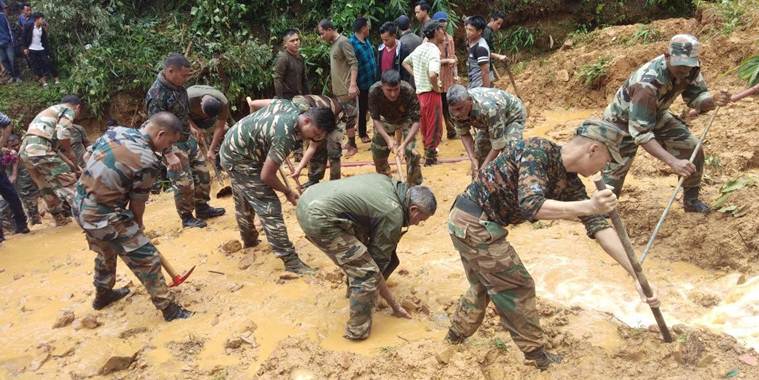 "Rescue and search operations are running. How many are buried is not confirmed, but as of now there are 60 people (buried) including villagers, army and railway personnel, labourers," he told ANI. Five laborers and 13 soldiers have been pulled alive from the rubble; Some of them got injuries.
"Troops of Indian Army Assam Rifles and Territorial Army continued the rescue operations throughout the day in general area Tupul railway station, Noney district, Manipur despite inclement weather. Teams of Indian railways, civil administration, NDRF, SDRF, and locals of Noney District are also actively contributing to the search," Indian Army said in a statement.
In the camp of the 107th Infantry Battalion of the Territorial Army (TA) of the Indian army:
Soldier's death – 07
Injured soldiers – 13
Missing soldiers – 23
Civilians in an army camp
Railway employees – 03
Railway chef – 01
Bhartia Infra Projects Limited employees – 03
Injured civilian – 05
Missing civilian – 27
Rescue operations are still on to save the 50 missings, of which 23 are TA jawans. The Territorial Army (TA) provides security to a railway line being built from Jiribam district to the state capital Imphal. Officials said the search operation would continue throughout the night. Bulldozers and other engineering equipment have been used to reach the site of the incident to aid in rescue operations.
Landslides also blocked the flow of a river, creating a dam-like water body that, if debris is removed, could lead to flooding and a complex environmental disaster. The obstructed flow of the Ijei River, which has led to the formation of a dam-like structure, could lead to flooding of low-lying areas if the situation worsens. The official has asked the residents of Noney to be careful and not allow the children near the river. In a conversation with Chief Minister N Biren Singh on Thursday (June 30), Prime Minister Narendra Modi evaluated the landslide situation and assured all possible support from the Centre.
Must Read:-