MBA Chaiwala: Three times CAT failure to a Millionaire
Prafull Billore is a name well known among Indian youth for good reasons. And why shouldn't it be?? This 22-year-old man has set up a successful business which has a turnover of Rs. 3 crores.  Billore has a business of selling tea and lives in Ahmedabad where he is famous as "MBA Chaiwallah". Let's know his inspirational journey.
Only those people get success who have the courage to pursue their goals. Praful Billore is one of those people who have goals and the courage to pursue it. Even after failing in prestigious CAT (Common Admission Test) exams for three years consecutively, he didn't let this failure pin him down, rather, he adjusted his way and pursued his goal in a more meaningful way.
Millions of candidates sit for MBA admissions tests such as CAT, XAT, and MAT every year. They all sit for the exam hoping to join IIMs and securing a job in MNCs. Praful Billore was also one of them. But, after failing CAT three times, the son of a farmer from Labravda village in Madhya Pradesh, Praful Billore, chose to pursue his dream of becoming a rich man and started his own small business. He opened a chai cart in front of his dream college IIM Ahmedabad.
Initial Struggle: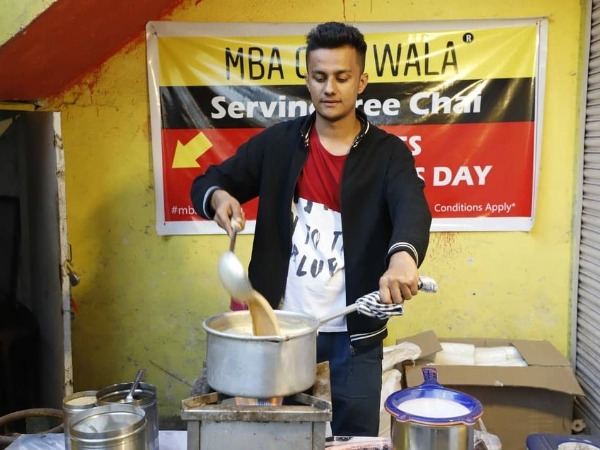 Praful disregarded his father's advice to get an MBA degree for a "safe" future and started travelling to different cities in search of employment. Soon, he started working at a McDonald's outlet.
While travelling he used to talk to local people from different walks of life and learnt about their business. In this process while talking to a tea seller, he got convinced to start a tea cart. He took a loan of Rs 8,000 from his father for the sake of doing some academic course but ended up purchasing tea supplies and opened a tea cart in front of Indian Institute of Management- Ahmedabad, the college of his dreams. On the very first day, he made a profit of Rs 150 which became a memorable day for him. People naturally would get attracted towards this English-Speaking chaiwallah.
"No food or beverage other than chai is consumed throughout India. I didn't know how to make one but I knew everyone would drink it. If I wanted to start another business, it would need an investment of a minimum of Rs 1 lakh, and I didn't have that kind of money. With Rs 8,000 in my pocket, I started selling chai roadside," he recalls. After working for a few months at McDonald's, the youngster started earning extra money by selling tea as well.
Praful enrolled at a local institution to earn an MBA after borrowing another Rs 50,000 from his family, but he soon realised that running a business had taught him more than studying it. He left college on the seventh day and expanded his tea shop via networking with IIM students and staff.
MBA Chaiwala- The Brand:
As his small business was picking up, the local authorities destroyed his tea stall, and he was obliged to rent a small space next to a hospital to build a new one. The shop's original name was Mr. Billore Ahmedabad, but because so many of his customers had trouble pronouncing it, he changed it to MBA Chaiwala which is the short form of Mr. Billore Ahmedabad. "If somebody asks me to prepare chai today, I will decline. It bothers me. I was struggling while I was selling tea on the street, but now I'm concentrating on growing my business," he jokes.
MBA also functioned as a metaphor for his ideal degree, and he has been selling tea under that name. At his new location, he kept introducing new strategies, like setting up a whiteboard next to a tea shop so that customers could get in touch with job seekers and workers. He used to organise cricket tournaments, ludo games as well; this offered them something fresh to look forward to every time they visited his tea shop.
"Whatever you do, do it completely honestly, work hard, and success will follow. Be the greatest at what you do, whether you create shoes or sell tea. Give it your all in anything you do." Praful motivates. The 22-year-old has 22 outlets for his company across the nation and is soon planning to launch a store abroad. He is now a crorepati. In 2020, he had a yearly revenue of more than Rs 3 crore.
Praful highlighted the success of premium tea establishments like Chaayos and Chai Point, which started much earlier than MBA chaiwallah, asserting that a chai business will always prosper in India, however, recalling his business objective he says, MBA Chaiwallah's objective is to cater to the general public who would want to have a cup of tea for between 40 and 50 rupees while relaxing in a café.
Must Read:-